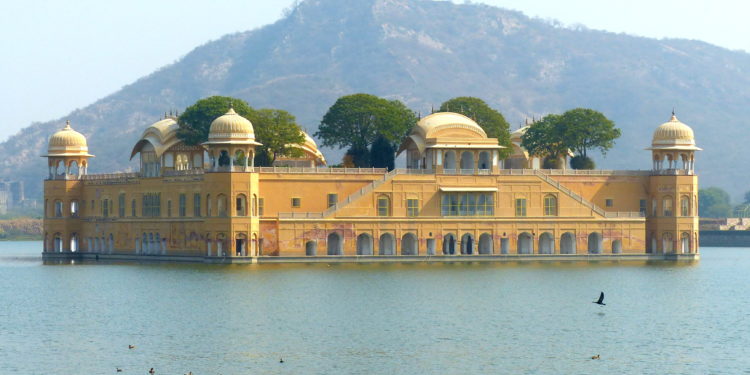 It's that time of the year. The Jaipur Literature Festival is just around the corner. Every January, the literati descend upon Diggi Palace for a jamboree of literature events, workshops, panel discussions, and more. In 2018, the Jaipur Literature Festival will be held from January 25th to 29th. If you're planning to attend 'the greatest literary show on Earth', book your hotel well in advance! Wondering where to stay in Jaipur? Here are 3 hotels that I recommend, all tried and tested.
Pin
Samode Haveli
Want to experience life as a Rajasthani nobleman when you stay in Jaipur? Check-in at the boutique heritage hotel Samode Haveli. In the chaos of Old Jaipur, stepping inside Samode Haveli is like happening upon an oasis in the desert. The 175-year old property was a manor townhouse for the royal family of Rawal Sheo Singhji.
The architecture draws influences from Mughal, Gothic and Neo-Classical styles.
The rooms and suites are absolutely stunning!
The former dining hall serves as the main restaurant and it's sumptuously bedecked with colourful murals, painstakingly hand-painted. Food at Samode Haveli is not your usual daal-bati-churma and gatte ki sabzi variety but is based on recipes from a hand-me-down family cookbook. Expect dishes such as Mutton Dahi Bada, Murg Ka Sula, Dhungari Gwar Fali, and more. The Junglee Maans is spectacular as well.
Alsisar Haveli
Pin
Pin
If you haven't already guessed, I love havelis! And when you stay in Jaipur, you must try the haveli-hotel experience. Alsisar Haveli is set amidst the bustle of Jaipur but you wouldn't know it as soon as you step through its tall, arched doorway.
Pin
The haveli dates back to 1892 and used to be the townhouse of the Alsisar family, which still owns the property. It's been a hotel since 1994.
Pin
Rooms are very spacious, with high ceilings. I loved the vintage four-poster bed, with soft wine-red drapes and pristine white sheets and pillows.
Pin
The piece de resistance of the haveli is the Sheesh Mahal, a stunning room, with hundreds of mirrors on the walls and ceiling, and beautiful light fixtures, including two elaborate chandeliers.
Pin
The pool is another winner – deep blue waters surrounded by domed pavilions, which sport striking peacock designs
Le Meridien Jaipur
Pin
If you prefer a chain hotel for your stay in Jaipur, I can think of no better place than Le Meridien Jaipur. Yes, it's a little distance away from Diggi Palace, on the Jaipur-Amer Road. However, it gets you out of the bustle of the city.
Pin
It's built on the scale of an extravagant Rajasthani palace. The rooms are huge, the views are stunning, and the food is excellent.
It's all about understated luxury and warm hospitality. I stayed here earlier this year when I visited the Pink City for the 2017 edition of the Jaipur Literature Festival. Read my detailed review here.
Pin
So, will you be attending Jaipur Literature Festival 2018? The programme is yet to go live, but with speakers such Pico Iyer, Patrick French, Amy Tan, Amitav Kumar, Janice Pariat, and more, you can't really go wrong. Registration is free; click here.
Pin
Hope you find your perfect stay in Jaipur. And if you're planning to head to Jaisalmer, there are now direct flights connecting the two cities. Stay at Suryagarh and experience a royal retreat in the Golden City. Read my post on Suryagarh Jaisalmer.
Pin
Disclosure: This post was written in partnership with Cleartrip, views are my own.