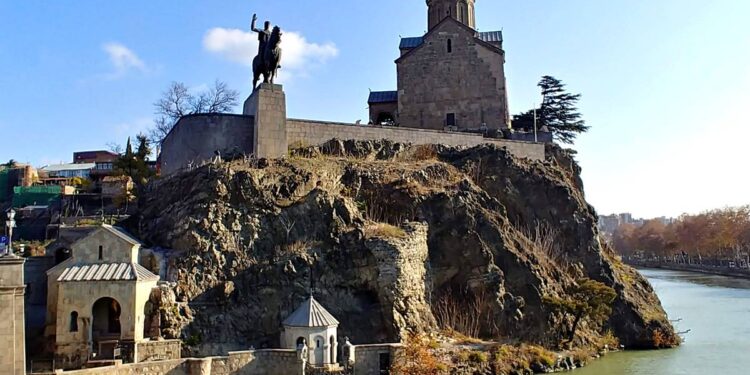 Georgia's capital city of Tbilisi feels vaguely European but there's no mistaking the Central Asian influence. Wander its cobbled streets lined with trendy bars and restaurants or pay your respects at centuries-old Orthodox Christian churches or hunt for bargains at a lively flea market brimming with Soviet-era memorabilia. Here are 5 reasons you must visit Tbilisi, Georgia.
Pin
Faith
Christianity arrived in Georgia in the 4th century through Saint Nino, a Greek-speaking woman from Cappadocia who was said to be related to Saint George. More than 80% of Georgians practise Orthodox Christianity and most follow the Georgian Orthodox Church. The Holy Trinity Cathedral of Tbilisi (commonly known as Sameba) is the main church of the city. It is the largest Orthodox Church in Georgia and towers over the city from the Elia Hill on the left bank of the Kura River (also known as Mtkvari).
Pin
Pin
As impressive as the cathedral is, it was the Metekhi Virgin Mary Assumption Church that drew my eye. It stands atop a rocky outcrop on the left bank of the Mtkvari. King Vakhtang Gorgasali (the founder of Tbilisi) built the first church on this location in the 6th century. The current building dates to the 12th century. While it is simpler and less adorned than the cathedral, it has a stark beauty to it. A huge equestrian statue of King Gorgasali stands proudly next to it.
Pin
Pin
Another church worth visiting is the Sioni Cathedral in downtown Tbilisi. The cathedral holds the original cross of St Nino, which was made from vine branches and bound by the saint's own hair.
History
The Georgian National Museum comprising three separate museums is a must-visit. Within it, the Museum of Georgia houses a superb archaeological collection with artefacts dating back to 3000 BC. The Museum of Fine Arts takes you through Georgia's medieval history through its arts and culture, while the National Gallery houses a huge collection of Georgian paintings and sculptures. Don't miss the artworks of Niko Pirosmani, a 19th-century Georgian painter who rose to international fame posthumously.
Pin
About 25 km north-west of Tbilisi is the historic town of Mtskheta, Georgia's former capital and one of its oldest cities. Until the 5th century AD, the fortified city of Mtskheta was a significant political and economic centre and contains many historical monuments. One of them is the 11th-century Svetitskhoveli Cathedral, the second-largest church building in the country and an architectural masterpiece of the High Middle Ages.
Pin
Pin
Only a few of the medieval frescoes inside survive today. The cathedral served as a coronation site as well as the burial site of many Georgian kings, including King Gorgasali.
Pin
Just outside the town is another historic site – the 6th-century Jvari Monastery. The simple monastery building stands atop the Jvari Mount and almost blends in with the surroundings. This is a sacred landmark as Saint Nino is said to have established the original cross at this site. Mtskheta became a UNESCO World Heritage Site in 1994.
Food
For the gourmand traveller, food is definitely one of the reasons to visit Tbilisi, Georgia. The traditional Georgian supra or feast is an elaborate affair with multiple courses of food and excellent wine.
Pin
Begin with pkhali (above), a sort of pâté made with minced vegetables mixed with a walnut-based sauce.
Pin
Another Georgian staple is khachapuri (above), a flatbread stuffed with a salty mozzarella-like local cheese called Sulguni. Lobiani is similar to khachapuri but with a stuffing of boiled and mashed black kidney beans.
Pin
Also, try lobio (above), a thick beans stew with a side of pickled vegetables and mchadi (cornbread). If you want something spicy, try ajapsandali, a ratatouille of sorts with aubergine and bell peppers, flavoured with adjika (spicy garlic sauce).
Pin
For meat lovers, there's assorted mtsvadi (skewered meats cooked over an open flame), stews (above), and khinkali (soup dumplings, below).
Pin
Some restaurants to try in Tbilisi include:
Gorgasali Restaurant for traditional Georgian fare
Veriko for a modern take on Georgian cuisine
Café Leila for the vegetarians
Café Litera for progressive Georgian in a lovely courtyard setting
There aren't any Georgian desserts as such except perhaps churchkhela. This sausage-shaped candy is made by dipping a string of chopped nuts into a hot mass of sweetened grape juice thickened with flour. It is then left to dry in the sun for 5-6 days.
Pin
Churchkhela is widely available and you can find strings of it at any market or street-side stalls.
Read more about Georgian food in my earlier post here.
Wine
Did you know that Georgia is the actual birthplace of wine? Archaeologists have traced wine production here to 6000 BC. In fact, when you land at Tbilisi airport, the immigration officer stamps your passport and hands you a small bottle of Georgian wine!
Pin
Pin
Early Georgians discovered that they could turn grape juice into wine by burying it underground in terracotta pots. Of course, the country also produces wines using the European method, which are equally good.
Pin
If you want to buy some Georgian wine to bring back home, drop in at the palatial Wine Gallery in Tbilisi. Read more about Georgian wine in my earlier post here.
Indulgences
Pin
The name Tbilisi literally translates to 'warm place' because of the presence of mineral sulphur springs. Try a therapeutic bath at one of the bathhouses in the Abanotubani neighbourhood of Old Town Tbilisi. The domed brick bathhouses date to the 17th and 18th centuries. Most of them are public baths though some offer private rooms. Public baths are gender-specific; many locals prefer to bathe in the nude, though you're welcome to wear a swimsuit.
If you're looking for food souvenirs, head to the Dezerter Bazaar, which has hundreds of stalls and shops selling everything from fruits and vegetables to meat and fish, local cheese, spices, pickles, and more.
Pin
Pin
If you visit in autumn/winter, try the dried persimmons (above) that are available at most markets. Beyond the bazaar, there are plenty of street markets to explore in Tbilisi (photos above and below).
Pin
Pin
And finally, don't miss visiting the Dry Bridge Flea Market.
Pin
Pin
Rummage through its stalls and you might find a fascinating souvenir like Soviet-era coins, antiques, and other bric-a-brac.
Where to stay in Tbilisi
I stayed at the chic Stamba Hotel in Tbilisi, a literary-themed design hotel in the city centre. Read more about it here.
I hope this post inspires you to visit Tbilisi, Georgia. Leave a comment and let us know your top reason to visit the Georgian capital.
Pin
This article was commissioned by Deccan Herald and a version of it appeared in their Sunday magazine on November 22, 2020. Read it here. 
Disclosure: My trip to Georgia was courtesy of Jazeera Airways and Georgian National Tourism Administration, views my own.