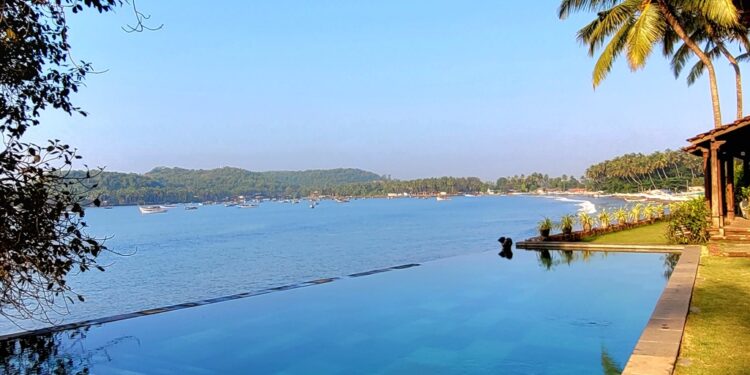 On our last morning in Panjim, my husband and I wander into Fundação Oriente, a sleepy art gallery in the colourful Latin Quarter of Fontainhas. The gallery has a permanent exhibition of selected works of the renowned Goa-born painter António Xavier Trindade. A contemporary of Ravi Verma and M. V. Dhurandhar, Trindade was an important painter of the Bombay School in the early 20th century. His portraits catch my eye, particularly their composition and depth of perception — skills that earned him the epithet "Rembrandt of the East". Imagine my surprise (and delight) when we check in at Ahilya by the Sea later that day and learn that the owner is Trindade's grand-daughter. Also, each of the property's rooms is named after a painting by the master!
A family affair
Pin
Ahilya by the Sea is less than a 30-minute drive north of Panjim. But its serene setting is thankfully a world away from Goa's (infamous) party scene. Nestled in a quiet corner of Dolphin Bay, at the southernmost edge of Coco Beach, the property stands on the site of old Portuguese custom houses. In 2004, Leela Kanakadri Ellis (Trindade's grand-daughter) built it as her home. Three sea-facing Portuguese-style villas made of hand-hewn local red laterite stone are surrounded by lush, landscaped gardens. In 2015, the property became a member of Relais & Châteaux, a global chain of more than 580 hotels and restaurants run by independent owners and restaurateurs.
Stylish digs
Pin
PinWalking into Ahilya by the Sea is like entering the elegant home of a favourite aunt with impeccable taste. Eight rooms are spread over the three villas, all with spectacular sea views. The partial sea-view Music Room and a charming treehouse called Arjun's Tower complete the offering. Every villa has common living rooms, private sit-outs, and shaded verandahs — frankly, it's hard to decide where to lounge. Our room Barcos is on the upper level of the Sunrise Villa. It's a beautifully appointed, light-filled space with white-washed walls and an eclectic collection of wall art and artefacts. In fact, the entire property is filled with an incredible assortment of art and antiquities from the owners' personal collections. Plus there are books on a wide range of subjects. I pick up "Matisse in Morocco" for some light bedtime reading while my husband kicks back with "How Music Works".
Vantage point

Pin
PinWhen I'm not perusing books, I'm out on the balcony watching the tide ebb and flow. At high tide, the Arabian Sea lashes at the property's wall. Apart from the waves, the only sound I hear is of the birds flying about. Some of them stop by for a sip at the edge of the glistening infinity pool directly outside our villa. Another plunge pool is tucked away amidst the garden in front of Sunset Villa. From the balcony, I see the village of Nerul. Small fishing boats venture out for their daily catch, which winds up in nearby markets and on our table at the hotel.
On your plate
PinOur meals are al fresco, either by the waterfront or poolside or the villa's verandah. While kingfish and pomfret are natural choices for travellers to Goa, Ahilya by the Sea is making a conscious effort to put local varieties as well as line-caught fish (as against deep-sea trawled fish) on the menu. The hotel promotes local cuisine, heritage, and environment — case in point is their kitchen experimenting with including locally-harvested seaweed into the menu. A seaweed martini is already in the works, all of which ties in with the World Oceans Day campaign run annually by Relais & Châteaux.
PinOur last meal is a sumptuous fish thali with plump, rawa-fried prawns, fiery fish curry, tisrya sukke (dry clam preparation), beans foogath (a side dish of French beans with generous amounts of grated coconut), poee (local leavened bread), and a mound of Goan red rice. It's all washed down with sol kadhi (coconut milk and kokum drink). We end the meal with serradura, a layered Portuguese-origin pudding of whipped cream and crumbled biscuit. If we didn't have a return flight to catch, a siesta would have been on the cards.
Pin
As I pack, the warm afternoon breeze wafting in from the open balcony door whispers of susegad. The word defies translation. Perhaps it's the Goan state of mind, this contented form of joie de vivre.
Book your experience here.
This article was commissioned by National Geographic Traveller India and appeared in their digital edition in November 2022. Since the publication is no longer in existence in India, I'm republishing this feature on the blog.
Disclosure: My visit was courtesy Ahilya by the Sea, views my own.