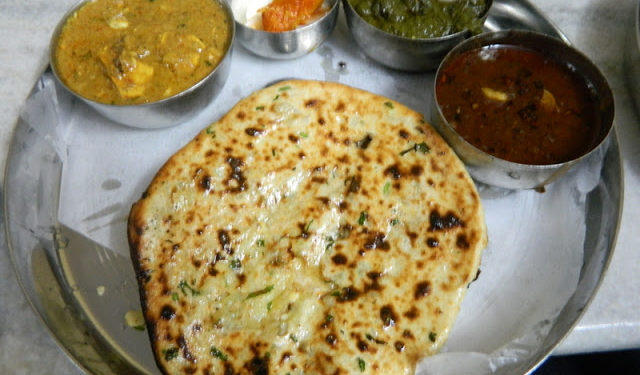 To continue with the series of food/travel posts from my recent big fat vacation… I had been eating my way around Kumaon and Amritsar and in
my earlier post
I had written about some of the traditional
Kumaoni dishes. So this one is dedicated to
Amritsar
… And do I have
a lot to share! In fact, I'm splitting this post into two. I was in Amritsar
for three days and quite frankly that's not enough to do justice to the wide
variety of food available there. I will have to make another trip, in the
interest of this blog!
At Kesar da Dhaba
We had travelled from Nainital to Kathgodam to Delhi to Amritsar
and most of the journey was by train. So we were exhausted by the time we
reached, which was around lunch time. We decided to have our first lunch at
Crystal Restaurant
on Queens Road, which was at a walking distance from our
hotel. The
restaurant is quite highly rated on TripAdvisor
and we went with
high expectations – and everything we ordered met or exceeded them, except the
lassi
. Our first
lassi
in Amritsar and it was a resounding failure. However, their
Murg Tawa Frontier
is delicious and so
is the
Kheema Naan
(
naan
stuffed with mince). The black
Daal
(called
maa ki daal

or mom's
daal
, a Punjabi
specialty) and
Paneer
Tikka
that we ordered were also very good. Overall, recommended – but steer
clear of the
lassi
!
Murg Tawa Frontier
Kheema Naan
Black Daal
After lunch, we headed to the Golden Temple, the beauty of which
is to be seen to be believed. I won't go into that now and just stick to the 'food
trail'! Since we had had a late lunch, we decided to go for a light dinner and
ended up outside one of the most recommended
dhabas
in Amritsar –
Bharawan da Dhaba
(near the Town
Hall). First up, I was disappointed that it didn't look like a
dhaba
at all. Just another crowded
restaurant… We ordered
paranthas
,
black
daal
,
jeera
rice and
lassi
to
go. Er, did I say light dinner?! Anyway, the food was good (the
daal
was excellent), but I wouldn't rave
about it. The
lassi
was a definite
improvement over the one we had for lunch, so plus points for Bharawan!
The next day was Sunday and we absolutely had to recover from our
sleep-deprived state. So we woke up late and then headed out to lunch to
another recommended
dhaba
–
Kesar da Dhaba
(in Passian Chowk). At least this one looked like a
dhaba
!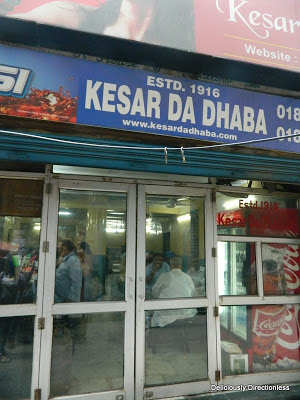 We were a group of four so we
ordered some Paneer kadahi, black daal, sarson da saag (another Punjabi specialty, holding pride of place
in many a Bollywood movie!) and individual 'bread'. I ordered an aloo paratha (always a safe bet in
Punjab), the husband ordered makke di
roti (made of maize flour) and our friends V & S ordered tandoori rotis. And of course lassi! The towering glasses of lassi came first, topped with heavy
cream. This was, hands down, the best lassi
we had in Amritsar. The food was excellent as well and I'd definitely recommend
Kesar.
Towers of Delicious Lassi!
Behind the scenes at Kesar
Phirni
We had to work off our heavy lunch so we walked about (and
shopped) in the local markets and then headed for a Heritage Walk of Amritsar
(more info
here
). Whilst on our walk, we came across
Gurdas
Ram
– a sweet shop that is supposed to have the best
jalebi
(wheels of dough, deep fried and
then sweetened in sugar syrup). In fact, the shop is called 'Gurdas Ram Jalebiyan wale'!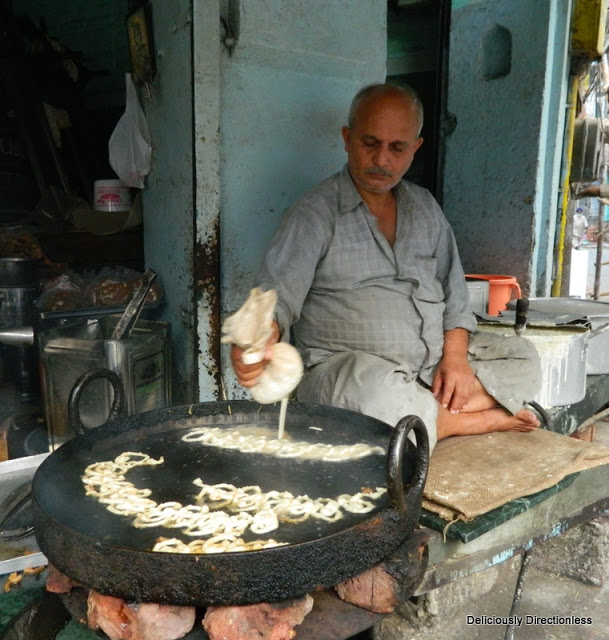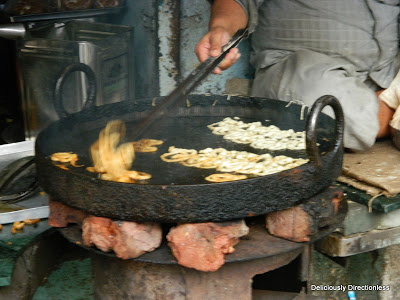 We watched the master at work and then ordered
two plates – burnt our tongues a bit, but there were really delicious jalebis. The gulab jamuns (deep fried balls of khoya dipped in sugar syrup) here are also worth a try. In other
words, do not miss!
More on this food trail in a couple of days. Until then, have a
Happy Diwali! And say 'no' to crackers, for heaven's sake 🙂