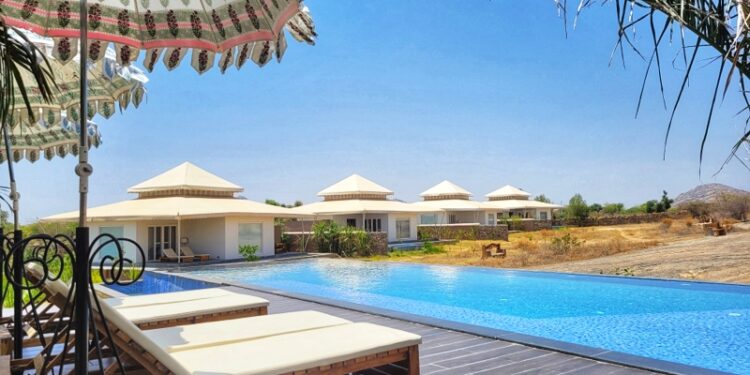 Pin
PinIn April last year, my husband and I spent a couple of days at Brij Pola, Jawai, Rajasthan. Most of northern and western India was in the grip of a heatwave. In Jawai, the temperature reached a scorching 40+ even on our morning safari drive. The parched and cracked earth inside Jawai Dam bore testament to a planet in climate crisis. At 500 sq.km., it is the largest dam in western Rajasthan. Maharaja Umaid Singh of Jodhpur built it in the 1940s to create a water reservoir for irrigation. "The dam is usually full but last year's failed monsoon has led to this drought-like condition", said our naturalist guide Harshwardhan Singh as he expertly steered the 4X4. We held on tight, keeping our eyes peeled for crocodiles.
Wild things
Pin
PinWe found several of them sun-bathing, half-submerged in water at one end of the dam. Assorted birds milled about—egrets, herons, lapwings, even a cormorant and a gorgeous pied kingfisher. I fiddled with my binoculars trying to get a better look at the black-and-white kingfisher who continued preening, as if aware of an audience. I had spent most of the morning peering through the binoculars—first at a young sloth bear ponderously making its way down Lob Hill and then at about a dozen chinkara, which bolted as soon as they spotted our jeep coming. A leopard sighting would be the cherry on the cake, I thought.
Pin
A split-second later, our tracker Prakash shouted "Leopard!" I immediately trained my binoculars in the direction he pointed; of course, I didn't see it. Both Prakash and Singh's ability to spot animals at a distance was amazing! The Jawai landscape is perfect for camouflage, dotted with massive granite boulders and hills formed by a volcanic eruption 850 million years ago. The grey-speckled brown surface allows leopards to effortlessly blend in.
Pin
"Do you see those peacocks? Now look diagonally opposite them and you will see the leopard sitting on a rock", said Prakash. I finally spotted it, a juvenile imperviously observing the pride of peacocks creating a ruckus. Singh told us that peacocks like to annoy leopards into moving away from their territory. Their shrill screams were already getting on my nerves and I wondered how the leopard was faring. About five minutes later, it seemed to have had enough. In one graceful motion it leapt off the rock and charged towards the peacocks, which scattered off squawking in alarm.
Luxe camping
After that action-packed morning, we returned to our camp at Brij Pola, Jawai.
Pin
Pin
PinOur apartment-sized tented suite (one of only four) was a sprawling 2,500-sq.ft. haven. It came with a large living area, a king-size four-poster bed, and four al fresco sit-outs, one of which led to a private plunge pool. Only two suites have private pools but the camp has a large common pool as well. I loved the six-fixture en-suite bathroom with a double vanity, an open-to-sky shower cubicle (plus an indoor one), and a stunning bathtub carved out of a single piece of stone. All marble and stone used for various fixtures are locally sourced and crafted as is all the furniture. Another favourite bit was the super-soft animal motif bed linen made by the Jaipur-based animal rescue NGO Help in Suffering. I also appreciated the thoughtful touches at turndown—soaked almonds left overnight or the local handicraft gifts waiting for me at the end of the day.
Pin
Experiential Stay
One of the highlights that stood out for me at Brij Pola, Jawai were the curated experiences on offer. Morning and evening safaris with a trained naturalist are on the cards of course, but they also include adventure rides on the boulders. Hold on to your seats as this roller coaster in the wild is one bumpy ride!
Pin
PinEvery meal at Brij Pola, Jawai is a different experience as well, whether it's a floating breakfast tray in your private pool or dinner under the stars atop a boulder hill. The cuisine is also varied, from traditional Rajasthani dishes and live barbecue to Italian and Chinese. One morning, we visited the nearby home of a Rabari shepherd where we tried a very local breakfast (image right). There was bajre ka sogra with tadke wala dahi (millet roti dunked in tempered yoghurt), mirchi vada (batter-fried chilli fritters), and kachori with kadhi. This was probably the standout meal of our stay. Or perhaps it was the evening spent stargazing while scarfing excellent sourdough pizzas paired with a nice French red. Frankly, it's hard to choose.
Close encounters
PinOn the last evening of our trip, we were on our way towards the village of Sena for an adventure ride on the boulder hills nearby. Just then, the walkie-talkie crackled. A leopard had been sighted, and not just any leopard but Heera, the former alpha male of Pola area. "Last year, he was injured in an attack by an intruder male and was taken to Udaipur for treatment. He has now moved to Sena but he's not looking to mate anymore, just finding food and surviving", Singh told us as we sped to the sighting location.
PinA couple of jeeps stood at a respectful distance but one was practically under his nose. We had a clear sight of Heera. Even without the binoculars, I could see the scar running down his face. He sat languidly on a rock surveying the territory, sometimes swishing his tail. He had all the deportment (and pathos) of a battle-scarred former king.
On our way back to camp, we stopped at another location to gaze at a pair of year-old cub (variously called Luv and Kush or Jai and Veeru). Alert and agile, they were a stark contrast to Heera. "Leopards have a lifespan of 12-15 years but they generally die at about 8-9 years because of attacks or diseases", said Singh. Seven-year-old Heera may be past his prime, but the next generation is already waiting in the wings.
Interested in staying at Brij Pola, Jawai? Book here.
Pin
This article was commissioned by National Geographic Traveller India and appeared in their digital edition in November 2022. Since the publication is no longer in existence in India, I'm republishing this feature on the blog.
Disclosure: My visit was courtesy Brij Pola, Jawai, views my own.