Experience: How to see New York In A Day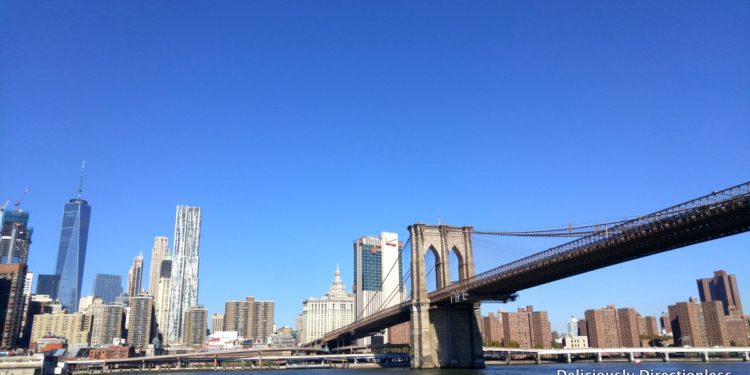 Take a walk with Walks of New York
Of course, you can't see ALL of New York in a day. Or in a week for that matter. Trust me, I tried!
But if you're pressed for time and in the city for a day or two, the New York in A Day tour from Take Walks is a great way to hit the major sights. If you're in the Big Apple for a longer period of time, I'd still recommend that you take this (mostly) walking tour because it is a fantastic way to get your bearings, tick things off your list and make a note of places you want to come back to and explore further.
I was spending a week in NYC and I took this tour on the very next day after I arrived in the city. What I loved about the tour, apart from seeing all the sights, was that it really showed me how different the boroughs of NYC are – you can literally see the fabric of the city change as you make your way from Downtown to Midtown to Chelsea to West Village and more.
I met my tour guide, Rob, and my fellow walkers (eesh, that sounds like The Walking Dead :|) on a blustery, cold-but-sunny autumn day in front of St Peter's Church in Downtown Manhattan. It was a small group, just 6 of us plus Rob (who looked dapper in some really neat fall 'collection'). An actor by profession, Rob has been leading Walks of New York tours for a few years now and was an excellent guide – witty, full of stories, and a fast walker!
Here are some of the attractions we saw:
1) City Hall Park & Woolworth Building (we sneaked inside to look at the stunning lobby).
2) One World Trade Center, 9/11 Memorial, and the WTC Transportation Hub (Occulus).
3) We got onto a New York Water Taxi, saw the Brooklyn Bridge, the Manhattan skyline, and the Statue of Liberty (see video below).
4) Greenwich Village, where we stopped for lunch (obviously, not included in ticket price) – I ate an insanely good, creamy lobster roll (just look at the size of it) at Pearl Oyster Bar, followed by a freshly filled cannoli at Pasticceria Rocco, and ended with a coffee across the street at Amy's Bread cafe (great coffee, highly recommended).
5) We took the subway to get to Chelsea – check out the striking Greenwich Village Murals in the subway station. We walked around Chelsea and then got up on the High Line, a linear park built on the elevated section of a train line no longer in use.
6) We then hopped on a bus and headed Midtown, to see the Flatiron Building and some of the other iconic buildings nearby.
7) We ended the tour at the Empire State Building (the tour price includes tickets to go up to the observation deck on the 86th floor.
Note that this tour doesn't venture into the eastern part, so the East Village and Upper East Side are not covered, nor is Central Park or the Bronx, Harlem etc, or Brooklyn for that matter. There are no museums included (apart from tickets to the Empire State Building at the end of the tour) and you don't venture into the madness of Times Square either. So technically it can't be called New York in A Day Tour, but it certainly delivers what it promises – an appetiser of sorts to give you a taste of the city, leaving you to explore further on your own (depending on what interests you most).
Also, note that it is a mostly walking tour and you will be on your feet for the better part of the day, nearly 8-8.5 hours! Of course, there's an hour-long lunch break in the afternoon, and there's a nearly 90-minute ride on the New York water taxi when you can rest your feet for a bit; I say 'for a bit' because you'll most certainly be jumping out of your seat frequently to take shots of Downtown Manhattan, Brooklyn Bridge, the Statue of Liberty and more!
So if you're headed to NYC, check out Take Walks. Apart from this day-long tour, they have several other tours, including the Met Museum, WTC, Statue of Liberty, plus food tours and a nightlife tour as well. Groups are small so you're guaranteed a personal experience.That's it, folks! Starting next week, I'm off to Portugal for a long-ish trip, with a short detour to Amsterdam for The Amsterdam Coffee Festival. So, the blog will be on a (spring) break for most of March. But I will be posting about my travels on Twitter and Instagram, so go hit 'follow'.
Disclosure: Take Walks kindly hosted me on this tour; photos and opinions my own.