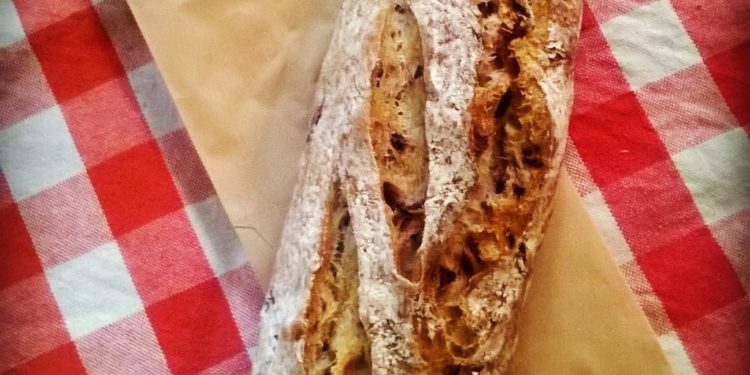 Ah bread! I can never resist a good loaf of bread, especially when it's straight out of the oven. Heading to the neighbourhood
boulangerie
(bakery) was my
favourite thing to do in Paris
last year 🙂
So when I heard that one of Mumbai's favourite patisseries has joined the artisanal bread bandwagon, I was naturally delighted.
Theobroma Patisserie
has come up with a range of breads and I got a huge hamper of them to try. I sampled a bit of all the breads, shared some of them and froze the remainder.
Here are my picks.
Kokum Baguette
– this was, hands-down, my favourite, but that maybe because I love kokum! Crusty, chewy bread with tart kokum bits – it's quite an inspired twist on the classical French Baguette.
There's also a
Multi-grain baguette
on offer, and it made a lovely bruschetta – slice, drizzle some olive oil, rub a clove of garlic on it and top with chopped tomatoes. I bet it would make a very nice
panzanella
too, a couple of days later.
Can't really go wrong with
Walnut & Raisin
. This is a rye bread so it's quite crusty and hard. Went very well with some M.Jack cheese that I picked up in
Coonoor
.
Other combinations include Cranberry & Black Currant (for those who like their breads sweet) and Fig & Walnut (had it toasted with some chilly butter and it was nice & nutty).
Apricot & Hazelnut – This was another bread that I enjoyed, and so did some of my friends who tried it. It's a white bread and tasted scrumptious with the chocolate spread (see below).
Green Olive Puccia
, or Italian dinner rolls. These were slightly softer than the ones from
The Baker's Dozen
.
Apart from the breads, there's Nachni Crackers (nice and crispy, better than The Baker's Dozen ones in my opinion), and two spreads. A Chilly & Herb Butter, which could do with more chilly & herb, and the Chocolate Hazelnut Spread, which was delish!
Since I had received a lot of bread, I stored quite a bit of it in the freezer; of course I was then eating bread breakfasts for nearly a week! Just store in an airtight container and stick it in the freezer; bread can last for up to 2 months this way. All you have to do is thaw it a bit and toast it well before eating. Remember never to microwave bread – it will get all soggy and yucky.
So the next time you are at one of
Theobroma's outlets
(Colaba, Pedder Road, Bandra & Lokhandwala), check out their artisanal breads. I'm certainly returning for the kokum baguette!
Disclosure: The hamper of breads was complimentary. Views my own.