When I was researching where to go in Poland, one of the cities that really stood out to me was Wroclaw. Not because it was Poland's fourth largest city.Not because of its history in terms of being passed from the erstwhile Bohemia and Prussia to Germany, and finally to Poland.
And not just because it was the European Capital of Culture for 2016.
What caught my attention the most was the sheer number of dwarf statues dotting the city! At last count, there were 400 of these cheeky fellows all over. But who put them there, and why?
Hipster Dwarf with laptop & coffee
I got my answer when I went dwarf spotting with Free Walking Tour. For nearly two hours, my guide Kuba and I (and a small group of other travellers from all over the world) walked about the old town carefully scrutinising the road and the pavements. Some of the dwarfs were quite easy to spot while Kuba had to point out others placed in weird places (one was sprawled on a pizza outside the local Pizza Hut!).
The history of dwarfs in Wroclaw goes back to the 1980s when Poland was under Communist rule. The Orange Alternative Movement started in Wroclaw as a way to peacefully protest against the authoritarian regime. The movement took to overt silliness (dressing up as dwarfs complete with orange peaked hats) and anti-establishment graffiti as a mark of dissent. The movement eventually became a part of the larger Solidarity Movement that led to the fall of Communism in Poland.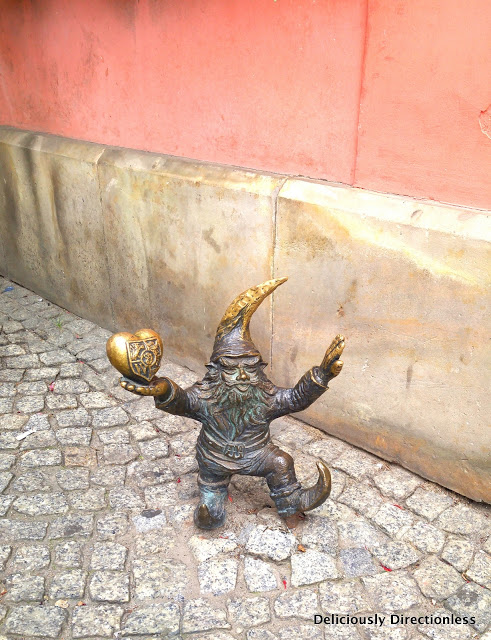 Love Dwarf
In 2001 the city of Wroclaw decided to honour the movement by placing a dwarf statue, named Papa Krasnal, on the corner of Ulica Świdnicka where the Orange Alternative demonstrations often took place. In 2005, the city council commissioned a local artist to create five more dwarfs, and since then new dwarfs have popped up all over Wroclaw.
Take a look at these playful symbols of the city in my photo-essay on the dwarfs of Wroclaw.
Dwarf reclining in the grass outside the station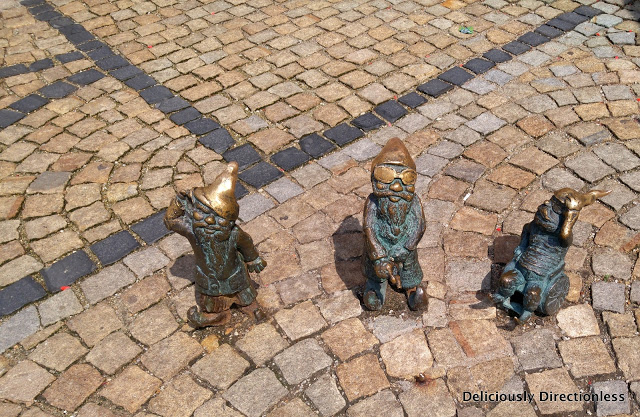 Dwarfs in front of the city hall, depicting that Wroclaw is disabled friendly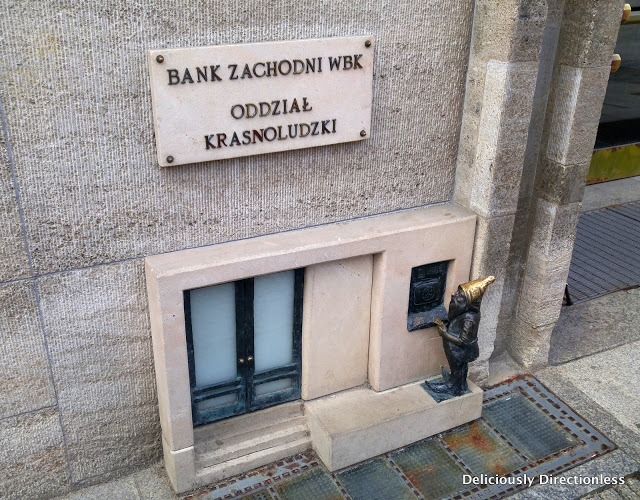 Bank ATM Dwarf outside Bank Zachodni WBK
Dwarf indulging in typically Polish activities of speaking on the phone & watching TV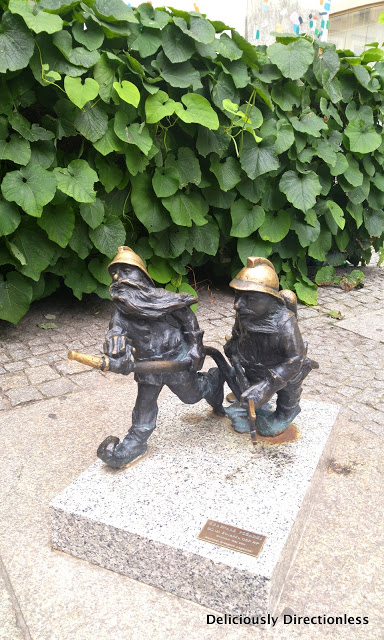 Firemen dwarfs rushing towards St Elizabeth's Church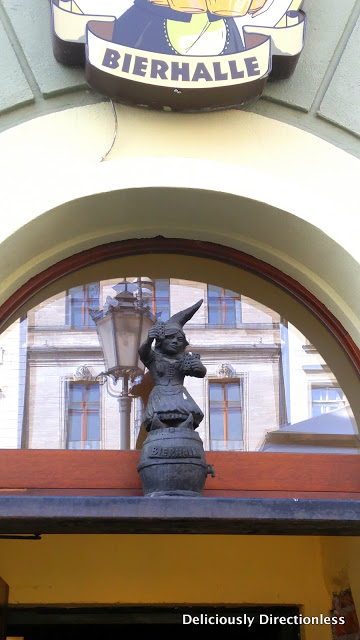 Female dwarf serving beer outside Bierhalle
Ice cream dwarf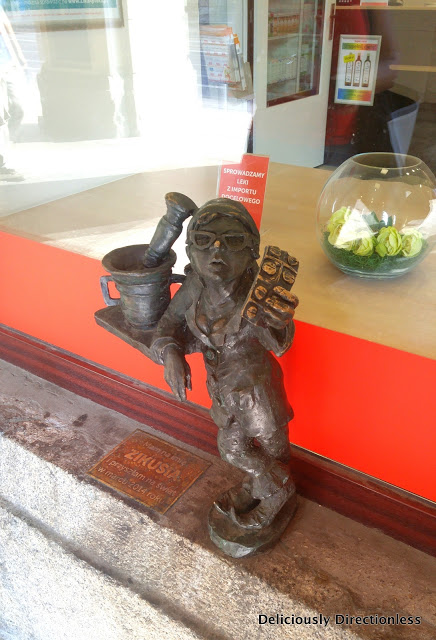 Pharmacist dwarf (female) outside a pharmacy on Świdnicka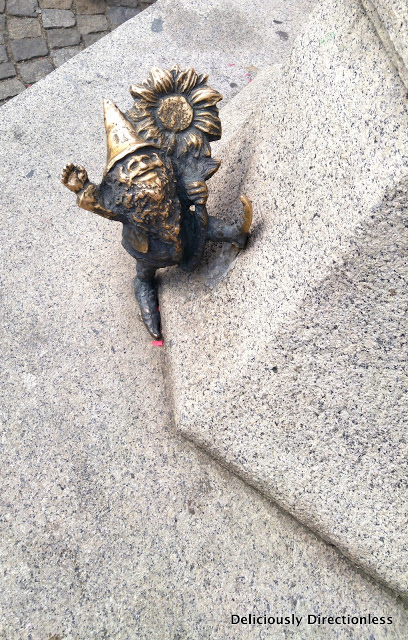 Mr. Nice Guy dwarf bearing flowers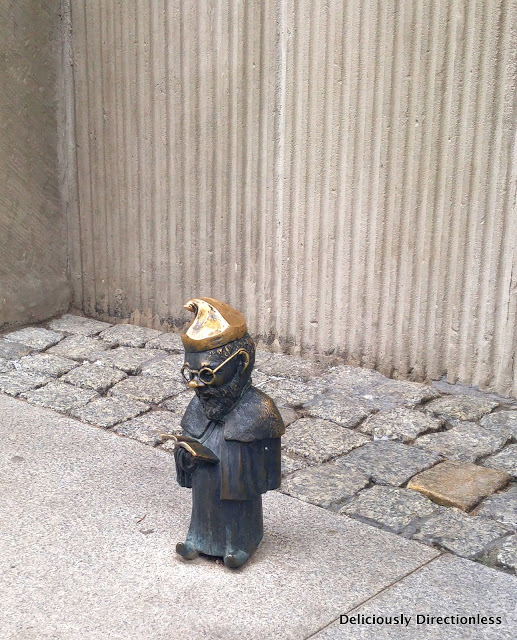 Scholarly dwarf outside the University of Wroclaw
Party dwarfs outside Przedwojenna, a cheap vodka bar
Dwarf chasing in Wroclaw – house of dwarfs
You can read more about the history and all the various dwarfs I spotted in my article for Business Line's weekend magazine BLink. It was published in their print edition of November 19, 2016. Read it here.
Free Walking Tour is a great way of going dwarf hunting. They offer other walking tours as well. I also took the Wroclaw Old Town tour with them. These tours are a great way of familiarising yourself with a new city (they are available in Warsaw, Krakow, Zakopane, Gdansk, and Poznan as well). While the tours are free, I paid a small gratuity to the guide for the wonderful tour he took me on.
Have you come across any quirky symbols of a city you have travelled to? Leave a comment below and let us know.