Here it is! The long overdue post on the cooking class I took in Tuscany. But before that, just some quick updates about what I have been up to. This month I have articles published in two wildly different magazines. National Geographic Traveller has my story on the Carpigiani Gelato Museum, near Bologna, Italy. And for the first time, I have a by-line in Vogue India!
PinIt's a 3-page feature on Marije Vogelzang, the acclaimed Dutch 'eating designer'. The Nat Geo article has been updated in the 'Portfolio' section and the Vogue piece will also be up soon.
In my earlier post (read Under the Tuscan Sun) I had written about this lovely agriturismo Podere San Lorenzo where we stayed for a couple of days in Tuscany. We arrived from Florence (read 5 Things you MUST do in Florence) and Marinella, our hostess, picked us up from the bus stand in Volterra. A short 5-minute drive later we arrived at the most beautiful villa, which was to be our home for 2 days. After a bit of exploring the property (fields dotted with pretty yellow flowers and rows upon rows of olive trees) I got ready for the cooking class that I was scheduled to take. I was joined by a Canadian couple and the villa's chef Mariana was in charge of the class, which was held in the dining room. This dining room is an erstwhile 12th-century chapel – a high ceiling, a couple of windows and openings through which the late afternoon sun streamed in, lighting up the honey-coloured walls and giving the place a cosy feeling. Fresh ingredients were all laid out ready for us to cook with.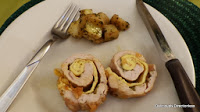 The meal was complemented by more red wine and ended with a generous portion of warm apple cake – golden brown top, soft and sweet apple filling and a sprinkling of powdered sugar. The "oohs" & "aahs" and satisfied smiles of all the guests really made all that effort worth it!