I recently came across this New York Times article where the writer and his son travel through Sicily, tasting its many seafood delights. Only the son is not a big fan of the gems from the sea – tuna, anchovies, sardines, squid ink pasta, calamari and more. The article reminded me of my travel through Sicily last autumn – Italy's southernmost region, and the largest island in the Mediterranean – and the place where I had the best food I have had in Italy. Like these cannoli in Palermo, for instance.
Or this plateful of pasta with sardine pesto I had in Ortigia, which is the stuff that dreams are made of… well, at least my dreams 😉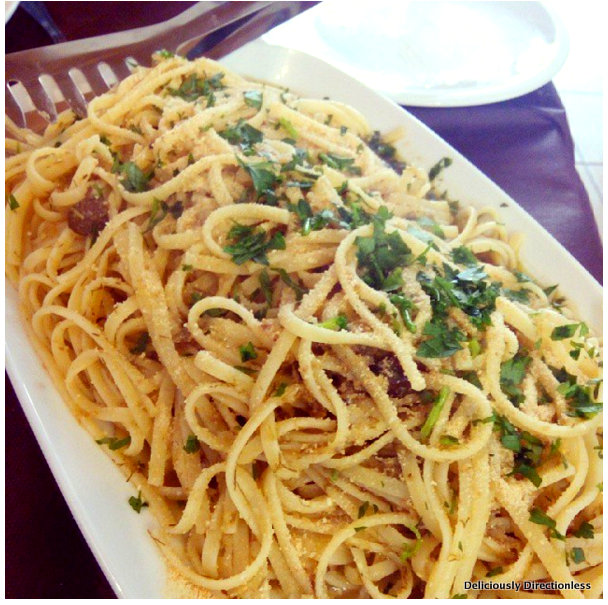 Apart from delectable seafood, Sicily has a thriving street food culture. I got a glimpse of it on a food tour with Streaty Tours. I wrote about my experience for Mint Lounge earlier this year. Here's the unedited version of the feature.
Take The Cannoli
Palermo's street food presents an unexpected side of Italian cuisine, and shows how history has shaped Sicilian fare.
"I dare you to try this" Marco Romeo says, pointing to a large wicker basket containing some unrecognisable meat pieces. "It's called frittola and it's a mix of veal remains – meat, fat and cartilage – boiled and then fried in lard", he elaborates. The husband and I are at Porta Carini, the old gateway to the Capo market in Palermo, and we are just about to embark upon a street food tour with Romeo. We look with some trepidation at the frittola, whose impish young vendor, Piero, had waved us over just a minute ago. The brownish grey meat bits don't look particularly appealing, but in the spirit of 'trying everything once', we accept the frittola on a sheet of waxed paper that Piero holds out to us.
The meat is distinctly chewy, though the lard and the lemon seasoning impart a rich flavour to it; and it's warm, which is a blessing on the cold, rainy autumn morning. I can't go beyond a couple of bites, while the husband devours the rest of the serving – he was probably starving as we had chosen to skip breakfast in anticipation of the tour!
This is our second visit to Italy, and after having spent some 8 weeks around the 'boot', we thought we knew Italian food. But, just like 'Indian food', Italian food is a misnomer. It's not all about pizza, pasta and risotto. And, like in India, food in Italy varies greatly from north to south – the fresh seafood of Veneto, the cured meats in Emilia-Romagna (its capital Bologna is fittingly named 'la grassa' or the fat one), Tuscany's hearty game fare, Lazio's cucina romana where both artichokes and tripe are equally celebrated, and Southern Italy's cucina povera or peasant fare from Puglia or Calabria.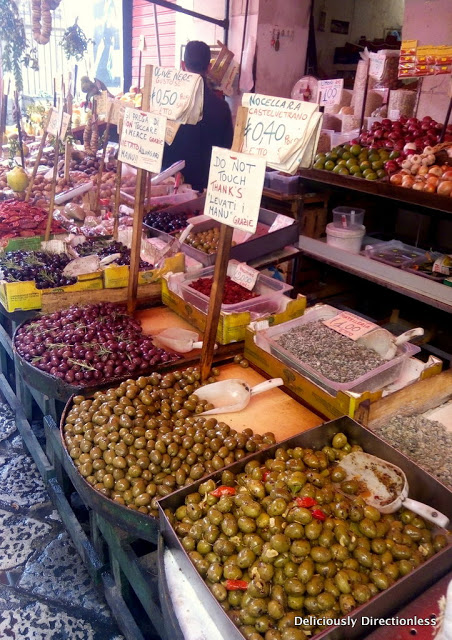 Further south, Sicily, the largest island in the Mediterranean, has its own distinct culinary legacy. Its strategic location on Mediterranean trade routes made it a prime target, and everyone from Ancient Greeks and Romans to Byzantines and Arabs has ruled the island, and has had an effect on its cuisine. The capital city of Palermo in northern Sicily is often an entry point to the island for most tourists, who rush off to the Greek ruins in Agrigento and Taormina, or to Catania to catch a glimpse of the smouldering Mount Etna, or to Syracuse, eulogised by Cicero as "the greatest Greek city and the most beautiful of them all". But if you want a taste of how history has shaped Sicilian food, venture into Palermo's centro storico where centuries-old street markets form a maze of crisscrossing alleys, all heaving with seasonal fruits and vegetables, freshly-caught fish, spices and local fast food.
As we walk further into the markets, they seem less European and more Arabesque or Levantine.
The Arab influence is obvious in some of the foods we try, notably the arancina, which the Arabs brought to Sicily in the 10th century. These rice balls stuffed with veal, onion, peas and carrot, coated with breadcrumbs and deep-fried to golden perfection, make a filling snack. The Sicilians used to carry them on their hunting expeditions. The rest of Italy calls them arancini and also adds tomato sauce to the filling. "In Palermo, we follow the traditional, Arab-inspired recipe that uses saffron, not tomato sauce", says Romeo. The saffron imparts a lovely orange colour, and hence the name arancina or little orange. The meat sauce or ragù packs a punch and the outer breadcrumb layer provides the perfect crunch.
I cannot imagine why this perfect recipe was adapted with the addition of tomato sauce; minus the overpowering tomato tang I can actually appreciate the complex flavours of the ragù and discern the delicate touch of saffron in the rice. Vegetarians need not despair – a spinach arancina is on offer, which is equally delicious.
The arancina shop (Dainotti) also serves up more deep-fried goodies, including another Arab origin snack called panella (plural panelle). Chickpea flour is cooked in salted water with parsley and the thick mixture is spread on a metal surface. Once cooled, a heavy tile (with an embossed design) is used to cut fritters, which are then deep-fried. In the olden days the panelle were cut in the shape of a fish and flavoured with vinegar, to give the city's poor a cheaper substitute to the fish they couldn't afford.
Pin
We have the panelle stuffed in a bread roll along with cazzilli – small potato and cheese croquettes shaped like small sausages, hence the name cazzilli or 'little pricks'.
At the end of Capo market we make a stop at an unassuming food cart piled with large round breads that look like a cross between a pizza and a focaccia. "This is a Sicilian pizza called sfincione (pronounced sfin-chee-o-nay), which is loosely translated as thick sponge", explains Romeo, as the unusually reticent, white-haired vendor cuts us thick slices. The pillowy pizza has an incredible lightness and is topped with a flavourful mix of tomatoes, onions, herbs and caciocavallo cheese, a typical Sicilian stretched-curd cheese made of sheep's or cow's milk.
Pin
Next stop is a Palermo institution, Taverna Azzurra in the Vucciria market. "How about some Sicilian blood" Romeo jokes, but after the experience with the frittola I'm a bit wary. Turns out Sangue Siciliano is a dessert wine, which is blood-red in colour and cloyingly sweet.
We are also served a glass of Zibibbo, a gold-coloured dessert wine made from zibibbo grapes. These grapes originated from Egypt and are one of the oldest genetically unmodified grape still under cultivation. If you like your wines dry, these overly sweet and earthy wines will probably make you gag, but we enjoy the sugary hit and the slight potency of both the wines.By this time we are pretty much stuffed and there is no sign of the
By this time we are pretty much stuffed and there is no sign of the cannoli, which is a cause of concern for me. However, Romeo assures me that we have one additional stop before hitting the dessert. That stop turns out to be a hole-in-the-wall shop selling a Palermo specialty, Pani ca meusa or spleen sandwich.
A huge vat full of offcuts simmers behind the shop counter – cow spleen, lung and throat cartilage boil away, and from time to time Bartolo, the owner, removes some of the grey meat, fries it in pork fat, stuffs it inside a bun, adds a handful of caciocavallo and serves the sandwich with lemon wedges. One bite and I know it is a lost cause; while I'm a consummate meat-eater and don't shy away from liver and brain, I feel a psychological aversion to spleen and lung; this Sicilian delicacy is certainly not for the faint-hearted.
We head over to the Ballarò market for our dessert, and the moment I had been waiting for – a proper Sicilian cannolo (plural cannoli), a dark brown tube-shaped fried pastry shell, into which the nonna (grandmother) of the shop generously pipes some ricotta filling, sticks a candied orange at one end and sprinkles some powdered sugar before handing it over to me.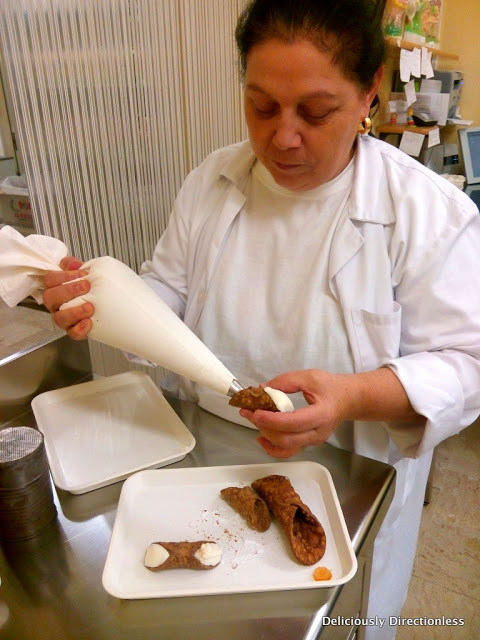 As I bite into the crunchy shell, and the slightly sweet, creamy ricotta fills my mouth, I remember that famous quote from The Godfather – "Leave the gun. Take the cannoli". Six little words, but they emphasise what food means to the Sicilians, mafiosi or not!
A Guide to Palermo's historic markets
Capo is one of the oldest street markets in Palermo, and the city's main fish market. It was founded by the Arabs in the 10th century and retains a distinctly Moorish feel. Fresh, seasonal fruits and vegetables, bags of spices, buckets of olives, bread, cheese, cured meats – a walk through the market is a sensory overload. Located behind Teatro Massimo, extending from Via Porta Carini to Via Volturno.
Ballarò Market
Ballarò, also dating to the 10th century, is the longest street market in Palermo's old city and also the most multicultural. Palermitans, Arabs, Africans and Bangladeshis work side by side, and this diversity is reflected in the variety of foodstuff available here. It's a busy market ringing with abbanniate or cries of vendors peddling their goods, not to mention the spirited haggling by customers! Via Ballarò in Albergheria.
Vucciria Market
Vucciria was founded in the 13th century during the brief but oppressive Angevin French regime. The market sells a mix of food items and household bric-a-bracs. It is dotted with abandoned buildings that still bear the scars of heavy bombing during WWII. The 700-year old daily market is largely fading today, but at sundown many restaurants and cafes open up in its narrow alleys. Piazza Caracciolo, 1.
Markets open 7 days a week from 8 a.m. to 2 p.m. Ballarò market is open till 8 p.m. on weekdays. All markets are best visited in the morning, before noon. Head to Vucciria after 7 p.m., especially on Fridays and Saturdays when the party lasts all night long. The tour tour lasts for 4 hours in autumn-winter, and is priced at €39 (Rs. 2,865). The summer tour lasts for 3 hours, and is priced at €30 (Rs. 2,200). More info here.
This feature was commissioned by Mint Lounge and was published in their print issue of April 11, 2015. Read it here.
Have you been to Sicily? What is the best food you have eaten there? Leave a comment below and let us know.