The beautiful art of paper-cutting in Switzerland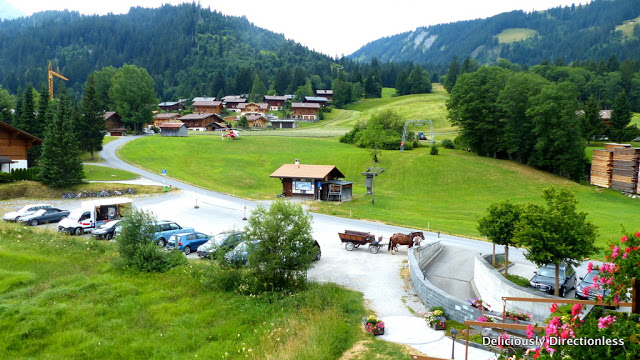 What is your favourite activity while travelling?
Sight-seeing?
Sampling local cuisine?
Sitting at a cafe & people-watching?
As fun as all of these are (and I am particularly partial to #3!), another great way to experience a place is through its local arts and crafts. And if you get a chance to actually try your hand at it, there's nothing better.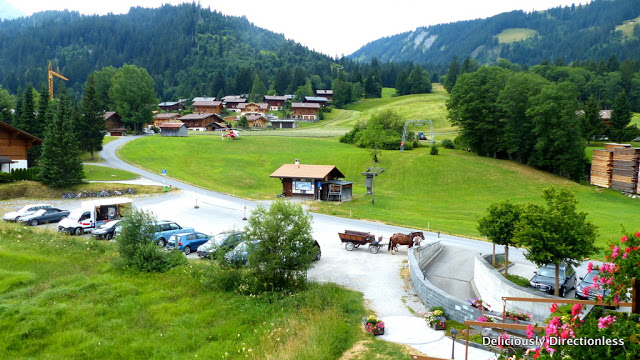 On a recent trip to Switzerland, when I was travelling through the picturesque region of Gstaad (that playground of the rich and the famous), I visited Lauenen. A quintessential Swiss village, with a sprinkling of pretty chalets, a village church, some cafes and restaurants, and miles of emerald green fields, with contented cows grazing in them – Lauenen is a visual treat!
Most houses, hotels and restaurants in Lauenen, and indeed in Gstaad, display delicate artworks made out of paper. I learnt about paper-cutting or Scherenschnitte while sitting in a cafe and chatting with Anita Raaflaub, one of the artisans in the village. But this wasn't just a theoretical lesson; soon I was snipping away at a paper design.

Making the Cut
In Lauenen, Switzerland, a handful of local artisans keep a traditional craftwork alive.Snip, snip, snip. As I slowly work the small, gold-coloured pair of scissors on the paper, I can see the outline of a rearing horse taking shape. "It's good, you're doing very well for a beginner", says Anita Raaflaub, the robust Swiss lady under whose watchful eye I am trying my hand at a 400-year-old craft.
I am in Lauenen, a picturesque little village in the region of Gstaad-Saanenland in Switzerland. It is best known for Lauenensee (Lake Lauenen), a serene lake located in a nature reserve.
Earlier that day I had taken a horse carriage ride from the village, and then done a circular hike around the lake, stopping to admire the Dungelschuss waterfall that feeds Lauenensee. Lauenen is just 7 kilometres from Gstaad, a resort town that is popular with the jet-set crowd. But it seems quite untouched by the touristy reputation of its neighbour. Even today Lauenen has a very rural feel to it. Farming, dairy and cheese making are the main trades here, and there is a lot of emphasis on handicrafts and folk art. Woodcarving, furniture painting, ceramics and paper cutting are very popular.
Paper cutting or Scherenschnitte (literally, scissor cuts) started in Switzerland around the 16th century. Unlike Chinese paper cutting, which goes back to the 6th century and usually depicts Chinese characters and zodiac animals, in Switzerland it's more often about symmetry in design – whether the artwork depicts a geometrical design or Swiss pastoral scenes. Chinese paper cutting is traditionally done on red paper, while in Switzerland black is the preferred choice.
Scherenschnitte really took off in Switzerland in the 19th century, under the two masters of the art – Johann Jakob Hauswirth (1809-1871) and Louis Saugy (1871-1953). Most houses, restaurants, shops and hotels in Gstaad-Saanenland area display paper cut designs. The Heritage Museum in Saanen (which traces the history of the area through costumes, tools, arts and crafts) has some elaborate, almost lace-like scherenschnitte works on display. Modern day artists are going beyond the alpine village theme and exploring new designs – everything from the abstract and asymmetrical to fairy tales, current affairs and feminist themes.
In Lauenen I am about to get a crash course in the art of scherenschnitte. Having managed just about average grades in craft all throughout school, I'm a bit hesitant to try what looks like an incredibly complicated and delicate job. I meet Anita Raaflaub, one of the well-known artisans from Lauenen, at a café on the outskirts of the village.
"There is no school teaching this art in Switzerland. I started making these artworks when I was a teenager and I am self-taught", says Raaflaub. She shows me some of her works – intricate designs in black (on a white background), of cows grazing, goats and goatherds, prancing horses, chalets, even a farmhouse where a village belle is making cheese. My confidence is already taking a beating, as she whips out the piece that she is currently working on – a large doily the size of a dinner plate, on which she is cutting out an idyllic, Swiss village scene.
After watching her for a while, it's soon my turn to demonstrate some nifty scissor skills. Raaflaub hands me a rectangular piece of black card paper, which has been folded in half. The back of the paper is white, on which there is a stencilled drawing of a rearing horse in a field, with a sort of curved stump in the middle. I start snipping, following the outline, trying not to cut off the horse's tail or some other vital part of the design. "I find paper cutting very calming; every time I am a bit anxious, I start working on a design and it really helps me", says Raaflaub, as we bend our heads over our respective designs. I can see why. The work requires a lot of focus and I find myself getting into a sort of a rhythm, following the pattern and making small cuts. I find the horse's mane and the grass underfoot to be the trickiest parts, since they need very precise scissor work. Some 30 minutes later I have completed the cutting and I gaze with pride on my handiwork. Raaflaub seems genuinely impressed too.
I gently open the folded paper and my scherenschnitte artwork is ready – 2 horses, rearing on their hind legs, with their forelegs up in the air, ready to gallop off, tails swinging and manes aflutter. The curved stump in the middle has opened up to form a horseshoe in between the horses.
Raaflaub glues my little craft project onto a white cardboard, and asks me to sign it. She then slips it into an empty photo frame and hands it over to me – a treasured travel memento, made more special because I had a hand in creating it.
This feature was commissioned by Mint Lounge and was published in their print issue January 9, 2016. Read it here. 
Have you tried your hand at a local craft or artwork on one of your travels? Leave a comment below and let us know. 
Disclosure: My experience in Gstaad was courtesy Gstaad-Saanenland Tourism