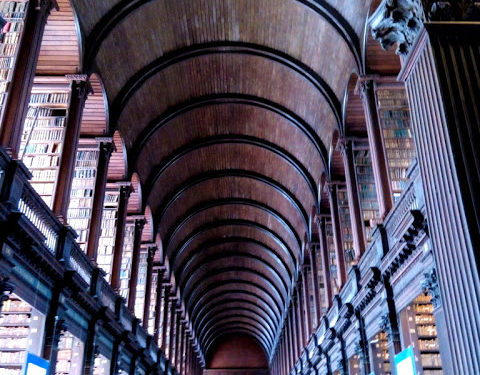 What to see, do, and eat in Dublin, Ireland
Let me begin with a disclaimer – I don't think 48 hours really do justice to any place, much less a city. But yes, you don't always have the luxury of spending a week (or a month) in a place – getting under its skin, letting yourself immerse in its culture, basically 'living like a local'! Spending 48 hours in a city is better than not visiting it at all, isn't it? And you can always come back – and the second time around the city will seem a bit more familiar, you will get a chance to discover its layers, maybe return to a favourite cafe or to that hidden spot you stumbled upon the last time around…
The Old Library at Trinity College, Dublin
So if you find yourself in Dublin, here's what you can do in 48 hours. The city is neatly divided by the River Liffey and there are enough attractions on either side of the river to keep you occupied.
Day 1 
Let's begin with Dublin south of the Liffey.

Morning
Kick off with a hearty Irish breakfast at O'Neill's Bar & Restaurant, which is near Trinity College. Don't shy away from the black pudding – it's delicious! Or check out my earlier post – Dublin On My Plate – for more breakfast options.
Then head over to Trinity College, where you can meander around the campus free of charge. Alternatively you can join one of the tours (ticketed) conducted by a Trinity student to get an idea about the glittering history of one of Ireland's most important colleges.
Make sure you visit the Book of Kells Exhibit and the Old Library. The Book of Kells is believed to be created in 800 AD and contains the four gospels of the New Testament depicted along with vivid illustrations and ornate motifs in vibrant colours. The Trinity College Library is the largest in Ireland, and the Old Library wing can be accessed through the Book of Kells exhibit itself (there's a combined ticket for both attractions).
The Long Room at the Old Library is a book lover's paradise – there are rows upon rows of old books, many of them rare or early editions, some 200,000 in all. The room is also lined with marble busts of great writers and philosophers, and there's a medieval Gaelic harp in the library as well – it's all very atmospheric!
Mid-morning


After Trinity College, walk across the street to the Irish Whiskey Museum – a fairly new museum that gives an experiential walk through Ireland's whiskey-making history and tradition. Tours run every 20-30 minutes, and prior booking is not necessary. I walked in on a cold & rainy Sunday and had a fantastic tour with James, who was entertaining (and charming). Obviously the tour ends with a tasting of five whiskeys and you get to keep a small whiskey glass as a souvenir 🙂
Lunch

Pin
Since you are close to Trinity College and the Whiskey Museum, head to Avoca Cafe – this was my favourite spot in Dublin. Have their soup of the day, which is served with slices of house-made bread (some of the best bread I have ever tasted!). More lunch options here.
Afternoon
Walk down Grafton Street towards St Stephen's Green. Before you head to this gorgeous city park, drop in at The Little Museum of Dublin.
PinHoused in a Georgian building, the museum documents the history and story of Dublin over the 20th century. The collection has been built from artefacts donated by Dubliners – art, photographs, letters, books, toys, old machines, furniture and oddities. A visit to the museum is like stepping inside an eccentric collector's home! The collection is best enjoyed on a guided tour – the very witty and entertaining Keiran was the guide the day I visited. The entry is ticketed and includes the guided tour, which takes place every hour.
After the museum, head to St Stephen's Green for a wander around one of the best kept parks in the city. Opened in 1663, Stephen's Green is 22 acres of wild trees, brightly coloured flowers, manicured lawns, fountains, busts of famous personalities and a lovely duck pond. It's a great place to rest your feet and soak in the calming greenery right in the middle of the city.
Evening


Now is the time for some shopping! Walk down Grafton Street for some high street brands or the Powerscourt Centre for local brands. Stop for some coffee and cake at The Pepper Pot at the Powerscourt Centre – best Victoria Sponge Cake ever! If you want to buy cheese, I'd recommend Sheridans Cheesemongers on Anne Street, just off Grafton Street.
Dinner
Head to the Temple Bar area for a plethora of pubs to choose from. I'd recommend Quay's Irish Restaurant (boisterous ambience) or Gallagher's Boxty House (snug & homely sort of place). You will find excellent Guinness and pub fare at both places. More dinner choices here.
Day 2 
Today we head north of the Liffey.
Morning


Breakfast like a king at Brother Hubbard – I loved their beans topped with feta yoghurt, and their double shot coffee. Fortified with food & coffee, make the trek (or take the bus) to Dublin Writers Museum (ticketed entry). The collection includes stories and works of renowned Irish writers and poets  – everyone from Joyce to Shaw and from Yeats to Wilde find a place here.
Mid-morning
Walk over to Merrion Square Park in the heart of Georgian Dublin and pay homage to Oscar Wilde's statue – the writer-poet resided at 1 Merrion Square as a child. Make a short walk from here to the National Museum of Ireland's Archaeology collection on Kildare Street (free entry). Don't miss seeing the 4,500-year old boat carved out of tree log or the eerie Bog Bodies – remarkably well-preserved human remains going back to 400 BC!
Lunch


Since you're on the north side of the river, grab a bite at The Lotts Cafe Bar or if you prefer an elegant lunch setting, head to The Church – an erstwhile church (obviously) where Arthur Guinness got married. More dining options here.
Afternoon

Walk over to O'Connell Street, Dublin's main thoroughfare, for some shopping (souvenirs, H&M etc.) or just to gape at the Spire of Dublin – a nearly 400 feet tall steel structure that rises from the middle of the street and seems to merge into the sky.
Evening


Walk along the banks of the Liffey, perhaps get a cup of coffee & cake at The Woollen Mills, wander around Temple Bar – you may encounter a live performance on the street! I chanced upon this very cool band rocking up the street one evening 🙂
Dinner


Make it a special meal with a view at The Winding Stair restaurant. Try & get a table by the window, which will give you a lovely view of the Liffey, the Ha'Penny Bridge and Dublin on the go. Feast on seasonal Irish dishes, made with the freshest of produce and beautifully plated.
That's my mini-guide to Dublin. Optional tourist attractions include the Guinness Storehouse and Dublin Castle. So make the most of your 48 hours in Dublin!