Earlier this month, I had the opportunity to stay at Waghoba Eco Lodge, the newest jungle lodge by Pugdundee Safaris. It was my first proper trip since the pandemic began! Located in the heart of Tadoba National Park, the lodge offers a tranquil stay and some exciting activities. Even though I didn't spot a tiger on the safaris, just being out there in the jungle was an experience to savour. Here's why I loved my stay at Waghoba Eco Lodge.
Pin
The cottages
The lodge has 14 cottages, one of which is wheelchair accessible. Each cottage comes with a king bed, a writing desk, a large daybed in a cozy nook, plenty of luggage space, and a private sit-out accessible through a French window. Handcrafted teak furniture is contemporary and elegant, featuring animal motifs.
Pin
Pin
A skylight bathes the bathroom area with natural light; double vanities and chic grey honeycomb-tiled shower and WC complete the look.
Pin
Pin
There's a tea & coffee station as well with a kettle, a French press (!!), and a jar of delish cookies that gets replenished regularly.
Pin
The food
The variety and quality of food on offer at Waghoba Eco Lodge really impressed me. The menu has been curated by Chef Michael Swamy and features generous thalis for lunch and beautifully plated Indian or continental dishes for dinner.
Pin
The Maharashtrian (above) and Hyderabadi thalis were excellent, but my favourite was the Varhadi thali (below). It showcases dishes from Maharashtra's Vidarbha region (where Tadoba is located), and is fiery hot but delicious.
Pin
Breakfast is extensive with eggs-to-order, fruit, cereal, etc. and also the Maharashtrian thalipeeth (savoury multigrain flatbread). Plus, there's good French press coffee.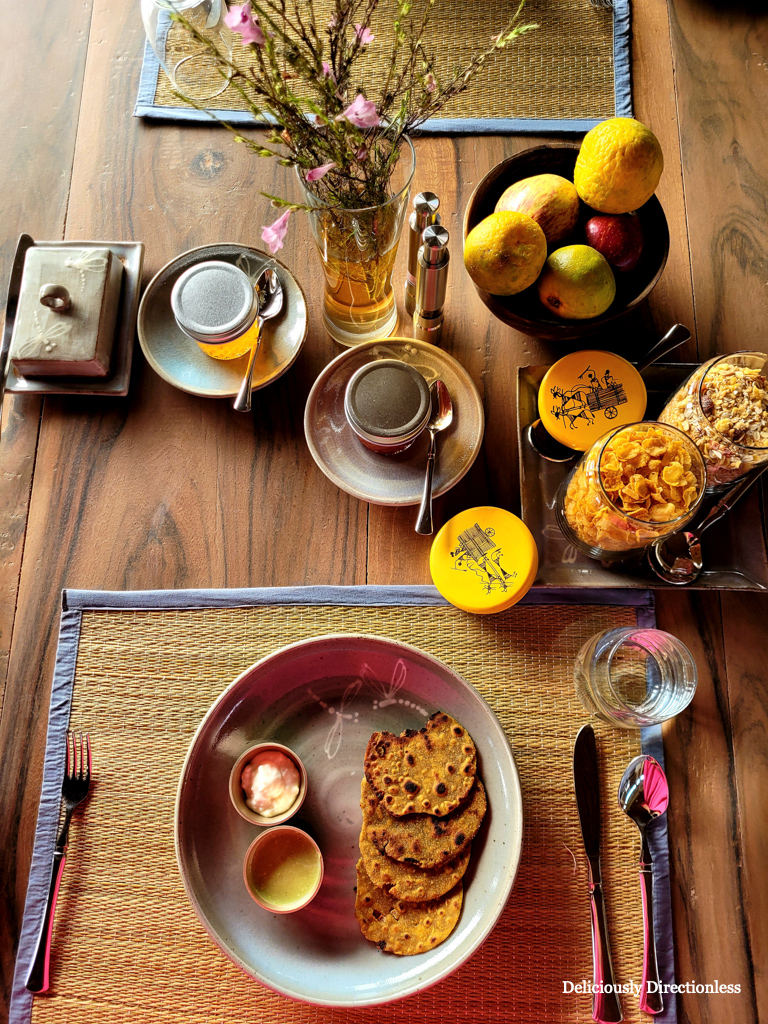 Pin
Sustainable practices
The lodge has been constructed on what was once barren land, which has since been afforested. Construction material included local sandstone and adobe bricks made onsite from the soil dug up for the lodge's foundation. The structure not only blends with the flat, brown Tadoba terrain but is also energy efficient. All structures feature vaulted roof tiles made by local potters and are designed to help with insulation. Only the cottages are air-conditioned while all public areas are air-cooled. The property is single-use plastic-free. Pugdundee Safaris has also developed a wetland on the property, making it a hot spot for bird-watching.
Jungle safaris
Of course, the main reason to visit Tadoba is the jungle safaris. I went on three safaris in Tadoba national park, including one exhilarating night safari. Since it was the fag end of the monsoon, the jungle was lush green with vivid red mud trails snaking through it.
Pin
I spotted many animals like sambar (the largest deer in the Indian subcontinent), chital or spotted deer, langurs, and numerous birds (including mottled wood owls on the night safari).
Pin
Pin
The highlight was seeing a sloth bear towards the end of my last safari!
Pin
Other activities
Apart from land safaris, you can even try a boat safari on Irai Lake (starts November), or go on a walking jungle trail (with a trained guide), or try bird-watching. At the lodge, you can unwind in the spacious lounge-cum-nature library. I watched an excellent Nat Geo documentary on the tigers of Tadoba, narrated by David Attenborough.
Pin
Or cool off by taking a dip in the swimming pool
Pin
Pin
Tempted to experience this for yourself? Waghoba Eco Lodge is a 2.5-hour drive from Nagpur airport. More details and booking information on their website.
Pin
Read my original feature for National Geographic Traveller India here.
Pin
Disclosure: My visit was courtesy Waghoba Eco Lodge, views my own.