Is it a royal haveli? Is it an eccentric man's flamboyant home? Or is it perhaps the coolest design hotel in India? The answer to the last question is a resounding 'yes'. As far as the first two questions go, Narendra Bhawan is a bit of both. Read about my regal stay at Narendra Bhawan, Bikaner.
Pin
Narendra Singh, the last reigning Maharaja of Bikaner, was born just a year before India gained independence. He led a charmed life befitting nobility, with frequent travels abroad where Broadway shows, theatre, and museums were de rigueur. He collected curios and animals with equal gusto – he had more than 100 pedigree dogs (the hotel is also pet-friendly). Narendra Bhawan was his townhouse and he lived here (rather than at the royal palace) until his passing in 2003. Today, it is a luxury boutique hotel.
The Hotel
Pin
Narendra Bhawan is not your usual Rajasthani haveli-hotel. The owners MRS Group have built upon the original townhouse seamlessly adding three floors with stone jaali façade in keeping with the haveli's original architecture.
Pin
The wide patio is laid out with Portuguese tiles, comfortable couches, and cabinets filled with objets d'art. It's a sort of Diwan-e-aam if you please, where the Maharaja might have received people.
Pin
The electric red baby grand piano scribbled over with lyrics of Edith Piaf's 'Non, je ne regrette rien' is the centrepiece in the inner veranda, and you can almost imagine the Maharaja sitting here playing his favourite songs.
The Design
Pin
There are eclectic design touches everywhere like Bombay Art Deco motifs and Bikaner terrazzo floors. I especially loved the bench upholstered in plush velvet Prussian blue with horse-limb legs.
Pin
The restaurant's name – Pearls & Chiffon – pays homage to yesteryear sartorial style. Its ambience is a mix of Indian royalty and Victorian decor with floral wallpaper, rich fabrics, and gold pendant lamps. Mad Hatter is the in-house patisserie and coffee shop. It takes inspiration from 'Alice in Wonderland' with its whimsical crockery of poodle bowls and themed creations.
Pin
The erstwhile haveli's terrace is now the Diwali Chowk. This open-air central courtyard with clusters of flowering trees and assorted seating is perfect for a cup of coffee or lounging with a book.
Pin
Oh, and don't miss the hotel's rooftop swimming pool that overlooks old Bikaner city.
The Rooms
Pin
The room categories follow the Maharaja's evolution from a young prince to a military man to a statesman. The Residence Rooms have a distinctly English colour palette, while in the India Rooms, indigo (the symbolic colour of India) reigns supreme.
Pin
We stayed in one of the Republic Suites, a thoroughly contemporary space in steely blues and concrete greys.
Pin
This "architect's room" pays tribute to Le Corbusier with its scaffolding-inspired décor elements. The sharpened Nataraj pencils at the writing table were a nice touch.
Pin
Pin
Dining
Our stay at Narendra Bhawan was full of many memorable meals like the Halwai Breakfast we had one morning. It was a veritable feast of kachori, poori, and methi ki sabzi (a bitter-sweet curry of fenugreek sprouts), finally ending with cool lassi, and syrupy jalebi. Another highlight was a Literary Lunch with dishes inspired by food writings in books as diverse as The Bell Jar and Ulysses.
Pin
One afternoon, we drove to Laxmi Nivas Palace for a Museum Lunch in its Gold Room, where the intricate decorations used a whopping 45 kg of gold. The meal drew inspiration from a 1927 royal banquet, the menu of which is on display at the Sadul Museum in Lallgarh Palace next door.
Pin
It's difficult to pick our best meal but it would probably be our last dinner. On our last evening in Bikaner, we drove about 45 minutes outside the city to arrive at a small lake. Darbari Lake was a favourite game hunting spot of the Maharajas of Bikaner. A snow-white shamiana was set up lakeside with comfy couches and mattresses laid out.
Pin
As the sun set, lanterns and candles were lit all around us. A roaring fire nearby kept us toasty (we visited in January) as we feasted on a shikar meal – quail, rabbit, goat, and more – to the melodic notes of a lone flautist.
Exploring Bikaner 
We spent our days exploring Bikaner with Narendra Bhawan's concierge Ram Saran.
Pin
The 'Merchant Exploration' took us to the intricately carved red sandstone havelis of Bikaner, which date to the 1920s and 30s. Even today, they stand as a testament to the wealth and grandeur of the merchants who came to the city on the invitation of Maharaja Ganga Singh (Narendra Singh's great-grandfather).
Pin
On the 'Royal Exploration' trail the next day, we got a peek at Bikaji ki Tekdi. Rao Bika built this fort in 1486 when he arrived here from Jodhpur to form his own kingdom.
Pin
The fort contains the marble cenotaph of the king.
Pin
We continued on the royal route to Junagarh Fort, a remarkably well preserved and maintained 16th-century fort. It's the only land fort in Rajasthan. Its red sandstone contrasts beautifully with the Italian marble courtyards.
Pin
In the evening, we trawled Bikaner's chaotic market streets, choc-a-bloc with colourful silk saris, spices, and household wares.
Pin
I also loved sampling the piquant ker-sangri pickles (local capers and beans) and the famed Bikaneri bhujia (spicy gram flour sev).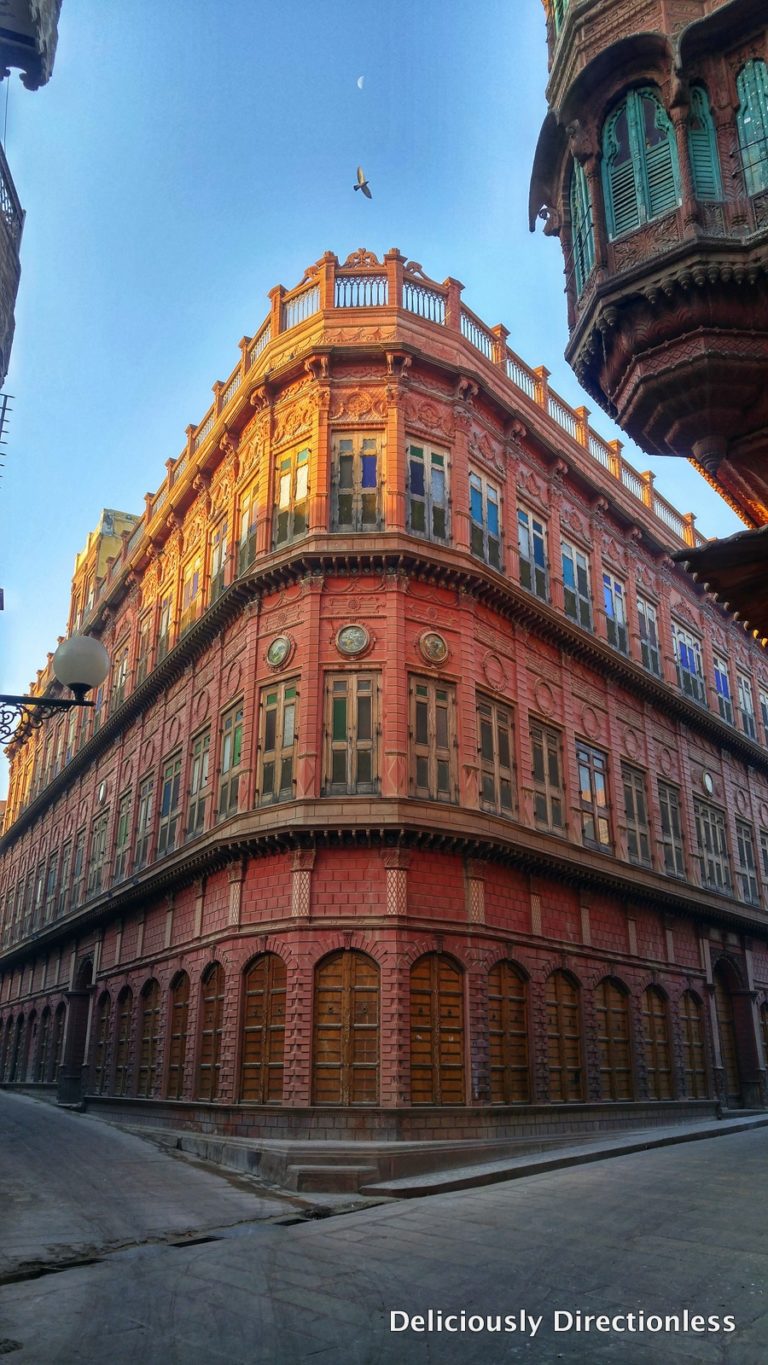 Pin
I hope this post has inspired you to book a trip to Bikaner. You can fly directly from Delhi to Bikaner on Air India, Alternatively, fly to Jodhpur or Jaipur and then drive to Bikaner.
Pin
Stay at Narendra Bhawan to get a truly royal experience of Bikaner. Check out their website for the latest offers.
This article was commissioned by National Geographic Traveller and was published in their March 2018 issue. Read it here.