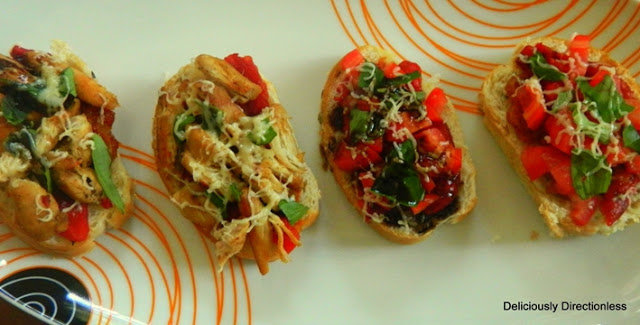 Yes, I'm on a holiday, but that doesn't mean my blog will not be updated!Here is another Italian-inspired dish for you to try. I say "inspired" because
the recipe that follows is not how Bruschetta is traditionally made in
Italy. Bruschetta is an antipasto, which literally means before the
meal. Antipasti form the first course
of a traditional Italian meal and are equivalent to entrees or starters.
Classic bruschetta
(pronounced bru-sketta) is roasted bread topped with tomato, garlic and herbs
(usually basil), served with a drizzle of olive oil. Outside of Italy, bruschetta is served with different
toppings, often topped with cheese. Here are couple of suggestions for bruschetta toppings for your next dinner
party – a vegetarian one (for all those who keep asking me to post veggie
recipes!) and a version with chicken. Buon
appetito!
This recipe serves 4-6 people.
You'll need:
A Baguette or similar long thin loaf of bread
Red, Yellow & Green Bell Peppers (one each)
Olive Oil
100gm boneless Chicken Breast
5-6 cloves of Garlic, chopped
1 red chilli
1 large Tomato, deseeded and chopped
Fresh Basil leaves, torn
Some Mozzarella cheese
for topping (optional)
Balsamic vinegar for drizzling (optional)
How to:
First roast the bell peppers. This can be done in advance.
Rub the peppers with olive oil and place on a baking sheet. Place
the baking sheet on the top-most rack in a preheated oven at 250C. The oven
should be at the 'broil' or 'grill' function i.e. only the top heating coil is
on.
Keep an eye on the peppers. When dark splotches start appearing on
the surface, turn the pppers over, using a pair of tongs.
Once the peppers have been roasted all over, remove the baking
sheet and allow the peppers to cool completely.
Gently peel of the skin, which should come off easily. Remove the
stems and the seeds and any pulp remaining inside the peppers. Reserve the
peppers till required.
The chicken can also be prepared in advance. Cut the chicken into 1-inch
chunks and season with salt and pepper.
Put a pan on a high flame. Add oil and heat until very hot. Add
2-3 cloves of chopped garlic and chilli.
Give a quick stir and then add the chicken pieces. Cook till done;
about 4-5 minutes. Transfer to a bowl and set aside.
To make the bruschetta,
cut the bread loaf into 1-inch thick slices. Brush with olive oil on one side
and place under a hot grill, oil side up. Alternatively, lightly toast on a
pan, oil side down.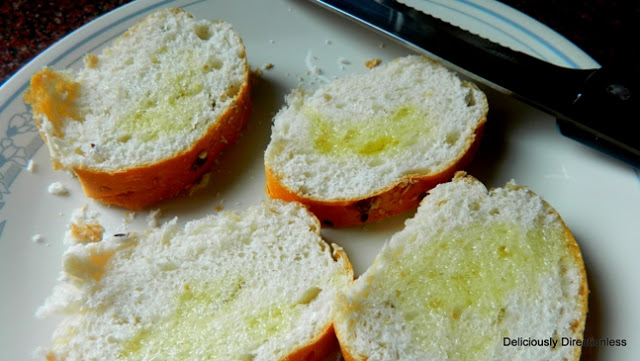 For the vegetarian version, layer the roasted peppers on the
toast. Add tomatoes, garlic and basil.
For the chicken version, shred the cooked chicken. Layer the toast
with roasted peppers. Add chicken, basil and tomatoes (optional, in this
version).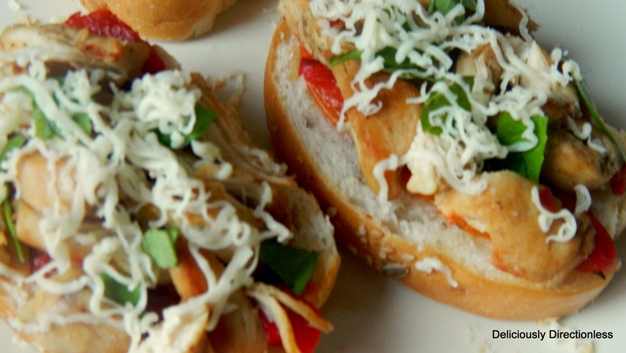 Top with the mozzarella,
if using. Drizzle with balsamic vinegar, again optional (but tastes delicious!). Serve immediately.