David Rocco's Dolce Vita at ITC Grand Central
Couple of days ago my phone rang and it was
ITC Grand Central
asking if I'd like to attend an evening of wine tasting with Canadian-Italian TV Chef
David Rocco
. After I was done swooning a bit, I promptly agreed! Who would pass up an opportunity to meet a hot-shot TV presenter of the very popular food and lifestyle programme
David Rocco's Dolce Vita
? The show airs in the US & Canada and in India it's on
Fox Traveller
. I have caught several episodes of it and I found David to be an engaging host, as he travelled around Italy cooking for friends (and strangers). And since I'm a bit of an Italophile (OK, that's an understatement), I have always enjoyed his show.
David has been in India for a week or so and
he has been scouting locations and shooting for a new India-based show,
tentatively titled
Dolce India
(but this is likely to change). Before arriving
at the ITC Grand Central, David spent couple of days at
Fratelli Wines
vineyard (in
Solapur, Maharashtra) for the annual harvest and he was given a taste of Indian
wines. And then, on Feb 27th he hosted a wine-tasting event at ITC
Grand Central's rooftop
Point of View Lounge
, for
specialised media (yours truly was a part of it!) ITC's Point of View is an inviting, split level lounge with an absolutely breathtaking view of the city.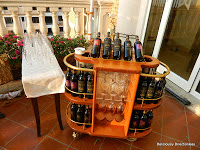 I reached a bit early; the open air gazebo on
the 30th floor of the hotel was being prepped for the evening and
the TV crew was milling about. In the
lounge, there was a spread of cold cuts and cheeses, hummus and crackers and I
was offered a nice cup of cappuccino. Sinking back into the richly upholstered chair, I could see why Point of View is the most premium and exclusive lounge at ITC Grand Central.
And then David Rocco walked in and I'm
pretty sure that I heard a collective sigh from the ladies present! We were
being herded out to the gazebo when I got the opportunity of getting a picture
with the star of the evening 🙂
As ITC Grand Central put it "David Rocco being greeted by @DelishDirection"!!
Like he does on TV, David started chatting up
the people present – there were couple of other bloggers and reporters. The singer/actress
Raageshwari
added the glam factor. Also present was
Farzana Contractor
, the
editor of
Uppercrust Magazine
and
Saransh Goila
, the youngest chef on Indian
telly, who hosts a show on
Food Food
channel.
Mr. Kuldeep Bhartee, General Manager ITC Grand Central, with Raageshwari
With Farzana Contractor & Saransh Goila
There was another sumptuous spread laid out
for us in the gazebo, with olives, artichoke hearts, cold cuts, an excellent
salmon and asparagus.
More starters were circulating, including the Lamb
Arancini made by David (fried rice balls stuffed with lamb), which were
quite flavourful, albeit a bit dry; they were served with a barbeque sauce.
Bottles of Fratelli Wines were being opened and I sampled the Sette (a red) and
the Chardonnay, both of which I quite liked. As usual, ITC Grand Central's hospitality was spot on – warm and professional. As the evening progressed the
atmosphere became quite jovial; the TV crew was shooting David talking to us
bloggers and we were asked to give some sound bites for the camera!
Towards the end of the evening, another dish
of David's made an appearance – Schiacciata all'uva with cinnamon – a delicious Tuscan treat of a focaccia dotted with grapes and topped with
cinnamon. It was just sweet enough to pass off as dolce (dessert).
For more pix, click
here.
Before I left, I had to ask David why he chose
to make a show on India and pat came his response "
there are 1.2 billion
reasons to!
" This is his second visit to India and in his own words "the heart
of a country is its people, and I love the warmth of the people here"; so India
was an obvious choice when he was looking at making a new show. Not to mention
the popularity of food-based programming in this country.
So you may just catch
me on Fox Traveller some time, mingling with David Rocco & being a part of
his Dolce Vita!
Stay tuned 🙂
Disclosure: I was invited by ITC Grand Central for this event.