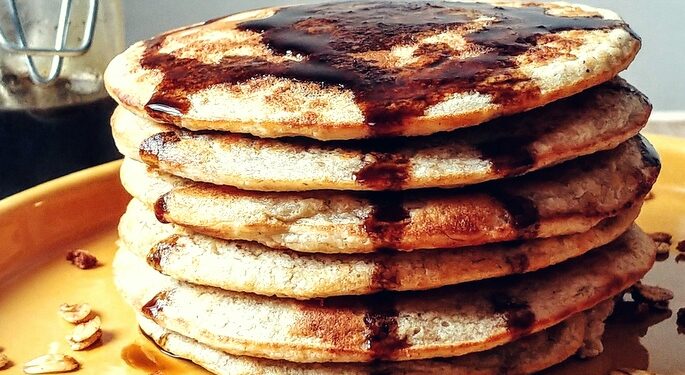 Is anyone else missing the hotel breakfast? While I'm not a fan of the buffet (congealed scrambled eggs, no thanks), I do love the pancake station. And I don't mean the pre-made, not-so-healthy pancakes that lie forlornly on the warming tray. I'm talking about the freshly made pancakes that come to your table. Or to your bed, like this one at the Hilton Mumbai International Airport (I also miss hotel beds, to be honest).
Pin
Or this breakfast spread in Amsterdam…
Pin
Pancakes doused with syrup and topped with cream are fine on a holiday. But if you want to make them at home or on a regular basis, you'd want a healthy pancakes recipe. Most recipes use all-purpose (AP) flour, which is not nutritious. So I have replaced it with oats flour (simply blitz your breakfast oats in a mixer to make the flour). This recipe contains no egg and no added sugar. The sweetness comes from the mashed banana, and of course, from any syrup or honey that you choose to pour over the pancakes later.
Pin
This recipe makes 6 pancakes and takes just about 30 minutes from start to finish (including eating time, lol).
Ingredients
120 gm / 1 cup oats flour
240 ml / 1 cup milk
1 tbsp AP flour or whole wheat flour
1 overripe banana, mashed
1/2 tsp baking powder
1/2 tsp cinnamon powder
1 tsp butter/vegetable oil/ghee (plus more for brushing the pan)
a pinch of salt

Procedure
Place all the ingredients in a bowl and mix well
Let the batter stand for 10-15 minutes
Brush a pan or skillet with butter or vegetable oil or ghee
Heat it on medium-low and pour ladlefuls of the batter
I use this amazing non-stick pancake pan to make mine. The pancakes cook evenly and you get perfectly circular ones. The pan is available on Amazon (non-affiliate link)
Pin
Cook the pancakes on one side until bubbly on top and golden on the bottom (about 4 minutes)
Flip them over and cook on the other side until golden on the bottom (about 2 minutes)
Transfer to a plate and serve warm drizzled with honey or maple syrup, and with sliced banana/strawberries or any other fruit of your choice. I have poured some spiced jaggery syrup over my pancake stack
Pin
So try out this healthy pancakes recipe for your weekend breakfast or brunch and let me know how they turn out.