Portugal has a thriving cafe culture and the quality of coffee is uniformly excellent throughout the country. Porto has some charming cafes that are just perfect for grabbing a cuppa and watching the world go by.
Here's where to get your caffeine fix in Porto.
Pin
Pin
This gorgeous Belle Époque style cafe dates back to the 1920s and is arguably Porto's most famous cafe. Even on a cold, rainy, winter's day in Porto, there was a queue of umbrella-wielding tourists waiting outside for its coffee, not to mention its signature French Toast, which is decadently drizzled with custard and dry fruits.
Pin
Inside, the mirror-lined pastel pink walls, the gilded wall appliques, the elaborate chandeliers, the leather upholstery, the marble tabletops, all hark back to the opulence of the Roaring Twenties.
Pin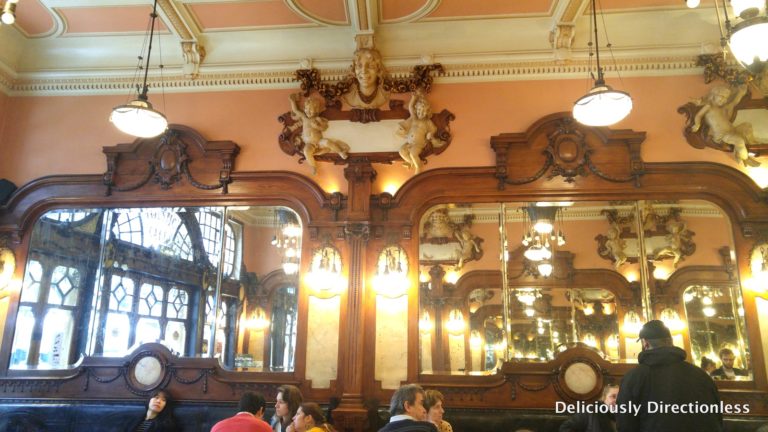 Pin
The coffee is probably the most expensive in Portugal (€3 compared to less than €1 elsewhere), but it's good, and it's an experience to sit amidst all the history, listening to people conversing in multitudinous tongues, all of whom have come from near & far to get a slice of Majestic Cafe.
Pin
Opened in 1899, Cafe Progresso is the oldest cafe in Porto. It may not be as pretty as Majestic and doesn't draw in the tourists, but it's a favourite with the locals who come by for its cafe do saco – strained coffee that is served from an old-fashioned drip coffee machine; it's strong and has a better body and flavour than say, the French press.
Pin
Pin
Of course, there's espresso and all other coffee styles on offer, along with pastel de nata and other sweets. They also serve a substantial daily breakfast and brunch, and dinner on the weekend. There's live jazz in the cafe on Fridays after 8 pm.
Pin
Cafe Guarany opened doors in 1933 and has always been a favourite with the artists, musicians, and writers. It's a fairly large cafe with a cheerful ambience particularly due to the highly colourful paintings on one of the walls. Painted by Graça Morais, 'The Lords of Amazonia' pays tribute to the Guarany tribe in keeping with the faintly Brazilian theme of the cafe (Portugal and Brazil have a long colonial history).
Pin
Tavi has a stunning waterfront location in the Foz area of Porto. This lovely bakery-cafe also has one of the most delectable pastry displays in the city. Grab a cup of coffee with a Bola da Berlim on the side, a sort of small doughnut (without the hole) stuffed with custard and dusted with sugar. Yum!
Across the street from Tavi, is its bakery and deli where you can choose from 23 types of freshly baked bread. If you're in Porto during Easter, try their folar de Pascoa cake, and during Christmas get a taste of bolo rei – a rich cake with raisins, nuts, and caramelised fruits. Read more about it in my post The Sweet Taste of Portugal.
In case you missed my guide to Porto, read here.