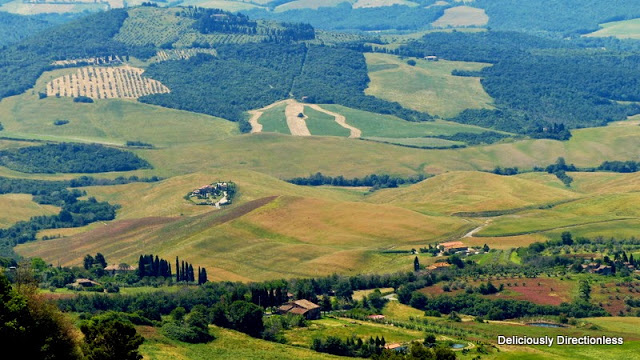 Rolling
green hills, sun-kissed villas, a splash of red wine, extra virgin olive oil
mopped up with crusty bread, hearty game dishes – so much has been said and
written about
Tuscany
, that gorgeous region in central Italy. Dotted with vineyards
and olive groves, the Tuscan countryside is decked up in all possible shades of
green.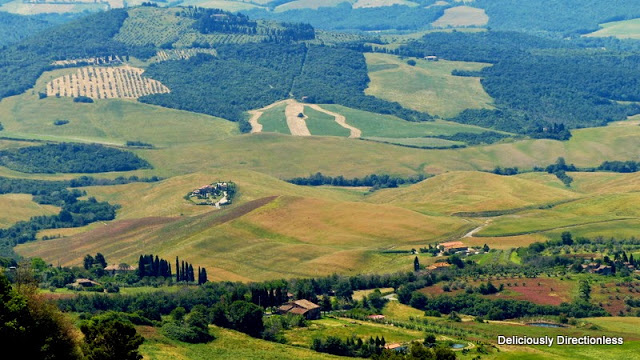 Art-rich Florence is the capital of this region and Siena, Pisa, Lucca &
Arezzo are some of the major cities here. We stayed in Florence for three days
and made a day trip to Siena. We're also probably the only people who have come
back from Italy without seeing the Leaning Tower of Pisa 😉
Ancient
Volterra
While
the cities are beautiful (and more about Florence in a later post), it's rustic
Tuscany that really stole our hearts. The region has several small towns and
picturesque villages and we chose to visit
Volterra
.
PinThe town is not as
touristy as San Gimignano nearby (the walled, hilltop town famous for its
tall towers) and you'll still find locals living here, giving the place a
friendly, lived-in vibe. The town itself is quite small and best explored on
foot. The cobbled streets are lined with pretty houses, with flower boxes and
laundry hanging from the balconies. The town is known for its alabaster
handicrafts – ranging from small knick-knacks such as boxes, chess pieces and
animal figurines to large busts, chandeliers and decorative columns.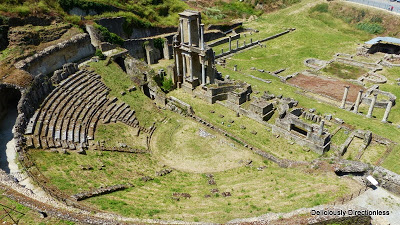 Volterra
has a long history going all the way back to
the Etruscans
, circa 800 BC. Ruins
of Etruscan temples and burial sites are found in the town and a museum is
dedicated to that era. The Romans have also left their mark on the town and the
remains of a Roman Theatre from 1 BC still stand tall below the old walls of
Volterra.
The historical centre of the town has a distinctly medieval feel –
the cathedral dates back to early 1100s and the
Palazzo dei Priori
to
mid-1200s; the latter is a must-visit especially for a chance to climb up to
the bell tower and get a bird's eye view of Volterra. The
Twilight series of books
is apparently set in Volterra; I haven't read the books, lest you judge me!
Where
to eat
Despite
its size, Volterra has a surprisingly large number of restaurants and cafes –
some good, some pretty ordinary. We were recommended this gem of a place –
La Carabaccia
in Piazza XX Settembre. There is an al fresco area of course, but we chose to
sit inside the restaurant – pastel colours, several tables scattered around,
photo-frames on the walls, pots and pans, a profusion of lamps – you feel as if
you've walked into a friend's home.
The menu is limited and changes every day,
depending upon what's in season. The day we visited, the chalkboard menu
announced a choice between Spaghetti al
Sugo Aromatico and Pasta con Zucchine
e Pancetta for the primo piatto;
we chose the pasta with zucchini and pancetta, along with a glass of house wine
for me and some limoncello for the husband. The drinks arrived and so did a
bread basket.
PinHere they make their pasta fresh every day and when the dish
arrived, it was simply dressed yet so flavourful that I really wonder why we
drown the pasta in sauce at most Italian restaurants in India!
For the second
course, the choice was between Stracottate
alla Fiorentina (a steak dish) and Coniglio
alla Mediterranea, which was wild rabbit and that's what we ordered. The
rabbit was melt-in-the-mouth delicious, dressed with capers, olives and herbs. Of
course coffee and dessert is available as well, but we were too stuffed!
Where
to stay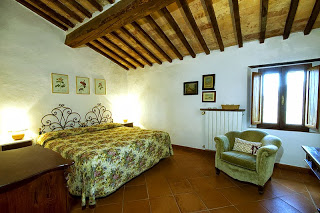 Image courtesy San Lorenzo
San Lorenzo is run by Marinella & her husband – along with a small support
staff, not to mention Molly their super-friendly dog. The family lives on the
lower floor and rents out rooms and apartments. Our room was at the very top, on
the second floor, with a great view of a little hill and the verdant
surrounding areas.
A large olive grove surrounds the villa and olive oil is
available for sale as well. The entire villa has been built around a 12th
century chapel, which is now the dining room where they also offer cooking classes.
I took one class the day we arrived and, along with a Canadian couple, made a
delicious meal under the guidance of Mariana the chef – but that's the subject
for another post 🙂
It
was a wrench to leave the place (that's true for all places that we stayed at
in Italy!) but it's definitely a place that we would like to return to –
Volterra needs more exploration and San Lorenzo seems like a home away from
home! A presto, Toscana…