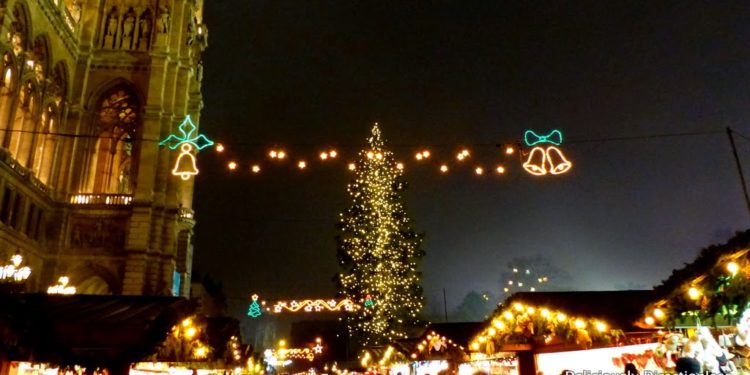 This one is truly not-to-be-missed. With a backdrop such as this, is it any wonder that Schönbrunn is one of the most popular Christmas markets in Vienna? Take the U-bahn from the city to the palace (about 10 kilometres outside the city) and you are standing in front of the summer palace of the imperial Hapsburg family. The palace itself is worth a look, and you can get a glimpse of how the royals lived. The Christmas market here is quite well-organised, with beautiful arts and crafts on sale, as well as lots of goodies to eat. I went on a Sunday evening, so naturally the place was choc-a-bloc, but I got a chance to hear some choir bands in action.
The cobbled streets of Spittelberg district, just off Burggasse, host a traditional Christmas market. This one is known especially for its high quality handicrafts. There was a puppet theatre and a candle making workshop in progress the day I visited.
This is the first year that the Royal and Imperial Christmas Market was held in Michaelerplatz, outside the Hofburg palace complex. The pristine white stalls hosted many of the former Imperial and Royal Court suppliers – who were the suppliers to the Hapsburg family that ruled over the Austro-Hungarian empire from Vienna. I loved browsing through this one, as it was a small market with some really high quality products (especially candles and soaps).
Bundle up! This is a no-brainer really. The Christmas markets are outdoors and winter evenings in Vienna can be very chilly. Keep an extra pair of gloves and a scarf in your handbag.
Wear comfortable shoes. Most of the markets listed above are within walking distance, plus there aren't many places you can sit in the markets itself; so you will be on your feet a lot.
Bring cash, in small bills and some coins. Many of the stalls will not accept cards, so have enough cash on you.

And of course, keep your bag / wallet safe! Vienna is a pretty safe destination, but it only takes an odd pickpocket to ruin your day. So be vigilant, especially in the evenings when the markets are really crowded.
Go to the same market twice – once during daytime and once after sundown. The markets are prettiest in the evening, of course, but you can really check out the stalls better (and do your shopping) during daytime. There are fewer people and you can take your time looking around, deciding what to buy.
Bring along a shopping bag to put all your purchases away in a single place, instead of carrying multiple bags.
And most importantly, come hungry! Because you WILL snack your way through the markets 🙂
Happy holidays!