It's safe to say that Berlin (like me) runs on coffee. You will find a great cafe or roastery almost anywhere in the German capital, and most of it is rather good. Home to a large international community, cafes in Berlin is where the action is..
Pin
Whether you're looking for a morning caffeine fix, or getting a few hours of work done, or catching up with friends, there's no dearth of third-wave coffee shops and specialty coffee roasters in the city. Here's where I went for my cuppa on my recent visit to Berlin.
Bonanza Coffee Roasters
PinThe OG of Berlin's specialty coffee scene, Bonanza Coffee Roasters is also my favourite (although it's a tough call). The coffee is "unnecessarily good" (as their website says), but I particularly like them because their baristas are super knowledgeable and happy to recommend (without being snobby).
Pin
Their light- and foliage-filled roastery-cafe at Adalbertstrasse (left) is rather special (as is their pain au chocolat).
Another Bonanza outlet I loved is on Jägerstrasse in Gendarmenmarkt (right) where I paired my espresso with a moreish shortbread
The Barn Coffee Roasters
PinMy second pick would be The Barn, which regularly wins "best specialty coffee roaster" awards. And I rather like their compact outlet on Auguststrasse in Mitte (left). I was stoked to find out that The Barn was also available at Café Kranzler (which was just 5 minutes from my hotel). This landmark cafe (right) in Ku'damm was founded in 1825. I loved its distinct striped canopy and the panoramic view it gives over the busiest boulevard in Berlin. This is where I had my first coffee in Berlin last month, seated on the outdoor terrace and just soaking in the mid-morning sun
The Visit Coffee & Eatery
Pin
PinThe Nürnbergerstrasse outlet of The Visit Coffee & Eatery (left) was just a short walk from my hotel. Great coffee and their food menu looked fab too.
Refinery High End Coffee
I stumbled upon Refinery as I was walking to the Friedrichstrasse S-bahn station. Since it was a sweltering summer day, I popped in for an iced coffee (right).
Five Elephant
I didn't make it to Five Elephant this time but I have tried their coffee in the past and would definitely recommend them. They are in Mitte, Prenzlauer Berg, and Kreuzberg (where they also have a deli).
Röststätte
Pin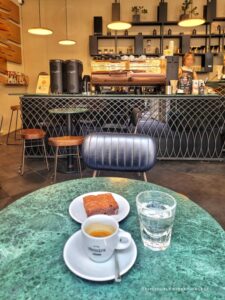 I love the Art Nouveau maximalism of Hackesche Höfe (above) in Mitte so I went by a couple of times during my trip. And this board outside Röststätte lured me in, obviously! The art nouveau design continues inside, making this one of the prettiest cafes in Berlin. I had a very good espresso and a decadent brownie to go with it.
Deli & Cafe Alexander
Located inside Humboldt Forum, Alexander Deli is a gorgeous cafe inspired by the discoveries and stories of the explorer and naturalist Alexander von Humboldt. It serves global cuisine that has found its way to Berlin – from Europe via North and South America to Australia and Asia.
And their coffee is pretty darn good, even if I went decaf. That accompanying Käsekuchen (cheesecake) though!
PinIf you plan your days around coffee (like I do), this list of cafes in Berlin will definitely come in handy when you visit the German capital! Or, have you already visited Berlin? Leave a comment with your favourite cafe that I can try on my next trip.
Disclosure: My visit was courtesy German National Tourist Board and Visit Berlin, although this caffeine-fuelled project is all mine!