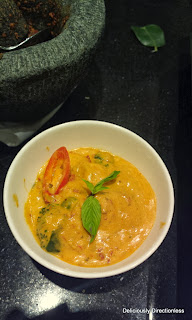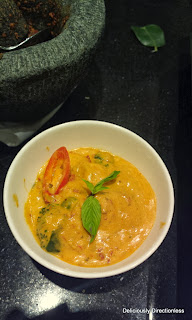 In our chef whites & hats – Image courtesy Four Seasons Mumbai
What better way to spend a lazy Saturday morning than cooking up a storm with a bunch of foodies at one of the best hotels in the city, right? This weekend
Four Seasons Mumbai
had invited me and few other food writers / bloggers for a
Thai Master Class
with Chef Seefah from their
San Qi
restaurant. We were promised an excellent lunch but we would have to work for it – no free lunches, eh?!
We were handed three recipes and directed to 'The Kitchen' – a well-equipped studio kitchen with an elegant dining area attached. The kitchen island was large enough to accommodate 8 workstations. We were joined by the better halves of the Thai Consul General & Four Seasons' General Manager in our cooking adventure. Chef Seefah began by explaining the basics of Thai cuisine – how sweet, sour and salty tastes combine in harmony to create a balanced flavour.
Then began the pounding! We were to make the Thai red curry & green curry pastes from scratch – something I had not attempted till date. The ingredients for the red curry paste went into the stone mortar & pestle and I began pounding them to a paste. It was slow, hard work but entirely satisfying. Also, a good workout – no wonder our grandmothers needed no gyms 😉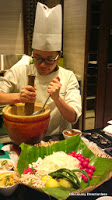 Once the paste was ready, we proceeded with the making of the curry – see the recipe below. We also made the green curry from the paste that Chef Seefah had made in advance. She then demonstrated how to make the typically Thai raw papaya salad.
We sat down to a sumptuous lunch. Apart from the papaya salad, there was another starter – Mi Grob Chao Wang – a sweet and sour fried noodle concoction, which was nice & tangy.
This was followed by Chef Seefah's signature dish – Steamed Chilean Sea Bass with Yellow Bean Ginger Sauce – the fish was perfectly cooked and the accompanying sauce was delicious.
The fish was served with a large helping of rice, which I mopped up with my red & green curries.
Thai cooking uses coconut milk extensively. If you're looking for more recipes using this ingredient, take a look at this
Thai Sticky Rice
recipe I had posted earlier. And closer home, this Goan style
Fish Curry
also uses coconut milk as a base.
Thai Red Curry
This recipe serves two.
You'll need:
For the Curry Paste
3-4 dry Red chillies
1/2 an Onion/Shallot, chopped
2-3 cloves of Garlic
Zest of one Kaffir Lime
2 Coriander roots, cleaned
2 tsp Lemongrass
2 tsp Galangal, peeled
1 tsp Coriander seeds, roasted
1 tsp Cumin seeds, roasted
2 tsp whole White Peppercorns
1 tsp Salt
For the Curry
2 tsp Oil
Mixed vegetables – florets of cauliflower & broccoli, baby corn, zucchini, eggplant
200 ml Coconut Milk
50 ml Vegetable Stock (approx.)
2 tsp Sugar
Salt to taste
2 Kaffir Lime leaves
1 Thai Red Chilli, cut into diagonal slices
Sprigs of Thai Basil for garnish
How to:
Pound all the curry paste ingredients in a mortar and pestle (or grinder) to a fine paste. The paste must be smooth and all ingredients must be blended well.
Heat the oil and fry the curry paste over a medium flame, stirring regularly.
Add the coconut milk and some stock. You may need to add more stock depending upon the thickness of the curry.
Add the mixed vegetables and seasonings.
Allow to simmer for a few minutes. Add the kaffir lime leaves & red chilli slices.
Pour into individual bowls and garnish with Thai basil.
Serve hot with steamed rice.
Give the recipe a try and let me know how it goes. Bon appetit!
Disclosure: I was invited by Four Seasons to participate in this cooking class.