An Exclusive Interview with Rahul Akerkar
With the increasing worldwide focus on food, it's no surprise that restaurants and restaurateurs from India are making their presence felt – whether it's bringing cuisine from various parts of India to a global audience or putting their unique spin on world cuisine. The recently released
S. Pellegrino Asia's 50 Best Restaurants List
has no less than 7 restaurants from India. And coming in at number 28 is 
Indigo.
 The restaurant has also been voted as the
Best European Restaurant
from India as well as the
Best Standalone Restaurant
from India. Take a look at my restaurant report
here
.Returning from Singapore, after collecting these prestigious awards, the Founder & Director de Cuisine of Indigo –
Rahul Akerkar
– kindly consented to be interviewed by me. So here he is, shooting from the hip, absolutely un-edited! Budding restaurateurs, take note.
Q1. Congratulations on being ranked #28 on the prestigious Pellegrino's "Asia's 50 Best Restaurants" List. That's quite an honour; how does it feel? 
A1. Thank you! Yes it is, indeed. In 2007, we were ranked #75 on San Pellegrino's World's Best Restaurants list, and after 5 years to have ranked #28 on San Pellegrino's Asia's 50 Best Restaurant's list is quite an achievement and we endeavour to keep improving our ranking. It feels absolutely great and even more so considering Indigo is in its 14th year. 


Q2. Indigo is the only European restaurant from India to be on the list, despite the fact that almost every new restaurant that opens in India showcases some European cuisine. Where do you think most restaurants falter?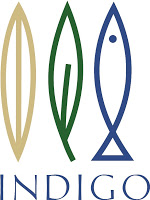 A2. More than how other restaurants go wrong, I'd like to talk about what we do right. It's imperative to keep innovating, expressing one's culinary creativity, keeping up with international trends and techniques. The Indian diner who visits Indigo is very well-travelled; they have tasted a lot more around the world – so you can't underestimate your audience by offering a sub-standard product with the 'European' tag. Freshness of produce and ingredients has always been our focus; you absolutely cannot cut corners there. And what definitely sets us apart from the rest is hospitality! We have always taken a warm, personal approach to hospitality – going that extra mile to make your guests feel special is something we have believed in right from the start. We are purveyors of the 'can do' kind of hospitality. 
Q3. Despite the variety in Indian cuisine, only 7 Indian restaurants feature in the top 50. What in your opinion is needed to make more Indian restaurants world-class? 
A3. A lot of it has to do with the fact that majority of the global diners aren't aware of the intricacies and nuances of Indian cuisine. It is a domain filled with stereotypes of chicken tikka masala and spices. Finding a niche and perfecting what you have to offer definitely helps any restaurant's competitive advantage. It's challenging now more than ever, with so many new restaurants popping up every month. Stick to the basics and be honest to your customer – there's a fine balance, but it can be achieved. 
Q4. More and more Indians are eating out (and shelling big bucks for it). Generally speaking, are they getting their money's worth? 
A4. There's no denying that Indians are spending a lot more of their disposable income on eating out. Listen, there are good restaurants and bad restaurants across the world – but I can safely say that with the foray of more and more skilled chefs with interesting perspectives on food looking at setting shop in a very competitive hospitality environment, there's no denying that there's some great food leaving the kitchens and diners there are definitely getting their money's worth. Yes, fine dining is expensive, but have you observed the inflation in food costs, property rates and taxes on imported produce? 
Q5. After your successful foray in European cuisine with Indigo & Indigo Deli, what made you go the 'Neel' way? 
A5. Before Neel, we had Tote on the Turf which again specialised in European cuisine. Before long, we realised that its success was interfering with Indigo and Indigo Deli, making it a direct competitor and dividing our patrons – forcing them to choose. Our premier outdoor catering division, Moveable Feast, received plenty of praise for its Indian cuisine so we thought, why not! However, maybe one of the key reasons was that we were fortunate enough to find the talented Chef Mukhtar Qureshi. 
Q6. Who / what influenced you to cook (and to become a professional chef)? 
A6. I have fond memories of visiting my grandparents in Nasik as a young lad, and of all those traditional Maharashtrian snacks my grand mom would prepare with tender loving care. So she definitely has something to do with it. Another major influencer has been the Italian chef I worked with during my early days in New York, where I started my career. 
Q7. What is your signature dish? 
A7. Well there have been many, and it's interesting that you ask me that because only recently, during the opening of Indigo Deli R City, I had a guest approach me on spotting me in the kitchen and mentioned that he still misses my Chicken Dijonnaise from Under the Over – and of course, I whipped some of it for what I hope would be a very happy guest. From our recent menu at Indigo, I would say the 64° Truffled Chicken Breast and Pressed Watermelon Salad received some rave reviews. 
Q8. Do you think that the trend of 'molecular gastronomy' experiments (liquid nitrogen, foam, dehydration etc.) have a place in your cooking? 
A8. So I have never been one for gimmicks – any inclusion for the sake of making things look fancy without adding substance in the form of texture, balance in flavours, contrast, etc. is counted as gimmicky for me. Having said that we have incorporated some contemporary techniques into our new menu at Indigo – powdered olive oil, sous vide, but all these are a result of plenty of taste trials and R&D. 
Q9. How do you spend your day off? 
A9. By now it's no secret that those from hospitality don't get much leisure time – so at any given point in time I try and spend as much time as possible with my gorgeous wife Malini and our two beautiful daughters. And I do enjoy swimming and deep sea diving whenever an opportunity presents itself. 
Q10. What do you cook at home that you never cook in a restaurant? 
A10. I cook for my family and friends at home, so at the end of the day I cook what they wish me to cook for them 🙂


All images courtesy Indigo