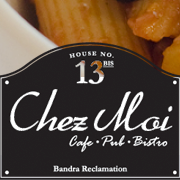 I wonder why is it that Mumbai hasn't taken
too kindly to French restaurants, as much as it has opened its arms to the
Italian ones (or what passes for Italian, in many cases). Almost every
new restaurant goes for the Italian tag, or a more generic 'European' (case in
point Cheval and The Sassy Spoon). I wonder if it's the perception that French
food uses a lot of butter. But if you'd go behind the scenes and take a look at
the amount of cream and cheese that goes into making some of the
not-so-authentic Italian dishes in Mumbai, I guarantee that you'll never eat it
again!