Where to stay in Hong Kong


Buzzy, glitzy Hong Kong. A city that never sleeps. A foodie's paradise. A shopper's delight. I got a chance a re-visit the city last month, courtesy Ovolo Hotels – a hospitality group that operates hotels across Hong Kong and Australia. Owned by Indian-origin, HK-based entrepreneur Mr. Girish Jhunjhunwala, Ovolo runs 8 hotels and 2 service apartments across three cities – Hong Kong, Sydney, and Melbourne. I stayed at four of their properties (since I visited Sydney & Melbourne too), and I must say these are some of the coolest boutique hotels I have stayed at! Here's why I loved my stay at Ovolo Southside Hotel, and why you should stay here when you're in Hong Kong next.
Location
Ovolo Southside is located in a former industrial building on the southern end of the city. The city's efficient MTR has been extended and will be opening in this part of Hong Kong in December 2016. The metro station is right across the street from the hotel and once the MTR becomes operational you can breeze into Central HK or head to the airport with ease. At present, you'd have to rely on taxis to get around.
Pre-arrival and check-in
A week before my arrival in Hong Kong I received an email from Ovolo Southside with a "C U Soon" guide, plus a login and password to access Wi-Fi at free hotspots around the city. I thought the guide was a nice touch, with maps and instructions on getting to the hotel, info about dining and other amenities at the hotel, as well as introducing me to the neighbourhood – where to have coffee (I loved Elephant Grounds, a 5-min walk from the hotel), which art galleries to check out, and what to do for fun in Southside. The guide also contained a mini Cantonese lesson to get by in the city (of course, English is widely spoken in Hong Kong but a few local phrases always help).
Ambience
Hipster meets industry-chic. Ovolo Southside is a boutique hotel with a difference. I loved the quirky, colourful ambience of the place – right from the egg (an Ovolo symbol) installation at the entrance to the striking wall art adorning the hotel, all of which has been done by local artists. Being a former industrial building, the hotel has a slightly grungy feel to it, but not too much as to put off the regular business traveller. The Lo Lounge is the focal point of the hotel, where you can work, network or just relax. There are several work desks here with some cool light fixtures, and a pool table if you want to take a break.
The elevators are also decorated with funky designs & the best part is the elevator music – retro stuff from the 70s and 80s, which really gets you bopping & singing along 🙂
Rooms
I had a deluxe queen room on the 22nd floor and it certainly was a room with a view! Check out the video above for a walk-through.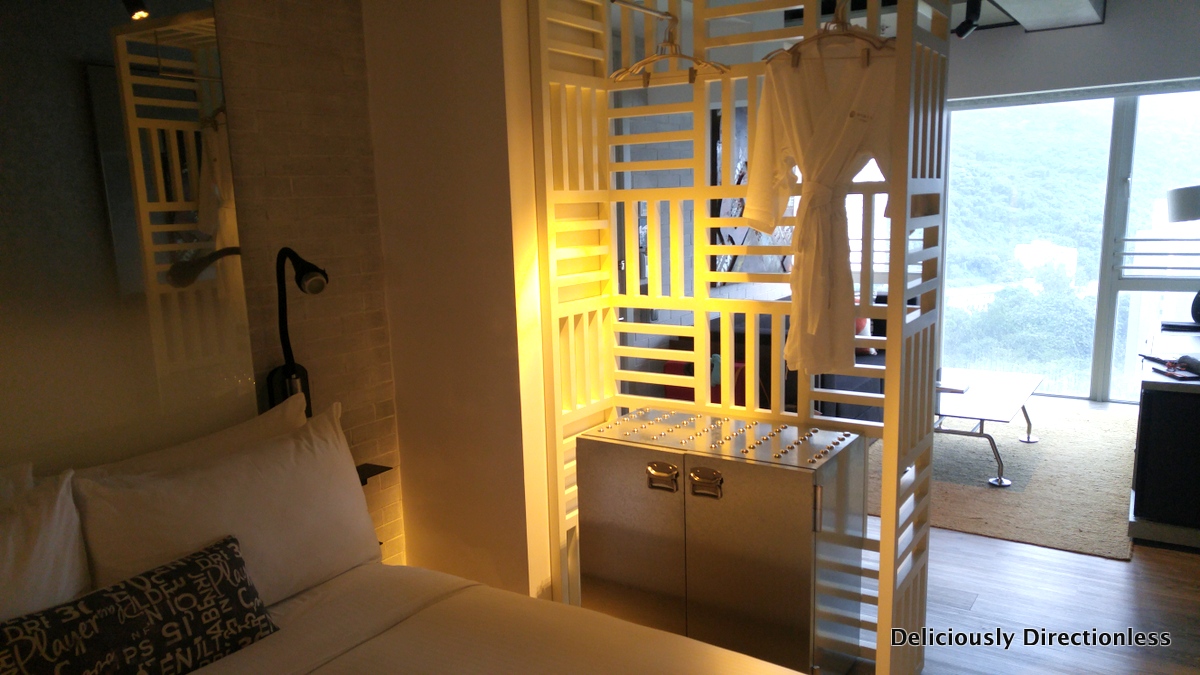 Pin
Pin
The room is large for HK standards – a nice seating area with a couch, centre table and an Apple TV. In keeping with the industrial chic feel of the place, there are exposed pipes overhead.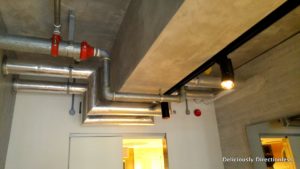 Pin
PinThe bed was super-comfy, with crisp cool sheets and a choice of pillows. Unlike many hotels, Ovolo actually has plug points on either side of the bed – what a revolutionary idea 😉 I don't understand hotel room designs that are stingy and provide one or two power outlets, and rarely near the bed. I really liked the attention to these little details that make life easier for the guests. The metal 'trunk' next to the bed had bathroom slippers, a fabulous, salon-quality hair dryer (extra brownie points), and a takeaway tote bag, which was a nice touch as well. Storage space is a bit limited but there are plenty of hangers for your clothes.
Pin
The bathroom is compact, with a good rain shower and excellent quality Biology amenities. The snack goodie bag in the room was a great idea, helpful when those mid-meal munchies strike.
My only grouse is that there's no work desk in the room, and you have to either sit hunched on the couch or take the laptop to bed. Of course, the Lo Lounge is available with its work desks.
Dining
Ovolo Southside's CIRQLE restaurant on the 4th floor has a lively, modern bistro feel to it with a gorgeous outdoor terrace. Breakfast is served here, and there's an à la carte menu for lunch & dinner. Food is fresh, flavourful & international. The sliders are fab – both the pulled pork and the veggie ones.
On the 24th floor is the edgy bar, ABOVE, which gives fantastic views of the city, the neighbouring hills and the snaking MTR below. Have a drink here before you head out to paint the town red 😉
Pin
The F Word
And it's freebies, of course (what were you thinking?) Staying at Ovolo is like crashing at a particularly generous friend's place. Here's what you can expect:
Free, high-speed Wi-Fi – no more excruciatingly slow downloads or buffering videos, yay! I like the cheeky message on the Wi-Fi login page -> 
Free breakfast – pick from a selection of juices, croissants, muesli, eggs to order, congee (local HK breakfast staple) and more
Free 24-hour coffee and snacks at the lounge – and it's excellent coffee, not some machine spewed swill
A goodie bag of snacks in your room on arrival – chips, candy etc.
Free mini-bar – yes, that's right! If you want to kick back with a bottle of Tsingtao at the end of a long day, just open the fridge
Free happy hours – drinks flow from 5 to 7 pm every evening in the Lo Lounge where you can relax and mingle with the other guests
Free self-laundry – this is a boon if you're travelling for several days and want to pack light. Hotel laundry services are uniformly overpriced, so giving access to self-service laundromats is an excellent move on Ovolo's part
Free gym access – which is open 24 hours, so you don't have to compromise on your fitness routine while travelling
Convinced yet? The next time you're travelling to Hong Kong, stay at Ovolo Southside. Book directly on the Ovolo Southside website for the best rate & a free upgrade if you're lucky. Ovolo Hotels has 4 other properties in different parts of Hong Kong, plus a building with serviced apartments in central HK. Take your pick here.
Have you stayed at a hotel that you have particularly loved? Leave us a comment below and tell us about it. 
Disclosure – My stay in Hong Kong was hosted by Ovolo Southside Hotel. As usual, views my own.