While I was sleeping, my blog crossed 15,000 views! Thank you, dear reader, for your continued support 🙂 Do follow me on
Twitter
or 'like' my
Facebook page
for regular updates, not to mention #YourChoice, which is coming up next week! Now for today's post…
This week is
Restaurant Week
in India
(Mumbai, Delhi & Bangalore), which is a wonderful concept that offers you a
chance to dine at some of the finest restaurants in the city without breaking
the bank! Restaurants come up with a prix fixe menu that showcases their
culinary ethos; you pay a fixed price and enjoy good food amidst great
ambience. If that sounds interesting, take a look
here
; it's on till September
30th, though reservations may be a bit difficult. The fixed price is
INR 1,000 for lunch & INR 1,200 for dinner, per person, plus taxes.
We opted to dine at
Koh
,
Ian Kittichai's signature Thai restaurant at Mumbai's
Intercontinental Hotel
,
located at Marine Drive.
Ian Kittichai
is a celebrated chef, with restaurants in New York & Bangkok,
and of course Koh, in Mumbai – which has won the Times Food Award for Best Thai
twice in a row. The Restaurant Week menu looked promising and we were looking
forward to some great Thai food. The good folks at Restaurant Week and The
Intercontinental accommodated us despite there being a wait list, and for that I'm
grateful.
The ambience of Koh does not
follow the clichéd 'Asian' restaurant mode; it's understated, with clean lines
and slight dashes of colours – it looks every inch the fine dining place that
it is.
We started with the amuse bouche – a tasty little vegetarian parcel of minced Thai veggies wrapped in pak choi leaf; the Kaprow Sauce dressing
came in a 'dropper' and was added at the table.
It was accompanied by a 'shot' of
soup – golden corn and coconut 'white' tom
kha espresso, which was hot, flavourful and absolutely hit the right spot!
Next, came a papaya salad, dressed
with an indifferent Thai vinaigrette and liberally sprinkled with crushed
peanuts. This was the only bit of lunch that was a letdown.
Then we had a perfectly poached
fillet of Vietnamese sea perch, which was dressed with chilli, lime and
cilantro and accompanied by oven roasted broccoli. The fish fillet practically
melted in the mouth; the dressing was a tad sour for my taste, though. The broccoli
– yummy!
Next up, steamed jasmine rice with green curry; you have a choice of chicken or shrimp. I chose the shrimp & the husband
opted for chicken. The curry was delicious, with pieces of aubergine and water
chestnuts; the shrimp and chicken were also well-cooked. The portion of rice
was surprisingly large and we made quite a hearty meal of it.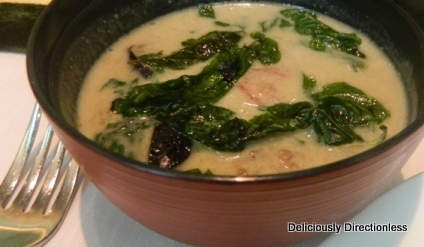 Dessert was a "Fru'noffie Wedge" –
a delectable treat of salty caramel, dressed with whipped cream and fruits,
with a peanut crunch at the bottom. The layered dessert was beautifully
textured and was a fitting end to our lunch date!
I'd definitely recommend Koh, and not
just during Restaurant Week. Go beyond Pad Thai 😉