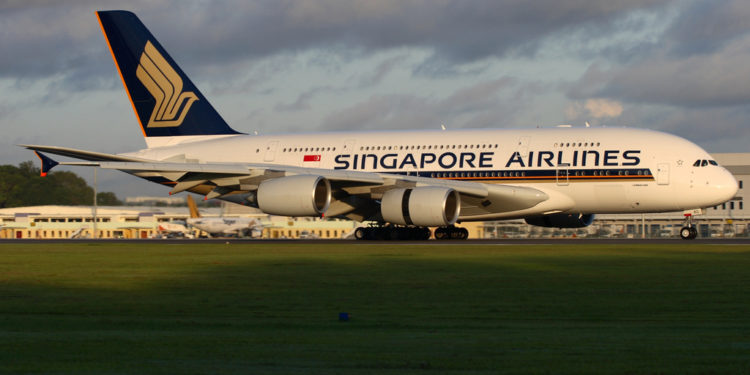 Long-haul flights can really take it out of you. Ask me, I'm currently recovering from an NYC-Mumbai flight. And I flew economy… Which made me miss my fabulous experience on Singapore Airlines Business Class earlier this year to Melbourne and back.
I travelled to my favourite Aussie city on an art and culture focussed trip, which included the Oz premiere of the play Harry Potter and the Cursed Child! You will read all about it in a leading travel publication soon. Until then, here's what you can expect when you're flying Singapore Airlines Business Class.
Pin
Onboard experience
I flew Singapore Airlines Business Class on the A350, which has these comfy seats with eye-catching houndstooth patterned cushions. The seat has good back support even in the upright position and transforms into a lounging chair in its 'Sundeck' position.
Of course, the whole purpose of flying business class is to get some sleep. The seat transforms into a fully-flat bed and comes with linen, duvet, and pillow for a good night's rest.
Book the Cook
Singapore Airlines has some of the best food on-board (I wrote about this recently for Vogue). The airline offers a wide selection of meals for all dietary requirements. What's unique about Singapore Airlines is their 'Book the Cook' option. The airlines has an International Culinary Panel of 8 world-renowned chefs like Georges Blanc from France, Matt Moran from Australia, and Sanjeev Kapoor from India. 'Book the Cook' allows you to pre-order a restaurant-quality dish from any of these chefs for your in-flight meal. You can even order an entire Indian thali!
I tried 'Book the Cook' on 3 of the 4 legs of my journey (it wasn't available for the Mumbai to Singapore leg) and I came away impressed. For dinner on the Singapore-Melbourne leg, I had this comforting bowl of prawn chicken laksa.
Pin
Dinner on the Melbourne-Singapore leg was this flavourful roast duck with rice. The duck was perfectly cooked, a feat that many restaurants don't manage even at ground level!
Pin
My Singapore-Mumbai leg let me experience the 'Book the Cook' breakfast menu. I picked the poached egg with hollandaise, which I enjoyed.
Pin
'Book the Cook' is available for Suites, First Class, and Business Class. There's a Premium Economy version of this as well. You can book your meal up to 24 hours in advance of your flight.
Other meals
Apart from this service, the meal on the first leg of my journey was rather good too. I absolutely loved this smoked duck breast.
Pin
And the wok-fried lamb in ginger garlic sauce. The wine list onboard is pretty impressive as well and I had a lovely Bordeaux to go with my meal.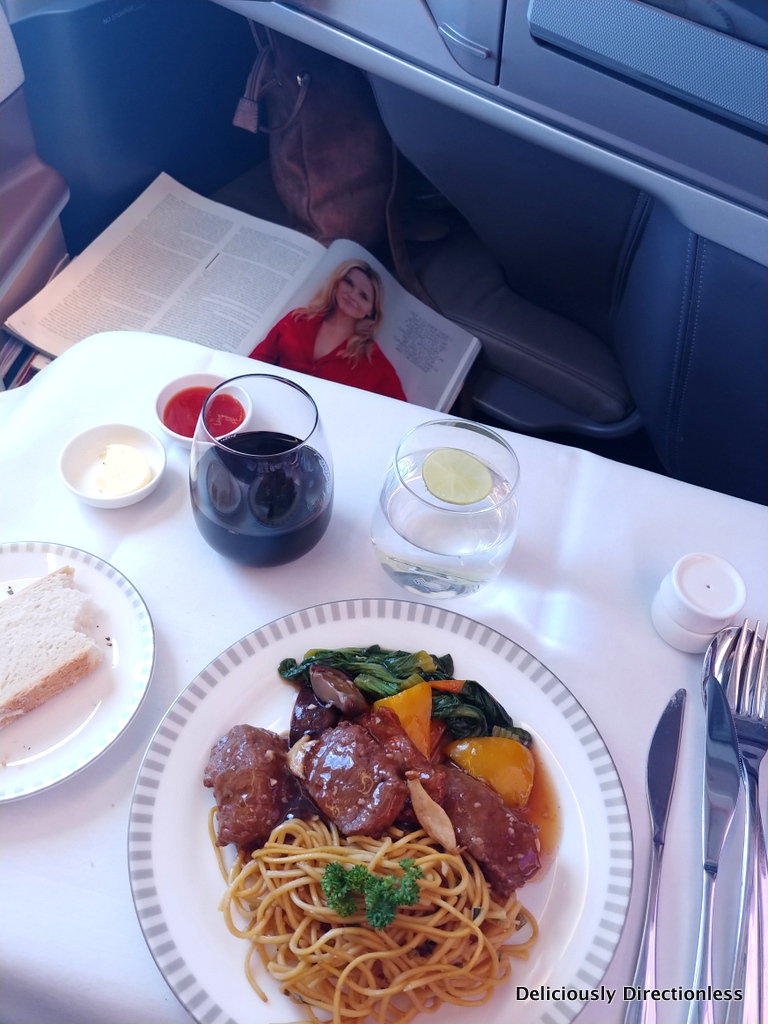 Pin
This was followed by a divine cheese platter…
Pin
… and finally a cup of coffee. Did you know Singapore Airlines Business Class offers a proper espresso? The coffee snob in me was delighted!
Pin
In-flight entertainment
Singapore Airlines' KrisWorld has an unmatched choice of in-flight entertainment. The 18-inch HD screen is great for watching movies and I caught a couple of new releases. Not to mention a few episodes of my comfort flight viewing – The Big Bang Theory.
I must add that I love Singapore Airlines' noise-cancelling headphones, definitely amongst the best!
Lounge
Singapore's Changi Airport is hands-down one of the best airports in the world, be it facilities, shopping, food options, and general airport design.
Singapore Airlines' SilverKris Lounge at Changi is a great place to relax on a layover. On my return flight, I had a rather long, overnight layover at Singapore. I debated booking the transit hotel at Changi but I found SilverKris Lounge to be a comfortable option to spend the night. The lounge has comfy armchairs and a section with flat couches that are perfect for snoozing. They provide pillows and blankets too, so I had a good night's sleep. A special mention of the lounge showers – clean bathrooms, high-pressure showers (better than many hotel showers!), and nice bath amenities. The meal buffet is quite extensive and offers a variety of cuisines.
So the next time you're planning a long-haul trip, check out Singapore Airlines Business Class. Book a flight here.
Have you travelled by Singapore Airlines? How was your experience? Leave us a comment below.
Disclosure: My trip to Melbourne was courtesy of Singapore Airlines, views my own.