Is it possible to spend just a day in Paris? After 3 several-days-long trips, I can assure you that it's not. Alongside London & New York, Paris is one of my favourite cities in the world. And there's so much to see and do that every visit seems like a mad scramble. So when I was planning my trip to Paris last month, I decided to take a day to just amble about. Here's how I had a perfect day in Paris.
Pin
I land in Paris to a cold winter's day – it is 1°C but the sun is shining and the sky is an intense blue. I check in at the Paris Marriott Champs-Elysees – my spoils from the French Ambassador's Travel Award I won last year. A quick shower and change (and a cup of coffee) later I am ready to play the flâneuse.
Morning
Pin
I begin at the Arc de Triomphe, a mere hop, skip, and jump from the hotel. It stands proudly at the juncture of 12 radiating avenues. There's a constant stream of vehicles swarming around it and hundreds of tourists gawking at it. I walk down the Champs-Élysées, the retail mecca of Paris, all the way to Place de la Concorde.
Pin
It's the largest public square in Paris and is decorated with fountains and statues. In the centre is a giant Egyptian obelisk that once stood at the entrance to the Luxor Temple. Just beyond the square are the Tuileries Gardens. They are an absolute delight in summer but even in winter, there's a stark beauty about them.
The long walk (and the cold) makes me crave a hot chocolate. Fortunately, I'm just steps away from Angelina, the legendary belle-époque style tearoom that's been around since 1903. I don't even have to look at the menu. I know what I want – le Chocolat Chaud l'Africain. This is made with select cocoa beans from Niger, Ghana, and Côte d'Ivoire.
Pin
It's thick, dark, and luscious, and comes with a dollop of whipped cream – heavenly!
Pin
Fortified by the hot chocolate, I walk further down to Place Colette and through it to the Colonnes de Buren. This art installation in the courtyard of the Palais Royal comprises several candy-striped black-and-white columns of varying heights. The Palais Royal gardens just behind it are also worth a look with the symmetrically pruned trees making for a striking photograph.
Mid-morning
Across the street, the Louvre looms up. I decide to save it for another day and walk over to the riverside.
Pin
But I do make a quick photo stop at the Louvre Pyramid. I cross the Seine via the Pont des Arts, weighed down by thousands of lovelocks, a touristy practice that I find baffling.
I'm on the Rive Gauche or Left Bank, a part of Paris historically frequented by students, artists, writers, and the intelligentsia. I wander down to Saint-Germain and quickly take a look inside the Saint-Germain des Prés Church. It's one of the oldest churches in Paris and houses, amongst others, the tomb of the philosopher & scientist René Descartes. Across from the church are the two legendary cafes, Café de Flore and Les Deux Magots. Sartre, Camus, Picasso, Hemingway, and others loved hanging out at both of them. They are packed to the gills, so I decide to take my lunch elsewhere.
A walk down Boulevard Saint-Germain brings me to Odéon and Breizh Café. This authentic Breton crêperie has 3 outposts in Paris, a couple in Brittany, and 9 in Japan (!). It's lunchtime and I have walked in without a reservation, but the hostess offers me the last available seat – at the corner of the bar.
Pin
I down a glass of Ferme des Landes cider and dig into La Complète. The crêpe comes with ham, cheese, and egg, and is topped with a small slab of silken butter – definitely recommended!
Afternoon
Pin
After polishing off that meal, I walk further south to the Jardin du Luxembourg where I'm scheduled to meet my local guide du jour from Withlocals. This is a pretty cool website (& app) through which you can book private tours with local guides. The tours range from short 90-minute 'kickstarter' tours to half-day immersive walking tours, to food & drink tastings. You can choose from 1000+ local guides in more than 50 cities around the world, from Europe & Asia to Middle East & Africa.
My guide Zoltan is already at the meeting point though I have arrived 10 minutes early. We begin our walk with a gander in the Italian Renaissance-style Luxembourg Gardens, a massive 23-acre parkland created in 1612 by Marie de' Medici, the Queen of France.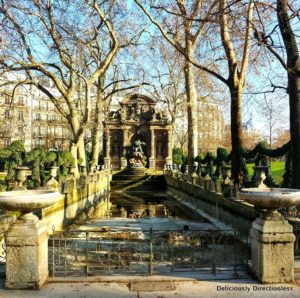 Pin
Zoltan points out one of the most striking features of the garden – the monumental Medici Fountain.
We continue on to the Latin Quarter, walking past the Sorbonne & the Pantheon, while Zoltan peppers me with a bit of history of the area. We arrive at the Fontaine Saint-Michel, and I obviously have to go pay homage at the nearby Shakespeare & Co. bookstore.
Pin
Mid-afternoon
Pin
We take advantage of the thin winter crowds to drop in at the Notre-Dame (on a previous summer trip it was swarming).
Pin
Don't miss the Sainte-Chapelle opposite it; its Gothic interiors house stunning, 13th-century stained glass windows.
Pin
We cross the river to the tiny Saint-Louis Island, where we stop to admire the late afternoon sun on the buildings lining the riverbanks.
Evening
We cross the river again and arrive in Le Marais, the bohemian, hipster part of Paris (and probably my favourite area). Its winding, cobbled streets house art galleries, vintage shops, restaurants, cafes, and bakeries. We pop in at Merci, a really cool concept store, and then drop in at L'éclair de Génie for a sugar fix.
Pin
Zoltan tells me that this is the best éclair in Paris and I pick a classic dark chocolate one to go.
Pin
We take a breather at Place des Vosges where I savour the éclair, a truly delectable piece of pastry. Some more walking, discovering secret courtyards and gardens, and I am ready for a coffee. We wind up at Bataclan, a 19th-century theatre and concert hall (and the site of the horrific 2015 terrorist attacks in the city).
I bid adieu to Zoltan and take the metro to return to my hotel. According to my fitness band, I have clocked in 22,000+ steps!
Pin
So dinner is a quick affair – moules-frites (mussels and fries) at Léon de Bruxelles opposite the hotel.
Museums
You will notice that the museums are conspicuous by their absence in my perfect day in Paris. That doesn't mean I don't consider museum hopping an absolute must-do. Au contraire, I can spend hours walking about in them, and Paris has some absolute gems.
The Louvre for the Mona Lisa & more (don't be like these people though!)
Pin
Musée d'Orsay for the Impressionists (van Gogh!)
Pin
Centre Pompidou for contemporary art
Pin
Picasso Museum
Pin
And many more…
Getting around
If you plan to stay in Paris for 3-4 days, I highly recommend investing in The Paris Pass. You get free access to a whole bunch of museums and attractions. Plus it contains The Paris Visite Travelcard that gives you unlimited travel on the metro, bus, and RER trains for free.
Pin
I hope this post makes you want to pack your bags for Paris. The City of Light (or Love, take your pick) beckons. Be sure to discover it together with real locals. You can select from different local insiders depending on your interests and what you'd like to do. I can't wait to take Withlocals tours in other cities. These private tours in Lisbon look particularly fun – this is my way of asking the universe to make Portugal happen again!