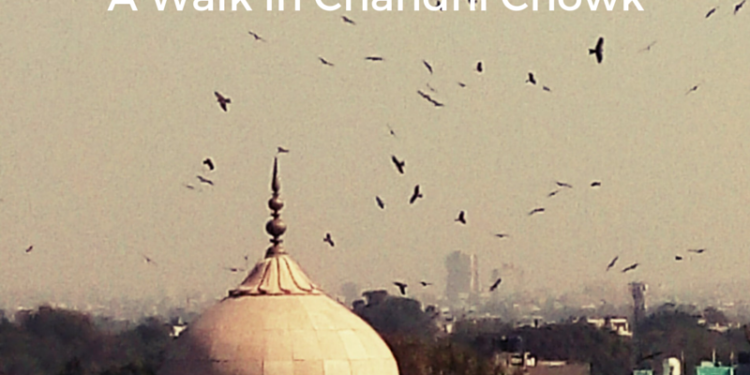 Taking a brief break from Italy, but certainly not from eating 😉 We were in Corbett a few days ago, for a family wedding, and we stopped over in Delhi for a day on our way back to Mumbai. Now, a day in Delhi is certainly not enough to do justice to the awesome food there, especially during winter. Delhi has a much better food scene than Mumbai (much as I hate to admit it), with interesting restaurants and cafes – new & old. But this time around, my agenda was to spend some time in Old Delhi, also known as Dilli 6 because of its pin code (110006).
I have visited Delhi so many times, but had never once ventured into Old Delhi, and it was high time to change that. We were staying near New Delhi Railway Station (more about that later), so we decided to take the metro to Chandni Chowk. Since it was our first time in the area, I had also crowdsourced some suggestions on where to eat. My main source of information was the lovely Pamela Timms who has penned an ode to Old Delhi's food – the eminently readable (and delectable)
Korma, Kheer and Kismet
. Here's what she suggested – bookmark for future reference!
Phew! That's quite a list. Read on to find out what we ate, and do
scroll till the end of the post for a video
walk-through in Delhi 6!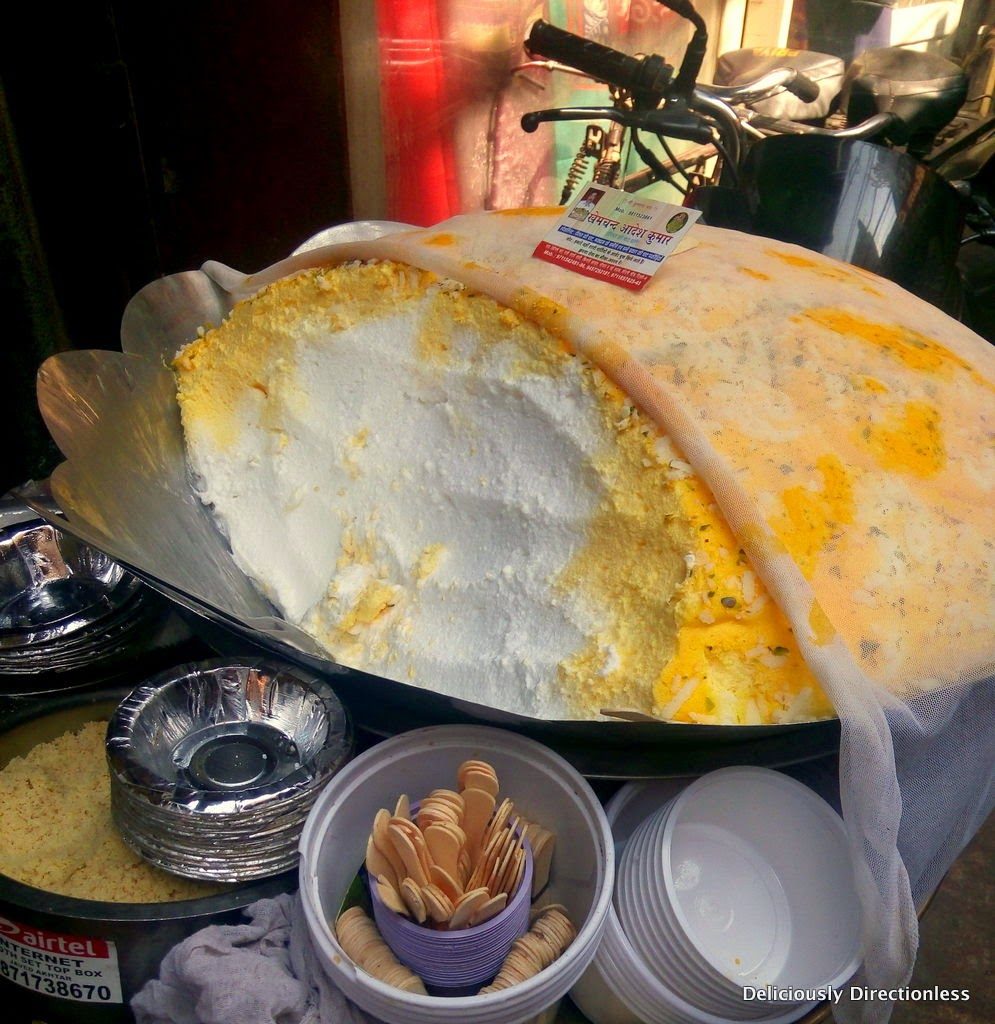 First thing on my to-eat list was
Daulat ki Chaat
– that ephemeral mixture of whipped milk and cream, tinged with saffron and lightly dusted with sugar and crunchy
mawa
bits – I wondered if it would live up to the expectations I had built up in my mind!We decided to go looking for it first, so we got on the metro and off at Chawri Bazaar stop – and into the mayhem of Dilli 6. Everywhere there were scores of people, cycle rickshaws, handcarts, motorbikes, stray dogs and some more people… Tiny roads, lined with shops and buildings literally jammed together (all adorned with a tangle of wires, no doubt illegal electricity connections), street food vendors, people out for shopping; it's (barely) controlled chaos!
PinDaulat ki chaat is only available in winter and is usually found in the markets till about Holi. Since we were already in February, with Holi just a few weeks away, there was only a handful of vendors. We found Jaspal's cart a few hundred metres from the metro stop, but the vendor was missing. We hung around for a while, me impatiently eyeing the daulat ki chaat sitting pretty under the mesh cover. After about 10 minutes, we called the number mentioned on the cart and the vendor was with us in a trice. Good things come to those who wait, and true enough, the chaat was a gastronomic treat! Light as air, not too sweet and with a fine textural balance – I instantly fell in love (we had three helpings at different carts in the span of couple of hours that we spent traipsing around the area).
PinWe then hopped on to a cycle rickshaw and went to Chandni Chowk & the famous Para(n)thewali Gali, although Pamela had advised against it. It's a tiny alley with some 3-4 shops, which make these calorie-bomb parathas by filling the dough with everything from potato to paneer, from cashews to rabri (a thick sweetened milk dessert). The parathas are then deep fried and served with assorted chutneys and vegetables. I had the aloo (potato) paratha and the pudina (mint) paratha, while the husband had a lemon paratha and a paneer (cottage cheese) paratha. I didn't particularly care for the mint one, but the potato and paneer ones were quite good and the lemon paratha was excellent. We also enjoyed the accompaniments, especially the red pumpkin subzi. We washed down the parathas with some lassi (thick, slightly sweetened buttermilk).
More calories came in the form of a big, fat jalebi at Old Famous Jalebiwala – I thought the jalebi was softer compared to what I have eaten elsewhere (especially the fabulous ones in Amritsar), but the husband seemed to enjoy it…
Next we decided to give the stomach a bit of a rest and headed to
Jama Masjid
– India's largest mosque, built in the mid-17th century by the Mughal Emperor Shah Jahan (who also built the Taj Mahal in Agra).
The red-sandstone building complex is massive and the mosque's inner courtyard can accommodate some 25,000 devotees.
The facade has stunning marble work, with inscriptions and designs, and cusped arches with delicate carving. We sat awhile in the cooling shade inside the mosque premises, wandered around a bit, watched the pigeons taking flight and re-assembling on the mosque's domes and finally trudged up one of the minarets to get a bird's eye view of Old Delhi.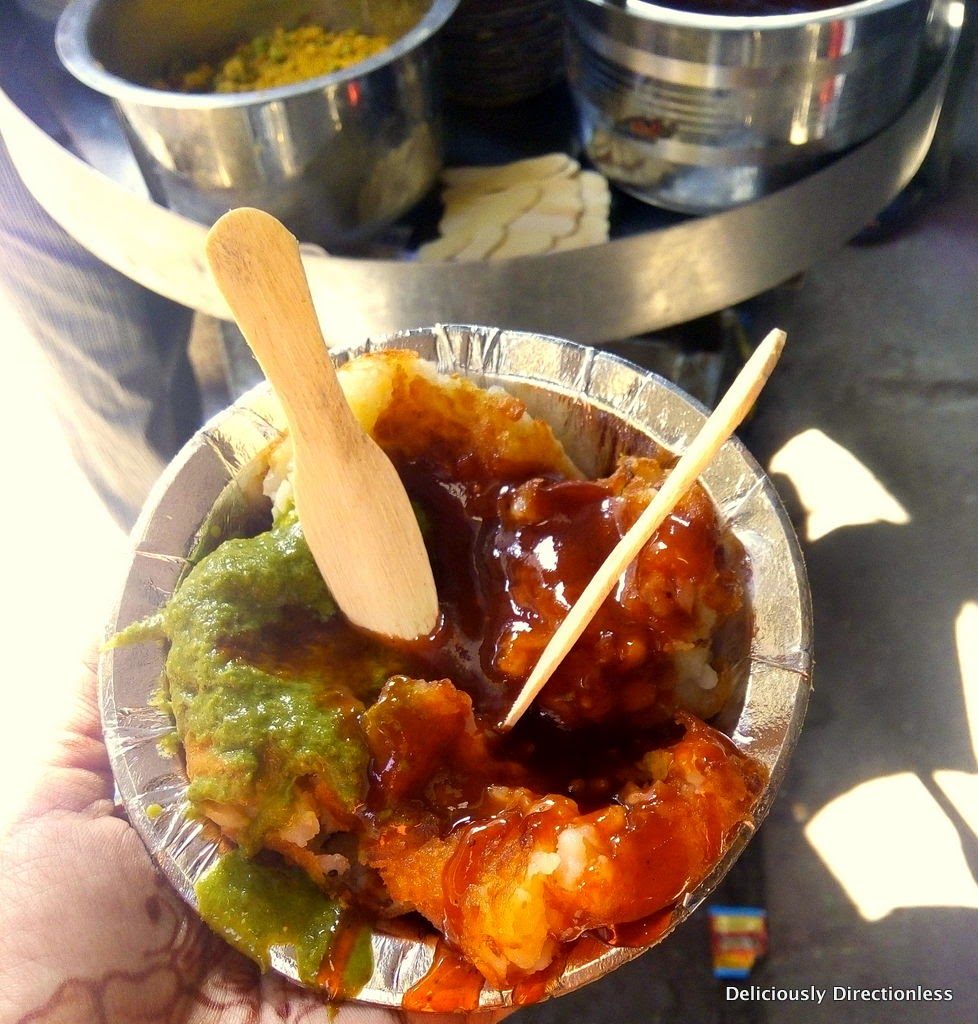 After the calm environs of the mosque, stepping back into the hustle & bustle of Old Delhi streets was a bit of a shock, which would probably explain why we got lost in the alleys! But helpful locals pointed us in the direction of Chawri Bazaar and we soldiered on. The street had turned into a mega traffic jam, with both lanes at a complete standstill. Some intrepid motorcyclists had taken to the pavement to make their way, so it was quite an obstacle race back to the metro stop. We obviously had to stop for another helping of the
Daulat ki Chaat
and then an
Aloo Tikki Chaat
vendor caught my eye, so I gorged on the deep fried potato patties, slathered with sweet and sour chutneys. We eventually made our way back to the metro and then to our hotel, having spent a satisfying few hours in Dilli 6 – a place that warrants more in-depth exploration!
If you're planning a trip to the capital city, here's my recommendation on hotels in New Delhi. And don't miss our video walk-through in Chandni Chowk, at the end of the post.
Where to stay in Delhi
Or rather, where to stay in New Delhi, yet be close enough to Old Delhi!
Bloomrooms
is a short walk from New Delhi Railway Station (NDLS), on the Paharganj side. It's located at the beginning of Aarakshan Road, a street lined with hundreds of hotels, big and small – most making their presence felt with big, garish, neon signs announcing their name. Those signs have always given me the impression that the hotels are shady (though most of them seem respectable enough when you walk past them, but you'd never find me staying in one of them…).Bloomrooms, on the other hand, is devoid of that neon sign and is a bright, cheerful white & yellow building. It's a new hotel and it has a very youthful, hostel-like vibe, while being a boutique hotel. The rates are a tad above hostel rates but the ambience and overall experience is like a 3-star hotel. We had booked online and if you make a reservation more than a week in advance, they give you a 20% discount. We got a 'compact queen' room at Rs. 2,500 per night (without breakfast) – that's quite economical at $40 / €35.
We were on the first floor and our room faced the main road, so it was a bit noisy at times. It didn't bother us much, as we are by now immune to the cacophony having lived in noisy Mumbai. But if noise is an issue for you, ask for one of the rooms that face the inner courtyard – this is a nice, quiet place where you can also relax during the day; there are a couple of tables, chairs and couches.
Pin
Our room lived up to its 'compact' moniker; the husband said it reminded him of tiny hotel rooms in Tokyo! Despite its small size, I was quite impressed with how well they had utilised the space. The queen-size bed occupied a large part of the room, but there was space for a worktable and chair beside it. There isn't much storage space, just some clothes hangers and a small safe under the bed. There's no choice but to 'live out of the suitcase'! There are several power sockets in the room, including one near the foot of the bed, with a handy little space for your mobile. The headboard also has space to keep your book, phone, hair clip, water bottle etc. The bed is very comfy and so are the pillows; they even offer a pillow menu. Wi-Fi is free is reasonably fast. The bathroom is a good-sized one, with a rain shower (excellent temperature control) and Gilchrist & Soames soap & shampoo.

Pin
While breakfast is not included in the room rate, you can opt for the buffet in Cafe Amici next door (part of the hotel). Or you can just grab the free tea & coffee they have made available at every floor – make your own tea or instant coffee or have their readymade masala chai. You can also refill your water bottle here. I thought it was a nice touch.
Pin
For the breakfast buffet, they have the usual bread (with butter, jam & Nutella!), cereals, tea, coffee etc. They also make eggs, pancakes, parantha, upma and idli to order.
PinWe also had dinner at the cafe and ordered a pizza each. The cafe has a wood fired oven, so we were looking forward to good pizzas and they didn't disappoint! The pizzas were thin crust; we tried the blue cheese+caramelised onions pizza and the tomato+rocket+bocconcini one. Both were very good, though if I had to pick, I'd go for the former (on the left).
Getting around
The New Delhi Metro station is about a 10 minute walk from the hotel, so if you are arriving with luggage, it would be a better idea to take a taxi – unless you alight at NDLS, from where it's a short walk. By metro, Connaught Place (CP / Rajiv Chowk) is one station away, and Chandni Chowk two stations away (in the opposite direction). So getting to both Old Delhi and CP is a breeze. The hotel also offers a free shuttle that leaves every hour and can drop you at NDLS and CP.
I'd highly recommend staying at Bloomrooms – for its central location (pretty much in the thick of things!), for its reasonable rate, for the sense of security you feel (electronic room keys) and for the good food. I will certainly be back!
So will you be taking a walk through Chandni Chowk? Here's a short video, shot & edited by the husband, to give you a feel of Old Delhi's charmingly chaotic streets and the delicious street food. Bon appetit!