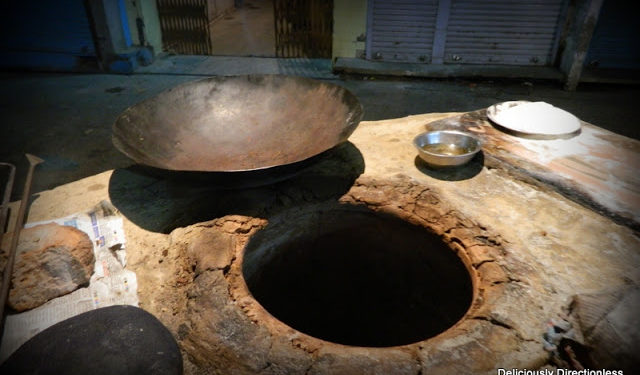 Here is the second instalment of my food experiences in Amritsar.
In case you missed the first part, click
here
.
The charm of Amritsar's dhabas…
At the end of part 1, we were scarfing jalebis & gulab jamuns
at Gurdas Ram, located in what is aptly called the Jalebi Wala Chowk. Right
next to Gurdas Ram was a street vendor selling saatpuda – flaky puffs with a savoury filling, served with a sweet
and sour chutney. Try it out.
As we continued our heritage walk, we saw several street vendors
selling moong dal laddoos – savoury
dumplings served with a mix of spiced carrot and radish slices. We had to try
them out, of course. They were deliciously warm and spicy.
There were other vendors selling a huge variety of sweets and savouries, but I don't think our stomachs would have withstood the
onslaught!
For dinner, we decided to pack stuff. We, the meat-eaters, picked
up some mutton (goat's meat, in India) curry from Bhajan da Dhaba, which is
tucked away in the bye-lanes of Amritsar; I'm not sure I'd find my way to it
again! Best ask a local…
Our vegetarian friends picked up black daal, rice
and paranthas from the third dhaba on
the 'circuit' – Brother da Dhaba (right next to Bharawan da Dhaba) Both dhabas were apparently owned by the same family and then split – see fellow foodie Caramel Wings' comment below. Again, it
looks like a restaurant; food is decent enough. But my dhaba vote goes to Kesar da Dhaba (see earlier post)! Incidentally, most dhabas, including these three, serve only vegetarian food.
I almost forgot about this little detour – we had gol gappas (pani puri) at one of the street vendors near the Golden Temple.
Very under-whelming; the pani puri in
Mumbai is far better and of course nothing beats the puchkas of Kolkata!
There I am, stuffing my face with gol gappas!
The next day (and the last day of our Amritsar sojourn) we headed
to Maqbool Road, since we had yet to try the famed Amritsari kulchas. We stopped off at a
non-descript dhaba and ordered them.
The kulchas came with some chana masala and a chutney with onions (which, incidentally, was delicious). The kulchas were yummy and topped with
enough butter to last a week!
That evening, we headed to the Indo-Pak border at Attari (Wagah
Border) to witness the 'lowering of the flags' ceremony. On the way back, we stopped at a
restaurant
Sarhad
, which specialises in Indian and Pakistani cuisine. So we
tried some Lahori items such as
chapli
kebabs
(succulent and flavourful),
Nihari
Gosht
(thick gravy with some well-cooked mutton pieces) and Lahori
naan
(similar to the Indian one, but
it's topped with black sesame seeds). And some
lassi
, of course, but that was just about OK.
Sarhad
Chapli Kabab
Lahori Naan
Nihari Gosht
We came back to the Golden Temple at night (to witness the closing
ceremony) and en route I had some kulfi falooda
from a street-side shop, despite the fact that I was stuffed to the gills!
And thereafter, we headed to the Temple to partake of the
langar
(community kitchen)! This is a
fantastic practice – the temple provides a free meal to anyone (irrespective of
religion or any other differentiator) who wishes to eat some simple, but
delicious fare. The kitchen is open 24X7 and feeds more than 75,000 people
EVERYDAY! But more on that later… (Update – read
my feature
on the langar at the Golden Temple, published in National Geographic Traveller, June 2014 issue)
I had no appetite whatsoever, but the
husband and our friends all ate at the langar,
and raved about the food – kind of made me wish that I had skipped the kulfi falooda. Well, another reason to
go back to Amritsar! When are you planning your trip?