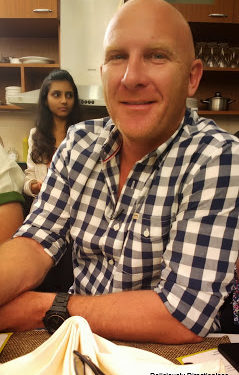 I had promised in my last post (read 5 Things you MUST do in Florence) that I'll
be writing about that Tuscan cooking class I took, but I have had such an
exciting time last week, food-wise, that I had to tell you about it!
It
started couple of weeks ago when I received a call from
Rushina Ghildiyal
, the
owner of
A Perfect Bite Cook Studio
. I have written about this gorgeous
culinary studio last year – read about it
here
. Rushina was calling to invite
me to a brunch event with
Matt Moran
of
MasterChef Australia
fame. Of course I said 'yes'! Who could pass up an opportunity to meet a
celebrity chef, not to mention a super-hot one 😉
This post has been updated with telecast details of the event. Scroll down for details.
This
was the first sit-down meal hosted by Rushina at the studio and it was
perfectly arranged. We went around the table introducing ourselves and
badgering Matt with questions – about his cooking, his restaurants and his new
show
Paddock to Plate
. He answered all our questions and asked a few of his own – he
was very keen to learn more about Mumbai and India, this being his first trip
here. Matt regaled us with stories from his new show's shoot, including a funny
one about being prodded in the back by a cow while shooting on a dairy farm! It
was lovely meeting him – no airs, no celebrity chip on the shoulder and a
very
charming
man.
While
we chatted, the studio staff served us some delicious food. A Spicy
Prawn Cocktail was the appetiser.
This was followed by Chef Matt Moran's Sauteed
Chicken with Chorizo and Chickpeas.
The vegetarian main
course was Matt's Pumpkin Tortellini and Spiced Lentils. The appetiser was fresh
and tasty, not overwhelmed with the dressing. Both the mains were delicious,
especially the tortellini that was accompanied by cardamom-scented lentils – a very
unusual combination. The dessert was the piece de resistance – perfect texture
and not overly sweet. We also sampled couple of nice Aussie wines. The Lindemans
Premier Selection Brut Cuvee (white) was light and sparkling. Though I'm
not a big fan of the reds, the Penfolds Koonunga Hill Shiraz Cabarnet
was fruity and went well with the mains.
The
event was filmed by Food Food Channel and shall hopefully be aired on the telly
soon.  I'll keep you posted.Update – this episode will be aired on Food Food Channel on Saturday, September 7th at 1 p.m., with a repeat telecast at 8 p.m. and on Sunday, September 8th at 2 p.m. and 7.30 p.m. Tune in!!!
Earlier
in the week, I attended another foodie event – the launch of a new cookbook
The
Married Man's Guide to Creative Cooking
by
Samar Halarnkar
.
A former
Managing Editor of Hindustan Times, Samar's columns regularly appear in the
newspaper and in Mint Lounge. I have been a fan of his food stories and easy
recipes and I was really excited about meeting him in person. The launch took
place at 36 Oak & Barley at Kemps Corner, Mumbai. First there was a
free-wheeling chat on men and their kitchen (mis)adventures where Samar
bantered with
Naresh Fernandes
(journalist and can't cook to save his life!) and
Harsh Man Rai
(Managing Ed Rolling Stone India, avid biker and a good cook).
Gul Panag
moderated the discussion. This was followed by Samar
demonstrating two of his recipes – a simple fish curry and a vegetable
stir-fry.
Image courtesy Mumbai Boss
Creative Cooking
is filled with food anecdotes, some travel stories and of
course recipes – some adapted family recipes and other experiments in the
kitchen. I'll do a detailed review shortly. I got my copy of the book signed by
Samar & got him to inscribe a message to the husband – "get in the kitchen!"
I'll let you know how that endeavour goes!
And
last but not the least, one of my most-awaited books arrived from London –
Chocolat
by
Eric Lanlard
. I had posted my adaptation of one of his recipes earlier (read
Eric Lanlard's Spiced Orange upside down Cake
) and this has become one of
the most popular posts on the blog.
Chocolat
is a veritable chocolate bible filled with baked goodies and tantalising
photographs – I can't decide whether the front or the back cover is yummier!
I
cannot wait to try one of his recipes. He recommends the Salted Butter Caramel
Cake and I would have to agree.
Disclosure: I was invited by APB Cook Studio to attend the event.