Six Months of being Deliciously Directionless!
Is 6 months too short a time
to look back on what has passed? If yes, then forgive me because I'm going to
do just that! So, my blog turns 6 months old today and what started off as a
bored-Sunday-morning-nothing-to-do-must-START-writing-soon whim has pointed me
in the direction that I want to head in.
Fun with Writing!
First of all, a big thank you
to YOU, for being here – reading, commenting, encouraging me along… Those
25,000-odd views couldn't have happened without you 🙂 Thanks to the 250 fans of the blog on Facebook and the 690+ followers on Twitter! You lot
have been quick with feedback, help and encouragement and for that I'm grateful.
If you're not yet connected with me via Facebook/Twitter, the links are here,
to the right —>
Through this blog, I have met
so many like-minded people, made some lovely friends (yes, in 6 months) and
shared numerous meals. And there are so many people who I have yet to
meet, but who seem like friends since we interact in the virtual world so
often! I hope the New Year brings us together.
Now, for a bit of
self-promotion… Who doesn't like a bit of recognition, eh? So, when Bombay
Times featured my reviews and recommendations (THRICE!), I did a little jig!
August 17th, 2012
August 31st, 2012
December 14th, 2012
And recently I was invited by
UpperCrust Magazine
to participate in their
Food Quotient Quiz
during the recently-concluded
10th annual
Food & Wine Show
. My fellow blogger
Bombay Chowparty
and I were pitted against prominent food writers, restaurant owners, home cooks
and some socialite types. Three rounds of questions and one taste test later,
we (the humble bloggers) had beaten all of them to take first place!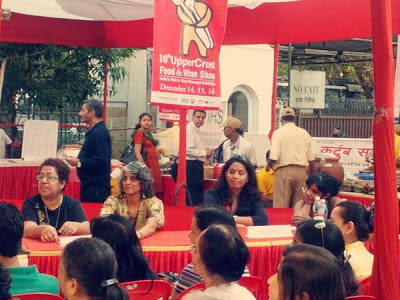 Waiting for the Quiz to begin
With the loot!
With the other contestants and Farzana Contractor the Editor of UpperCrust and Quiz Master Prahlad Kakkar
Last, but not the least, this
blog has landed me a freelance writing assignment with none other than
National Geographic Traveller
! My very first article is in the December issue (on stands
now) and the next one is scheduled for January 2013.
In the New Year, you can look
forward to some changes in the design of the blog. I also plan to increase the
number of vegetarian recipes, since many of you have complained about the
paucity of them! I have already introduced a category for 'Veggie', so you can
browse through the, well 10 recipes that are already posted. More coming
soon…