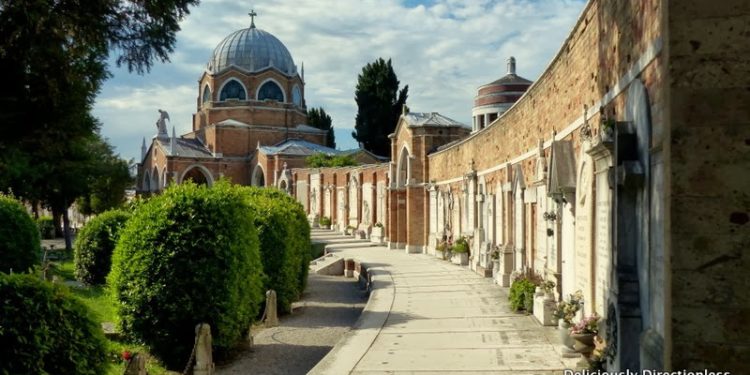 Last week I gave you some romantic things to do in
Venice
, without breaking the bank (read
5 things you'll love in Venice
). So how about something a little bit offbeat in Venice? Something that is, in my opinion, absolutely un-missable. A cemetery may seem like an odd spot to recommend, but when it's as beautiful as the
Isola di San Michele
, it's well worth the short
vaporetto
ride from Venice (your
vaporetto pass
will cover the journey).
Grave Journey
A visit to Venice's San Michele cemetery can be strangely enjoyable
As the
vaporetto
chugged away from Fondamente Nove,
a channel on the northern shore of Venice, a red-walled island came into view.
The shrill cries of seagulls rang over the whirring motor of the waterbus.
"Next stop,
cimitero
", said the
conductor.
Thirty minutes ago, my husband and I had left the bustle of San Marco square
for the quiet of San Michele cemetery. On the ride there, we talked to an
impeccably-dressed, white-haired lady bearing a bouquet of flowers, the only
other passenger alighting with us. "Perche?"
she asked, clearly surprised, and I wondered if my Italian was good enough to
explain. As morbid as it sounds, my husband has always been fascinated by
cemeteries. San Michele is spread over an entire island—too good to pass up. It
has been the final resting place for Venetians (and some foreigners) since the
early 19th century and contains thousands of mausoleums, gravestones, and
memorials, some decorated with floral patterns, others with elaborate angels.
We walked along a
long, curving arcade that contained several family chapels, and further to the
beautiful Renaissance-era church of San Michele. The church is dedicated to the
archangel Michael, the patron saint of the island. It was the first Renaissance
church in Venice. Beyond this lay the entrance to the burial grounds—Catholics,
Protestants, and Greek Orthodox in their own sections and, this being Venice, a
special subdivision for gondoliers.
San Michele has popular graves too—poets Ezra Pound and Joseph Brodsky lie
here, as does the Russian composer Igor Stravinsky and Sergei Diaghilev, the
founder of the famous Ballet Russes. We wandered around, reading the names and
dates on the stones and looking at the small photographs ensconced in glass on
many graves. Children's graves were adorned with little cherubs and inscribed
with touching messages. "La tua vita é la
nostra felicità"—your life is our happiness, said the gravestone of a
two-year-old girl. The eerie calm of the island was periodically shattered by
seagulls calling out to each other, at times imitating cats meowing or children
laughing—or perhaps it was just the suggestive nature of the island.
We came across
several rows of wall crypts, resembling tall chests of drawers. Since space is
at a premium, most graves are dug up in 10 or 12 years and the remains are
interred in these niches. Each resting place had a stone holder filled with
flowers, a riot of colours against the gleaming white crypts.
The cemetery has
many elaborate monuments. Some were classically decorated with tall statues,
pediments and filigree; others almost post-modernist with clean lines and
jutting angles.
We could have easily spent several hours at San Michele, considering the number
(and beauty) of the graves. However, a booming loudspeaker warned us that it
was closing time. Our vaporetto back
was full of day-trippers returning from the more popular island of Murano. We
were glad that we had found a bit of tranquillity away from the hordes of
summer tourists in Venice.


This story was commissioned by National Geographic Traveller and was published in their print edition of November 2013. Read it here.