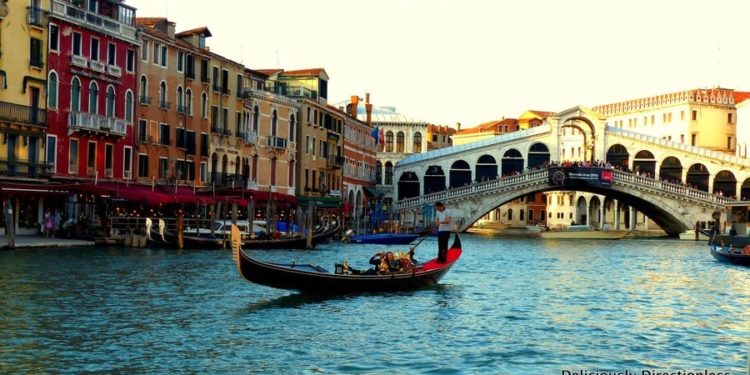 Every day is
Valentine's Day, right? And Venice is one place that really gets
romance right. Whether you're heading there for a short break, or for the
Carnavale (between Feb 15 and March 4, this year), or it's a part of your Italy
(or Europe) itinerary, I recommend staying in Venice for at least a couple of
days, if not more. When we visited last year, we flew in and out of Venice and
spent a total of 6 days there – and I would go back in a heartbeat!
Update: This post has been updated with hotel & restaurant recommendations from my second trip to Venice, which was in November 2014 (after the publication of this post). 
Enchanting, gorgeous,
mysterious – all these adjectives have been used to describe Venice, and your first
view of the city is guaranteed to take your breath away. Of course you'll visit
San Marco Basilica, various museums, Murano, Burano and many of the other
must-dos. Here's my pick of things that will give you a taste of the romantic
side of Venice.
Take a cooking class
together
A couple that cooks
together, stays together! OK, I just made that up, but cooking a meal together
and then enjoying it with a bottle of Prosecco is certainly a lovely way to
spend your day. So head over to Lido to the
Acquolina Venezia
cooking
school run by Chef Marika Seguso, in her charming home.
Not only is she married
into the Seguso family, which has been in the Murano glass business since 1397
(no, that's not a typo!), but she is also a celebrated chef – with some famous
private and corporate clients. Unlike
the Tuscan cooking class
 where we learnt pastas and meat dishes, here we learnt traditional Venetian dishes, many of them using the fresh seafood that is
available here in plenty. Scampi, calamari, sea bass were all brought in fresh
from the markets and combined with artichokes, asparagus and Mediterranean
herbs made a fantastic lunch. Over four hours, Marika taught us how to work with
scampi & calamari, how to clean & de-scale a fish, how to make a proper
risotto…. On the menu were
Fried Calamari
,
Braised Artichokes with Thyme
,
Baby
Asparagus & Scampi Risotto
and
Sea Bass with Olives, Potatoes & Herbs
.
We rounded off the meal with some fresh, handmade
Vanilla Gelato with Wild
Strawberry
.
A morning stroll at Piazza
San Marco
Venice sees a lot of
day-trippers – tourists who stay around the city and come by the busloads to
traipse around before heading back to their hotels in the evening. I'd highly
recommend that you stay on the island itself to really experience the pulse of
the city. There are many B&Bs and
pensione

where you'll find rooms at a reasonable rate. Many hotels also offer
discounts if you book in advance and online, so scour the www. We stayed at 
Hotel Dalla Mora
, a charming little BnB in San Croce area ofVenice, less than 10 minutes walk from Piazzale Roma.
Updated **
 On our second trip to Venice in autumn 2014, we stayed at
Hotel Alla Fava
, which is a hop, skip & jump from the Rialto Bridge. I highly recommend this place, as it's so close to the action, yet in a quiet piazza.
** 
The advantage
of staying on the island is that you can go for an early morning stroll at
Piazza
San Marco
. There are hardly any people around, even during peak tourist
season; the pic below was taken in early July 2013!
Yes, Murano
is firmly on the tourist circuit and can get really crowded in the summer. But
get there after 6 p.m. and you'll have most of Fondamenta Venier to yourself –
the odd shop might be open and you can browse peacefully through some lovely
colourful glass artworks. Walk along the canal and catch the setting sun
casting a warm glow over the pretty buildings, the parked gondolas and the water-taxis.
Except in Piazza San
Marco, where it's against the law, you can plonk yourself down pretty much
anywhere and have a bite to eat. Restaurants are notoriously expensive in
Venice so it's a good idea to pick up some eats from a pasticceria. Wine is of course inexpensive all over Italy, and in
Venice you'll find a couple of shops selling Prosecco & other wines on tap!
One such place that we stumbled upon while wandering around the calle (alleys) was Enoteca Sfusi ma… Buoni
(Cannaregio, 1780). It's located very close to the San Marcuola vaporetto stop.
Bring your own bottle and for € 2.6 you can get a litre of Prosecco (30 cents
extra if you don't BYOB!).
Skip the restaurants
and find a cosy little bàcaro (wine bar), where you can get a glass of house
wine and some delicious
ciccheti
(finger foods, but much more substantial and pronounced chee-ket-eeh) from €
1-3. Start early as many bàcari close by 8 or 9 p.m. This is where the Venetians
hang out and the bàcari can get quite crowded, but you'll be eating amongst
locals – can't beat that! We went to
Osteria Antico Dolo
, near Rialto
market, which serves up some traditional Venetian fare.
Updated **
On my second trip to venice I visited couple of other bàcari –
Osteria Bancogiro
(near Rialto) and my favourite
All'Arco
(in San Polo).
**
Or you can try one of
these
recommended bàcari
…
Pro Tip – while the gondola ride may seem very romantic, steer
clear unless you want to empty your pockets. Rates vary and you may end up
paying € 80-100 for a 20-minute ride!
Instead, 
buy a vaporetto pass
, which is valid for travel within Venice, Lido & all the lagoon islands. You can hop on & off as you please – and you will, as some palazzo or monument will catch your eye & you will want to explore it further 🙂
So let Venice sweep you
off your feet! Will it be on your 2014 travel list? Or have you already
visited the
City of Falling Angels
? Leave your suggestions below.
_________________________________________________________________
Related posts: