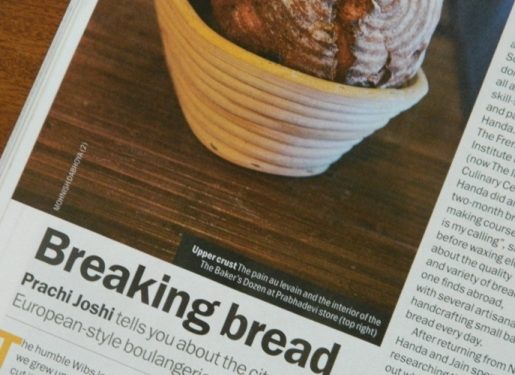 Bread
(or the lack of it) was one of the causes of
the French Revolution, with the infamous quote attributed to Marie Antoinette going
down in history – "
let them eat cake
". But it is bread that's undergoing a
revolution of sorts in Mumbai, with the ubiquitous sliced bread being replaced
by a variety of artisanal breads. I had written earlier (
here on the blog
) about
the new
boulangerie
in town. And
recently, I have done a more detailed piece for
TimeOut Mumbai
. Check out
the latest issue of the magazine (Apr 12-24, 2013) for a lowdown on finding artisanal bread in
the city (also online
here
). And while you're at it, drop by
my
Portfolio page
to read some of my other published works!
Since I was
writing about bread, I thought I should try my hand at baking one. I have been baking
cakes for years, but somehow the thought of baking bread had always scared me –
now having baked one, I can't imagine why! I followed a fellow blogger (and
bread maker) Saee's
recipe for a focaccia
.
This is up on her blog
My Jhola
,
along with many other baked goodies and other interesting recipes. So do swing
by.
Here are couple
of pictures from my kitchen of the focaccia
that turned out so well.
Kneading the dough
Proving i.e. letting it rise
The dough has risen!
PinI ate the bread warm out of the oven on its own. I also
spread some homemade fig & olive tapenade on one
slice for a delicious bite of Provence. In fact, the husband was so enamoured
with the bread that he has suggested that I stop buying bread & just bake
some! What have I gotten myself into?!
While on the
subject of bread, the very first recipe that I had posted on the blog was of a Bread Pudding. This is such an easy to make recipe that you can whip it up in
no time at all. Give it a shot.
Another bread-y
recipe is that of the Italian salad
Panzanella
. Mix up some stale bread
with chopped onions, tomatoes and basil (plus a few sundry seasonings) and give
it a new lease of life with this gorgeous summery salad.
And of course, take
a look at the
Pain Perdu
or French toast recipe that I had posted recently.
And, if you haven't had enough of bread, take a look at this
delicious slideshow
on Epicurious.com. Go on, have your
bread and eat it too!