5 Things to Do in Mumbai this Weekend (& Next Week)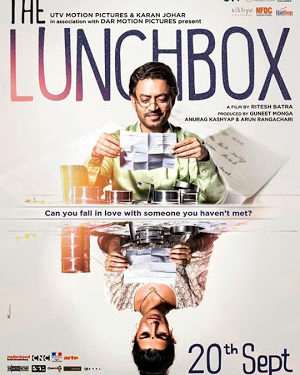 There's
never a dearth of things to do in Maximum City. Yet, the next few days have
some exciting stuff to look forward to. Here's my pick of 5 things you can (and
should) do over the weekend and next week.
1) Catch
a Movie
Image Courtesy TimeOut Mumbai
A
much-awaited movie releases tomorrow – The Lunchbox, a gem of a film and a strong contender for India's entry to the Academy Awards. Directed by Ritesh
Batra, the film has stellar performances by Irrfan, Nawazuddin Siddique and
Nimrat Kaur. I got a chance to watch the advance screening of the movie last
weekend courtesy TimeOut Mumbai and I absolutely loved the film. Simple
home-cooked food is one of the heroes of the film, which is a charming love story without any glamorous trappings and the over-the-top shrillness that characterises Hindi films these days. The film screening was followed by a free-wheeling interaction with the actors & the director. It was a privilege
to meet one of the finest actors of our times and get his autograph 🙂
2) Sriracha
Festival
Yes,
that's right! The delicious hot sauce from Thailand finds its moment in the sun
with a pop-up menu dedicated to it at the restaurant
Koh
at
Intercontinental,
Marine Drive
. The
Bloody Mary
mocktail had sriracha
instead of Tabasco and it had us swooning – absolutely addictive!
Veg Starters
The Fire
Roasted Vegetable Chowder was quite ordinary. The starters were the
stars really – basil-flavoured Sriracha Dumplings and cream cheese
stuffed Veg Wontons for the vegetarians; Hat yai Grilled Prawns with
a peanut+sriracha sauce and Chicken Wings tossed in a delectable
honey-sriracha sauce – all of them recommended!
Pork Ribs
Mains 1 & 2
The
mains were a mixed bag. Pokchoy Shitake Asparagus in
sriracha sauce – excellent, Wok-tossed beans sprouts – good, Sriracha
Nasi (fried rice with veggies) – OK, sriracha-glazed Pork
Ribs – yummy and Two-flavoured Noodles with basil
& sriracha sauce – delicious!
Mains 3 & 4
Though, the dessert Sriracha Caramel Toffee Pops
was a bit of a disappointment, I still highly recommend this festival for the starters and mains, not to mention that Bloody Mary! The festival is on till September 21st and
will be back after the Restaurant Week (see below) and will run from October
4th to 13th.








3) Savour
some French Wines
French
luxury hotel chain Sofitel's Mumbai outpost at Bandra-Kurla Complex will be hosting
a Wine
Programme starting September 23rd. I attended the preview
last week and got a taste of the four wines that will be served during the
programme.
Image Courtesy Sofitel
We began with the Chardonnay – Chateau de Blagny, Louis Latour, Meursault
a semi-dry wine with citrus and vanilla hints. Then came the Riesling Clos
Saint-Landelin, Rene Mure, which was quite dry and not quite like the
excellent Rieslings I had in Austria; bit disappointed. The 2 reds on offer
were Chateau
Clarke Baron Edmond de Rothschild and Chateau Potensac, both
from the Medoc region. Both were nice enough, but I'm a white wine person and
my pick would be the Chardonnay. The wines were accompanied by a variety of
cheese, cold cuts, fruits, bread etc.
Image Courtesy Sofitel
The sommelier Jessel Ferrao was on hand
explaining about the various wines and was a treasure trove of information. I
even got a look-see inside the very cold 'wine tower' where the wines are
stored at the correct temperatures – the reds and whites in separate areas. So
taste a bit of France at the Sofitel next week. Sante!
4) Take a Class
Pooja Dhingra, the lady behind Le 15 Patisserie has just launched her latest venture – Studio Fifteen Culinary Centre, earlier this week. The spanking new studio kitchen is located at Lower Parel and offers all kinds of cooking classes – from baking to local cuisines, from Pan Asian to party food. The best thing about the studio is that there are express classes that start at 7 p.m.; so all you office-going folks now have a fun class to look forward to after work! This weekend's pick would be the 'Cooking for Men' class conducted by the Nonchalant Gourmand Nikhil Merchant. And Studio Fifteen is not just about cooking; there are loads of interesting classes next week – 'Insta Food' by photographer Joy Manavath will teach you how to take drool-worthy food photos and in 'Food Palette' by Fat Mu you will learn basic make-up techniques, while enjoying Le 15 macarons!
5) More
Restaurant-Hopping
Image Courtesy RWI
The
7th edition of
Restaurant Week India
begins next
week – from
September 23rd to October 2nd
. 25
fine-dining restaurants in Mumbai are participating, including
Ellipsis
at Colaba,
Botticino
at the Trident BKC,
Hakkasan
at Bandra,
Neel
at Mahalaxmi,
San Qi
at Four Seasons and many more. On offer are 3-course prix
fixe menus at Rs. 1,000 for lunch & Rs. 1,200 for dinner (excluding taxes
& service charge). More details
here
.
Last
year, I visited Koh at the Intercontinental and had
a lovely experience
. I am
yet to decide which restaurant to try this year but I'm leaning towards
Jyran
at
Sofitel
. Book early since slots tend to get filled up really quickly.
Bon Appetit!