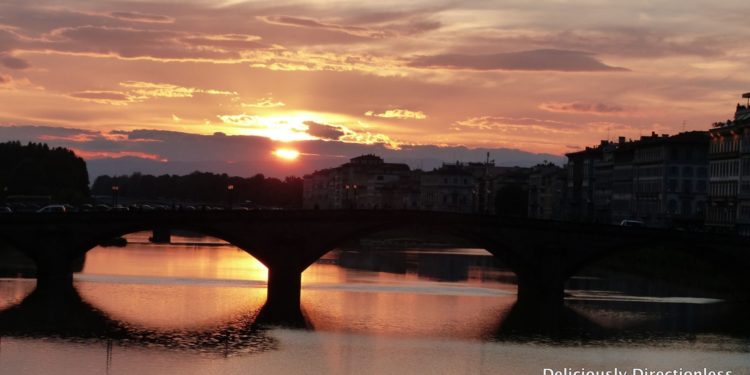 In the last of the Italy series (for the time being), let me take you across the Arno, to the Florence that doesn't always find a mention in the guidebooks. Beautiful
Florence
, the cradle of the Renaissance, is a mandatory stop for anyone travelling to Italy. And its treasures are well-documented – the Uffizzi's masterpieces, David in his full monty marble glory, the Cathedral's red tiled 
duomo
, Palazzo Vecchio and Piazza della Signoria, the Ponte Vecchio and more…
If you look up these places on the map, you will notice that they are all located in one closely-knit part of Florence, on the north bank of the river Arno that cuts through the city.
Florence is always heaving with tourists, whether you visit in summer or in autumn, and it's difficult to escape the crowds in the historic city centre. But cross one of the bridges across the river, and step over to Oltrarno (literally, the other side of the Arno), and you will find a different sort of Florence. A word of advice – avoid the crowded Ponte Vecchio; instead take the elegant Ponte Santa Trinita (the oldest elliptic arch bridge in the world, pictured below).
Here's why you should cross over the river and explore Oltrarno.
Via Romana and Porta Romana
An ancient pilgrim route from Florence to Rome, Via Romana is today a pretty street lined with Florentine residences, shops, cafes, restaurants and ateliers.
It starts from Piazza San Felice in Oltrarno and goes right up to the imposing Porta Romana – a 14th-century gate that was part of Florence's old city walls. The walls were knocked down in the 19th century, though a small part still stands next to the gate. The centuries-old walkway above the gate has recently been reopened, so hop on over for the view.
Palazzo Pitti & Boboli Gardens
The massive Renaissance-era Pitti Palace was always the chosen palazzo of the rich and powerful – everyone from the Medici family to Napoleon have used it as a base. Today it houses the largest museum complex in Florence, where you can see the works of Raphael, Titian, Rubens, Caravaggio and more.
The Boboli Gardens are spread out over 11 acres just behind Pitti Palace. It's a lavish 16th-century style garden with fountains (the Neptune Fountain is stunning), grottos, temples and sculptures, as well as some Roman antiquities strewn about.
Forte di Belvedere
The late-16th-century Belvedere Fort is the largest fortress to be built in Florence, and it was commissioned by the powerful Medici family (probably to demonstrate the city's wealth). The fortress is located on the highest hill of the Boboli Gardens, and it's quite a long walk up to its entrance. You can get sweeping views of Florence from atop the fortress, which is also used for art exhibitions and concerts. And er, Kim Kardashian and Kanye West got married here…
Piazzale Michelangelo

Speaking of views, my favourite vantage point in Florence is Piazzale Michelangelo (view pictured above), which is located on top of a small hill in Oltrarno. You can drive up or take a bus, or better yet, walk up through gardens and greenery. More details in a previous blog post – 5 things you must do in Florence.

Local Culture & Food
Oltrarno is where many of the Florentines live and work, so the area has a very different vibe compared to the touristy city centre. Fewer tourists venture here, so you can wander about the streets without having to bump into selfie stick wielding folks who have just got off the coach!
PinPiazza della Passera is a charming little square, which almost seems like a private one, frequented by people living in the few buildings surrounding it. Our apartment was located just down the road from the piazza, and I would drop by at the Caffè degli Artigiani for my breakfast of coffee and cornetto (croissant), or perhaps for a gelato in the evening. The bar has a tack-board with currencies from all over the world, donated by travellers passing through. If you do visit, look for the ten-rupee note from me 🙂
For lunch, I'd recommend Toscanella Osteria, located in a historic building where the astronomer and mathematician Paolo dal Pozzo Toscanelli lived. Toscanelli was an important figure in Renaissance Florence. He also plotted the map that helped Columbus on his journey to the new world. The menu at the osteria is typically Florentine and Tuscan – try the bucatini amatriciana for mains and the zuccotto for dessert (a semi-frozen ice cream cake, shaped like a dome).
Zuccotto in the centre
Walk over to Piazza Santo Spirito, dominated by the Basilica of Santa Maria (pictured above); it's usually the location for lively local markets, impromptu concerts and general people-watching. Pick up a pizza from Gusta Pizza at the corner and savour it on the church steps, while watching the Florentines go about their lives.
Where to stay
I usually don't recommend a place that I have not personally stayed at, but I'm going to make an exception this time. And the only reason I didn't stay at Palazzo Belfiore is that it was completely booked up! The owners are brother & sister duo, Francesca & Federico. Federico gave me a tour of this historic residence, now converted into residential apartments, which really made me wish I had made a reservation in advance!
Palazzo Belfiore entrance & Federico – Image courtesy Palazzo Belfiore
The 14th-century building is completely renovated and refurbished, with seven apartments available for short & long stays. All apartments are named after prominent Italian noble men and women, and are tastefully furnished. My favourite was the Clarice apartment, which used to be the main living area of the palazzo and was decorated with beautiful frescoes; parts of these frescoes are still visible today (pictured below).
Image courtesy Palazzo Belfiore
Image courtesy Palazzo Belfiore
Since Palazzo Belfiore was booked, the husband and I opted to stay at an Airbnb apartment in Oltrarno. Riccardo's apartment was small but cosy. It's located on the top floor of a 3-storey building (no elevator).
It was done up in bright colours and was well-furnished, with a TV, refrigerator, washing machine and microwave oven. The sofa-bed was on the loft / mezzanine level.
The apartment is very central, just 50 metres from Palazzo Pitti & less than 5 minutes from Ponte Vecchio – the perfect base to explore Oltrarno & Florence's historic centre as well.
Hope you liked this little virtual tour of Oltrarno, the other side of Florence.
For more Florence recommendations, check out fellow blogger Georgette's fabulous website Girl in Florence. You will find all sorts of resources on where to go, what to do, where to eat and what's on in the city.
If you'd like to sign up for Airbnb, use my referral code to get travel credit.