I have another restaurant review
for you this week (after my lunch at this place yesterday). This cafe is tucked
away in the by-lanes of the Kala Ghoda precinct in Mumbai and it's quite easy
to walk past it, if you don't know where to look!
Kala Ghoda Cafe
is a
quaint little cafe
housed in a former barn and the high roof and skylights lend
a bright, outdoorsy feel to the place.
Here's a map
so that you can find your
way.
Getting a table is difficult as there
is limited seating; there are 5 tables, plus one on the mezzanine and 2 at the
back, which is kind of a waiting area (no A/c). There is a quirky pink-handled
cycle mounted on the mezzanine and if you cycle over to the cafe on Sundays,
tea or coffee is on the house! The cafe also offers free Wi-Fi, except between
1230 and 1530.
My partner in crime was again my
friend D and we managed to get the mezzanine table, with a bird's eye view of
the cafe and the street outside. Though it's a tad difficult to catch the
server's eye from the perch… The menu is limited, but then again it's a cafe,
not a full-fledged restaurant. The breakfast items are available all day
(except the combo offers). There is a selection of soups, salads, sandwiches,
snacks and desserts, and of course organic teas and coffees. The cafe blends
its own coffee beans and it's just lovely to sit there and take in the wafting
aroma of freshly ground coffee beans.
We started with Parsi Pora, which
is a Parsi style spicy omelette. It was quite delicious, though the
accompanying toasts were too hard and the butter seemed to be just out of the
fridge; our server replaced them at our request.
Our next order was the Sweet
Potato and Pumpkin Salad, with Sesame Soya Dressing. The dish looked beautiful
when it arrived, but it was a bit under-dressed. So we called for some extra dressing,
which instantly lifted the flavours.
For dessert we ordered the Carrot
Cake with Orange Rind Cream, which was a winner hands down. A thick slice of
warm cake with a dollop of citrusy cream = heaven!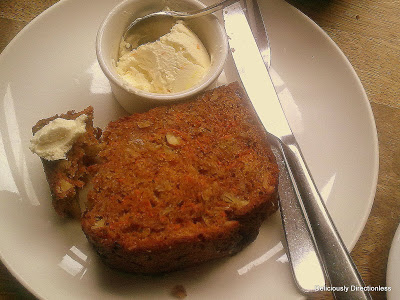 I have also tried their Ginger
Cake with Cream earlier, which is quite delectable.
We ended with a
Cappuccino
for me
and a small pot of
Green Tea
for D. The cappuccino came with a complimentary
square of melt-in-the-mouth Callebaut fine Belgian Dark Chocolate. Full marks
for that touch! Check out the complete menu
here
. Pricing
is quite reasonable and includes taxes.
Overall, it was a lovely meal in a
nice ambience, with great coffee and conversation. What more can you ask for on
a dull, rainy day?!