'Tis that time of the year when shops and
restaurants are awash with red (and a bit of pink) – hearts, balloons, flowers,
cakes and everything that denotes love and romance. Deals and offers are rolling
out all over Mumbai and every restaurant worth its salt is offering a
Valentine's
Day
menu of some sort. Last year I had
a fabulous dinner at Indigo
and
this year, taking it several notches up, I was invited to the
Dom
Pérignon 2004 Vintage Dinner
that
San-Qi
at the
Four Seasons Mumbai
is offering all this week. So give your
Valentine a taste of luxury with a five-course meal, which is paired with a
bottle of Dom Pérignon 2004 Champagne.
Image courtesy Four Seasons
The restaurant San-Qi has four different kitchens
(and chefs) running the show and you can choose from Japanese, Chinese, Thai
and Indian dishes. The master chefs manning each kitchen are natives of the
respective countries and bring a touch of authenticity to the cuisine. For the
Valentine's dinner, San-Qi has put together a menu where each course
features a dish from a separate kitchen, making it a beautiful medley of
flavours. While we tried the non-vegetarian menu, there are vegetarian options
for all the courses.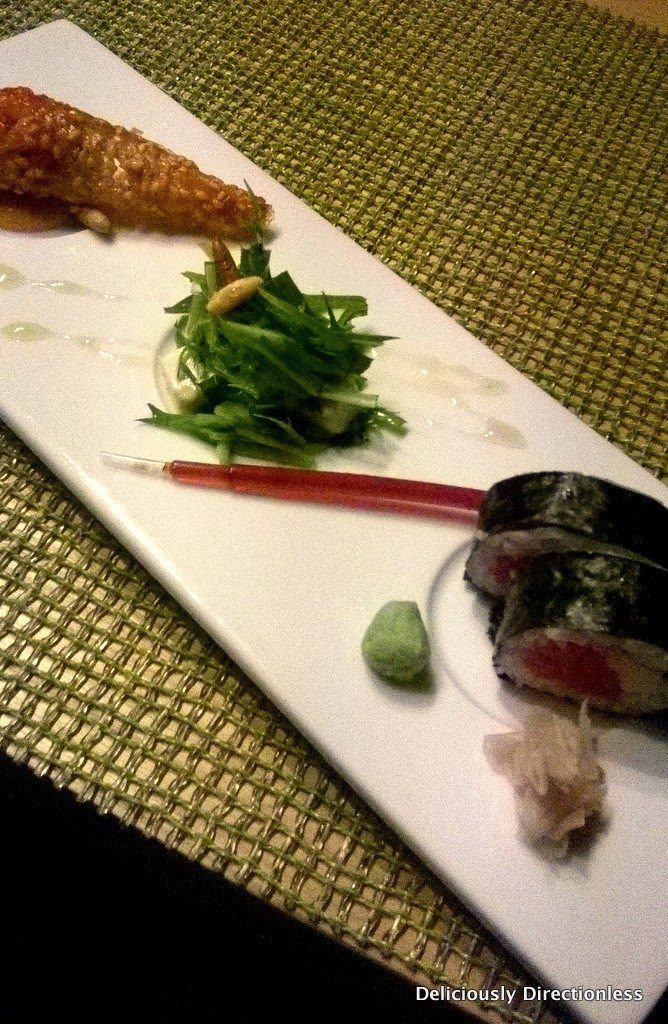 We started with the Japanese course, which was
Duo
of Southern Tuna
– a spicy tuna sesame cone and a tuna maki roll. The
crunchy, sweetish sesame cone had a spicy tuna filling inside. The sushi came
with a blob of wasabi and a little bit of horseradish. The soya sauce was
served in a dropper, so instead of dipping it in sauce you could just pipe some
out on the sushi. Chef Toshiyuki Okabe actually flies to the Tsukiji market in
Tokyo to select the seafood he works with! The 'duo' was accompanied by a small
pile of salad leaves with tofu and pine nuts and topped with a citrus dressing.
The course was a lovely combination of sweet and spicy, as well as various
textures playing together. In the veg option, the tuna is replaced with tomato.
The second course was a Chinese one, overseen by
Chef Jiang Xin –
Steamed 'mantou' Bun & Garmic Prawns
. Now this was quite a
'twist of taste' kind of a dish. You can't really go wrong with wok-fried
garlic prawns, which were perfectly done and accompanied by some asparagus. The
steamed bun was the pièce de resistance – it was layered with a chocolate
filling. The seemingly odd combination of prawns and chocolate came
together beautifully, especially with the Dom Pérignon 2004 – incidentally, my
flute kept getting refilled magically 😉 For vegetarians, the prawns are placed
by kai lan (Chinese kale).
The third course was Highway Murg Tikka, a
moderately-spiced dish from the Indian kitchen of San-Qi run by Chef Vikram
Arora. I was a bit under-whelmed by this dish, though the champagne did
complement the spices quite nicely. Vegetarians can expect a paneer tikka for
this course.
Next came the
Sea bass Green Curry
, from the Thai
kitchen of Chef Seefah Ketchaiyo. This was my favourite dish – the fish was
steamed to perfection and flaked easily, the green curry was well-balanced and
delicious, with slices of white eggplant in it. I was happy to see Chef Seefah
again – she is one of the nicest chefs I have come across, always smiling and
very down-to-earth. And she's a great teacher; I have had
a fab Thai cooking class
under her guidance. In the vegetarian option, the sea bass is replaced with tofu.
The dessert arrived on a slate – two scoops of
Paan
Ice Cream
, along with what seemed like a cross between sponge &
mawa cake. The ice cream was handmade and combined all the flavours of a good
masala paan very well.
This special dinner
is available from 8-14 February 2014 and is priced at Rs. 20,000 per couple + taxes


Disclosure: I was invited by Four Seasons to experience this offering.