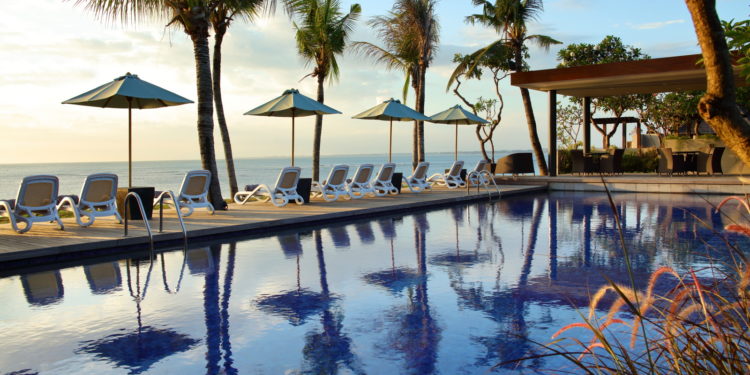 I spent most of the last week in Bali, Indonesia. It's a year-round destination, so even though the rainy season had begun, it was still quite busy. And lush green! It was my first trip to the island and despite the grey, wet days, I still had a wonderful time. I stayed at The Anvaya Beach Resort Bali, a five-star resort bang on Kuta Beach. Opened in November 2016, this is one of the newer luxury hotels in Bali.
Here's why you should consider The Anvaya Beach Resort Bali for your next trip.
Getting there
Bali's Denpasar airport is well-connected with India. Malaysia Airlines, Thai Airways, and Singapore Airlines are just a few of the airlines connecting India to Bali. From the Ngurah Rai International Airport in Denpasar, The Anvaya Beach Resort Bali is a short 10-minute drive.
Location
The Anvaya Beach Resort Bali is located on Kuta Beach and has a private beach access. The resort is on the main street of Kuta (Jalan Kartika Plaza), so there are several eating and shopping options nearby. The Discovery Shopping Mall is a 5-minute walk from the resort and the Kuta Art Market is a leisurely 15-minute stroll away.
Pin
A 10-minute walk from The Anvaya Beach Resort Bali will bring you to the Wake Bali Art Market, another great place for souvenir shopping. The lively water park, Waterbom Bali, is just 7 minutes from the resort.
Pin
Ambience
Anvaya means 'connection' in Sanskrit. And The Anvaya Beach Resort Bali lives up to its name, seamlessly adding an elegant Balinese touch to a thoroughly contemporary hotel. The moment you step inside the resort, you forget that you're in Kuta, one of the busiest and most touristy parts of Bali.
Pin
The water feature at the entrance just before the lobby adds to the serenity of the place. Eight wooden pillars of varying heights stand in a pond evoking the traditional Bali Aga style of architecture.
These are strategically lit up at night and look quite stunning.
The lobby and lounge are both spacious and have a relaxed ambience. The two rindik artists giving a musical welcome are a lovely addition to the peaceful setting (rindik is a traditional Balinese musical instrument made of bamboo).
The Anvaya Beach Resort Bali caters to all types of travellers with a small business centre for business travellers as well as a supervised childcare facility for families with kids. The in-house Sakanti Spa offers traditional Balinese treatments.
Rooms
With 495 rooms, suites, and villas, The Anvaya Beach Resort Bali is quite a sprawling hotel. But its spacious design and architecture give you the feeling of privacy even at full occupancy.
The ground floor rooms have direct access to the lagoon pool, while rooms on higher floors have a charming balcony overlooking the pool & garden or the front lobby. There are eight beachfront suites located in a different part of the resort and come with their own separate pool.
Pin
I stayed on the 3rd floor and my room looked out over the front of the hotel. If you have a choice, ask for a pool facing room as these have a much better view. My room faced east and I woke up each day with the sunlight flooding into my room (since it was the rainy season, the sun would promptly disappear into the clouds soon after).
Pin
The balcony was a great spot to relax with a cup of coffee and watch the sunrise accompanied by the chirping of birds. My kingsize bed was so comfy that most days I had difficulty getting out of it! The bathroom was quite spacious with a great rain shower. The room came with tea & coffee making facilities, a smart TV with international channels, and free Wi-Fi (which was a bit patchy at times).
Dining 
The Anvaya Beach Resort Bali has three dining options. The Kunyit Restaurant serves Balinese and Indonesian specialities.
The bright and airy Sands Pavilion is the setting for breakfast with a view of the beach. The breakfast buffet is huge, with a range of Indonesian and international dishes on offer, not to mention an Indian section serving up dosas and poha!
Pin
It's also the perfect place for a sundowner. I highly recommend the Rujak Mango Martini, a delicious mix of vodka, mango puree, red chilli, tamarind, and kaffir lime.
Pin
Of course, there are several restaurants nearby, serving everything from Balinese to Italian, and even Indian and other international cuisines. I particularly liked Warung Damar, a short walk from The Anvaya Beach Resort Bali, where I feasted on Nasi Goreng, Mei Goreng, and BBQ Pork Ribs.
Overall, I really loved my stay at The Anvaya Beach Resort Bali – a wonderful luxury hotel combining a modern look with Balinese hospitality, not to mention a fabulous location right on Kuta beach. Check out their website here.
Looking for more luxury stays around the world? Have a look here.
Have you been to Bali? What was your favourite thing to do? Leave us a comment below. 
Disclosure: My stay in Bali was courtesy Visit Indonesia Tourism Office, opinions my own.