I was in Pune last week to attend a friend's wedding. Though I have been travelling to Mumbai's neighbouring city for years, my stay in Pune has always been with family or friends. However, this time around the husband and I decided to book a hotel.
Pin
Pune's urban sprawl has increased a lot over the years, so it was quite confusing deciding where to stay in Pune. Finally, I chose to stick to an area that I know fairly well i.e. Deccan Gymkhana. I had heard of Treebo hotels in Pune so I decided to check out Treebo Deccan 8. I booked directly on their website and got a great deal.
Pin
Getting there
Mumbai is well connected to Pune by both rail and road. I prefer travelling by road since the Mumbai-Pune Expressway is superb. There are several private bus operators that run frequent services between the two cities, but I'm partial to the state-run Shivneri buses. These air-conditioned Volvo buses are very comfortable and get you from Mumbai to Pune (and vice versa) in about 3.5 hours. The buses have multiple stops in both Mumbai and Pune. The final stop is Pune Railway Station from where Treebo Deccan 8 is a 15-minute drive.
Location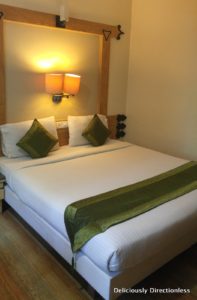 Pin
Treebo Deccan 8 is located near Fergusson College and the main shopping and entertainment areas of Jungali Maharaj Road and Gokhale Road. It's in a quiet by-lane off Bhandarkar Road. My favourite part of the area were the two jogging & cycling tracks located nearby. These tree-lined trails are dedicated for walks and cyclists and are perfect for morning and evening walks.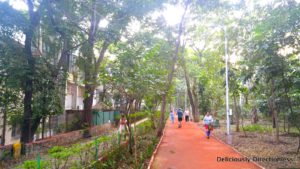 Pin
Rooms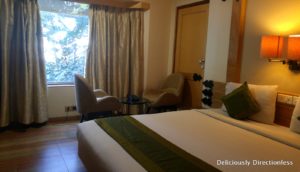 Pin
We had a room on the 2nd floor, facing the back of the property and looking over a large, shady tree. The room was quite large with a king-size bed, a seating area, flat-screen TV, and a small fridge.
Pin
Our bathroom was spacious too, complete with a bathtub. However, the shower curtain was a bit mouldy. Apart from that, the room was fairly clean and well kept. The hotel has free Wi-Fi, though it can be a bit patchy at times.
Pin
The hotel has a hip, young vibe to it. It's done up in cool whites and greens. And there are fun, quirky posters all around.
Dining
Pin
Treebo Deccan 8 has a restaurant UFF where they serve all meals. Breakfast is included in the room rate and that's the only meal we had there. The breakfast buffet is limited to 4-5 items (which is perfectly acceptable for a small hotel). The spread included fruits, cornflakes, eggs (boiled ones on the buffet and omelettes made to order), sabudana khichdi, and medu vada with sambhar. The hot items vary daily.
Pin
The omelette was excellent, nice and fluffy, and perfectly made. Yes, it's possible to screw up an omelette; I have had many a bad one even at 5-star hotels! I tried a bit of the khichdi and the vada as well, both nicely done. My only grouse with breakfast was the absence of good coffee. There was hot milk with instant coffee on the side, which I absolutely refuse to drink.
Where to eat nearby
Pin
Luckily, there's a nice cafe – German Bakery Wunderbar – a short walk from the hotel. We had dropped in the previous evening for my caffeine fix. The husband had ordered masala chai with great trepidation (another thing that restaurants seldom get right).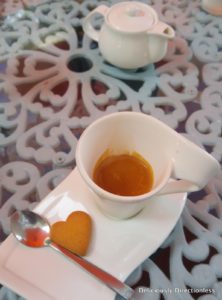 Pin
Fortunately, both the coffee and tea were good, as was the Shrewsbury Biscuit Cake. This is a take on Pune's famous Kayani Bakery and its Shrewsbury biscuits – a crisp, buttery cookie that people actually queue up (I have done that too!).
Another place I'd highly recommend (for the meat lovers only) is Surve's on FC Road, a 7-minute rickshaw ride from the hotel. We went there for lunch and the restaurant was packed. We managed to get a table in the upstairs dining area. When the food arrived, we understood why it's so popular. We started with their special Mutton Thecha, succulent goat meat cooked in spicy, mint-chilli chutney. Ask them to reduce the spice levels or you'll be guzzling water throughout your meal!
Pin
The pièce de resistance was the Special Mutton Thali, which the husband and I shared (pictured above is only HALF the thali!). It was a massive plate with generous portions of mutton curry (two types), mutton fry, mutton kheema, and a choice of chapati or bhakari, plus rice. It's probably one of the best meals I have had in recent times.
Have you visited Pune? What was your favourite thing to do? Leave us a comment below.