Jaisalmer – the Golden City. A city I had long wanted to visit. The first time I went to Rajasthan was 15 years ago. I was hoping to bring in the New Year in the Thar dunes at Jaisalmer. However, there were very few hotels & BnBs and everything was sold out. Finding no place to stay in Jaisalmer, my parents and I headed to Bikaner instead. I have returned to Rajasthan several times since then (mostly to Jaipur) but Jaisalmer still eluded me. So when Suryagarh, Jaisalmer invited me over for a stay last week, I jumped at the chance.
Pin
Getting there
The husband and I arrived by road from Bikaner as we were guests at Narendra Bhawan. This is a sister concern of Suryagarh, both of which are run by The MRS Group – more about it in a separate post. It was a long drive, nearly 6 hours. But there are other, quicker ways of getting to Jaisalmer. Spice Jet has recently launched direct flights from Delhi & Jaipur to Jaisalmer, making the Golden City an ideal weekend getaway.
Suryagarh is 15km from Jaisalmer city and 30km from the airport.
Pin
The Hotel
Pin
You get a royal reception even before you arrive at the hotel. Once we crossed Jaisalmer city, two guards bearing Suryagarh's white-and-orange flags greeted us and escorted us further by a hotel jeep.
Pin
Then two guards mounted on camels took over and we were ushered up the driveway to the ringing beats of a nagada (drum). Next came a musical welcome by a troupe of Manganiyar singers (see video below). Phew! And we hadn't checked in. Did I mention the shower of rose petals that greeted us at the doorway?
Pin
Grand – that is the only way to describe Suryagarh. The sprawling property is built with the same yellow sandstone that gives Jaisalmer its moniker of Golden City. Suryagarh is imagined as a Rajasthani fort palace. And it has all the royal touches you'd expect – elaborate gardens, huge courtyards, intricately carved jharokhas, a lake, a tulsi aangan, the bageecha or herb garden etc. You need to spend several days at the property to explore it completely.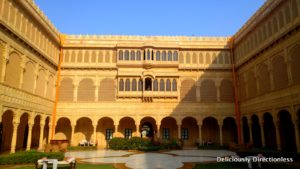 Pin
Pin
Pin
Pin
There is even a baoli or step-well on the property.
Pin
Pin
There are peacocks strutting about, a pair of friendly donkeys (named Romeo & Juliet), a bunch of doves, and two enthusiastic golden retrievers, Simba & Bugsy (the hotel is pet-friendly).
Pin
Pin
Apart from this, Suryagarh Jaisalmer has several leisure facilities like Neel (the vivid blue swimming pool), Taash (a cards & billiards room), and Akhara (a well-equipped gym with an interesting malkhamb-inspired centrepiece – see pic below).
Pin
Pin
Pin
Rait, the spa at Suryagarh, is a great place to relax and rejuvenate. On our last day, I tried a rose oil massage followed by a spice scrub, which was the perfect way to wash off the weariness of travel.
Pin
Rooms
Pin
We had a Luxury Suite on the second floor, one of 28 suites at Suryagarh. Apart from the suites, Suryagarh has 40 rooms and 4 havelis (which are absolutely stunning).
Our suite was quite spacious with a large living room, a work desk, a cosy dining room for two (my favourite!), a huge bedroom and a luxury bathroom. The decor is decidedly contemporary with a few traditional touches in the furniture – certainly not the typical over-the-top Rajasthani palace hotel aesthetic. It's all about understated elegance at Suryagarh, Jaisalmer.
Pin
Pin
Pin
Pin
We had great views from our suite, not to mention spectacular sunrises such as these.
Pin
Dining
The royal experience continued for our first meal at The Legend of Marwar, an opulent dining room in gleaming emerald and crimson, dimly lit with candles. The Suryagarh Thali is an elaborate multi-course meal inspired by bhattiara cuisine. The bhattiara community in Rajasthan arrived with the invading Mughals in the 16th century and were traditionally innkeepers. Unlike the fiery Rajasthani cuisine laced with red chillies, bhattiara cuisine is more mellow allowing the ingredients to shine through. Without giving away too many details, let me just say that this was one of the finest Rajasthani meals I have had.
Some highlights – airy dahi ke kebab coated with sago, succulent patthar kuta gosht (hand-pounded goat meat kebab simply flavoured with black cardamom & cinnamon), creamy Mohan Maas (goat meat in milk gravy), fragrant Jaisana pulao, and more.  The photo below doesn't do justice to the food. Also, note that this was but one course of the thali!
Pin
Another stand-out meal was the Halwai Breakfast that we had on our last day at Suryagarh. It had several Rajasthani breakfast staples such as pyaaz ki kachori, daal pakwaan, methi paratha with piquant sangri (slender beans typical to Rajasthan) pickle, jalebi and badam doodh, mithai of every description, and more. Take a look at the spread below.
Pin
City tour
Pin
Suryagarh offers several experiences in and around the city of Jaisalmer. I accompanied Raju Guide (the hotel's private guide) one morning as he took me around the 860-year-old Jaisalmer fort that looms large over the city.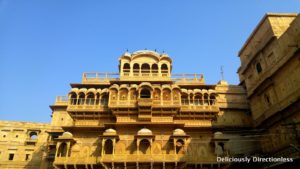 Pin
Pin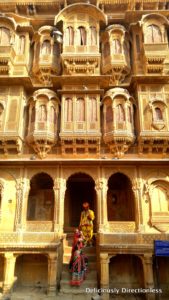 Pin
As we walked around the narrow alleys, he pointed out havelis of the old noblemen. All of them were a stunning golden yellow colour with intricate carvings and decorations.
Jaisalmer fort is the only living fort in the world – more than 3,000 people still live & work inside the fort complex. It was surreal walking about the centuries-old streets watching people going about their daily lives.
Later, we also drove to Bada Bagh, the erstwhile royal orchards. Nearby stand the elaborately decorated chhatris or cenotaphs of Jaisalmer's Maharajas and their consorts.
Pin
Experiences
Pin
The Sundowner we had on our last night at Suryagarh was quite a special experience. We drove out to Kuldhara village, one of the many abandoned villages that dot the Thar landscape. Legend has it that this once prosperous village of Paliwal Brahmins was abandoned, purportedly overnight, because of persecution by Salim Singh, a state minister. According to local folklore the Brahmins cursed the village as they fled. Since then, Kuldhara is said to be haunted. On a side-note, Suryagarh organises a Midnight Haunted Trail that takes in Kuldhara and couple of other abandoned sites nearby – sign up if you are brave enough!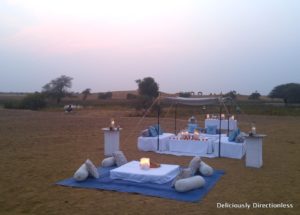 Pin
Our experience was, of course, completely different. It was approaching sunset as we drove past the village and arrived at an oasis. A white shamiana stood near the pond, lanterns lit the way, and candlelight flickered on the table. A local musician sang folk songs nearby as we raised a glass of bubbly to the warm hospitality of Suryagarh Jaisalmer. There was a cheese platter to dip into and some delectable kebabs on offer. As the sun set, the sky took on stunning pink and purple hues and the cool Thar breeze picked up. It was a night to remember.
When to go to Jaisalmer
Weather-wise, October to March is a great time to visit Jaisalmer. If you're heading to the Jaipur Literature Festival this month, make a detour and stay in Jaisalmer at Suryagarh. It's just a short flight away! Check out rates and offers at Suryagarh and book here.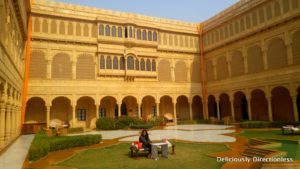 Pin
Disclosure: Our stay was courtesy Suryagarh, Jaisalmer. Views my own.